Ten Best Reads in the First Half of 2016
4th August, 2016
Here are some of my best loved reads  of 2016. It is a mix of literary fiction, dystopian and magical realism.
The list includes the best books read till June, 2016. This is a super late list, but better late than never. All the book covers have been linked to their Good Reads pages.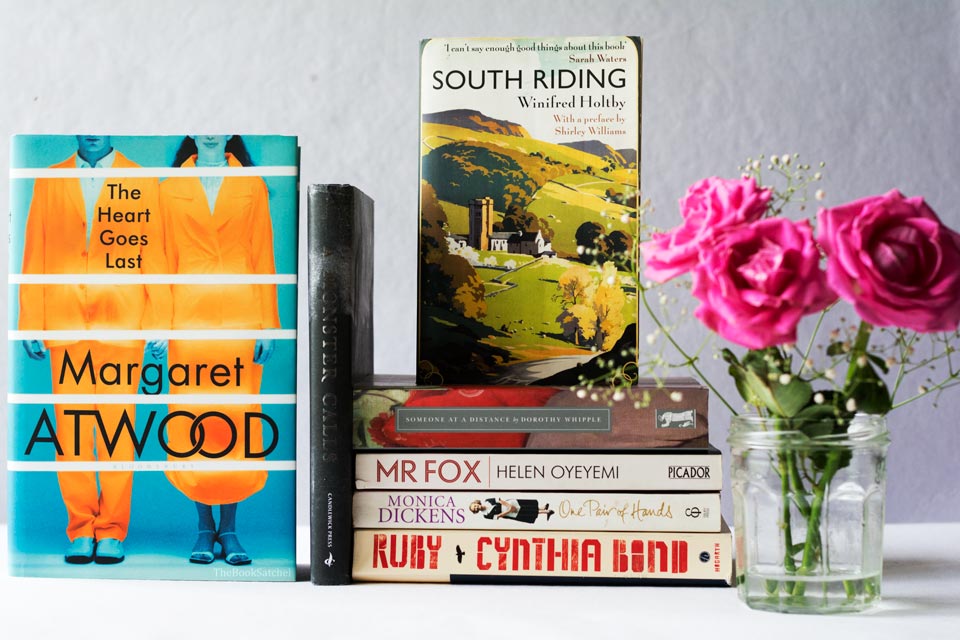 1. RUBY by Cynthia Bond
Ephram is on his way to Ruby's hut with an angel cake. To the town folks she is a mad, possessed woman; to him she is the same girl he fell in love with as a boy. As the church, people and haunted spirits try to dissuade him from the journey, read what keeps him going.
Ruby is one of the most powerful contemporary books that I have come across. I was enthralled by the prose as well as the unapologetic way in which Bond handled the different themes of the novel. This is a brilliant debut and a must read. Ruby is an Oprah club read as well as in the Bailey's prize shortlist of 2016.
You can read more about the book here – Ruby by Cynthia Bond – Madness and Magic in An Ethereal Love Story
Warning : There is quite a bit of abuse – sexual, child and mental.
2. SOMEONE AT A DISTANCE by Dorothy Whipple
Someone at a Distance is the story of an ordinary family torn apart by the entry of a French woman named Louise. It is the story of trust, love and family bonds. Whipple is a genius at drawing the reader  to the short sightedness and trusting nature of the wife and the manipulative mind of the 'other woman'.
I loved how Whipple could wreck the emotions of the reader. You can read a review of the book here – Someone at a Distance by Dorothy Whipple – Heart wrenching Tale of Choices, a Marriage and Two Women.
".
3. THE WIND-UP BIRD CHRONICLE by Haruki Murakami
A man's ordinary life, spent cooking, reading, listening to jazz  and drinking beer at the kitchen table, turns strangely  interesting as he embarks on a bizarre journey, guided  by various characters, each with a peculiar story. Disappearing cats, visits by psychic women in dreams and a dried up well in a cursed plot of land – this book has it all.
I immediately fell in love with Murakami on reading this. I enjoyed how Murakami is able to keep the reader captivated even when nothing makes sense. Normally I dislike huge books and try to avoid them. But this one kept me glued to itself.
You can read a review of the book here.
4. A MONSTER CALLS by Patrick Ness
A monster visits a boy seven minutes after midnight, offering to tell him stories. Connor has problems of his own – he is bullied at school, his mother has tumour and his dad is in America being part of another family. Does he need the monster in addition to all this?
When I started this book, I did not realise I would be so taken aback by the fast narrative and lucid story telling. A majority of the readers who read this book have shed tears at the end. That includes me as well. No doubt, this is an amazing read.
You can read a review of the book here – A Monster Calls by Patrick Ness – Heartbreaking and "un-put-down-able"
5. FABLES : 1001 NIGHTS OF SNOWFALL by Bill Willingham
Snow White, an ambassador from Fabletown, visits the Sultan to get his help in defeating the enemy. She tells him stories in order to save her life – Seven dwarfs take pleasure in indulging in unforgivable offences. Until a girl determined to re-write their fate comes forth. A big bad wolf is born to the North wind and a wolf. He grows up to "huff and puff" the pig's house. A tribal girl amasses powers of witchcraft. And so on, each fairy tale capsuled in a new story.
I LOVED this read. The art was beautiful and each chapter was illustrated by a different artist. You can read a review of the book here – Fables: 1001 Nights of Snowfall by Bill Willingham – The Most Beautiful Book
Warning : This book would be suitable for a mature audience, not children.
6. THE HEART GOES LAST by Margaret Atwood
A couple sign up for a social experiment project whereby they can live in luxury for a month, the only condition being that the next month they have to stay in a prison while another couple called their Alternates take their place and live in their house. Each month the two couples repeat the house-prison-house schedule. But what happens to the marriage when they develop feelings towards their Alternates?
I really enjoyed this book. It is set in a dystopian world that is eerily realistic. It is a perfect book for readers with evil, twisted minds. The climax is brilliant. Those who love dark reads might want to give this one a try.
If you are having second thoughts, check out Book Review: The Heart Goes Last by Margaret Atwood.
7. TO THE LIGHTHOUSE by Virginia Woolf
I had a tough time choosing which was my better read by Woolf this year, Orlando or To TheLighthouse. I enjoyed both immensely and equally. Orlando is easier to get into and the prose is beautiful. However I loved the themes that Woolf plays around in To the Lighthouse. It was nice to experience the characteristic 'stream of consciousness' style of Woolf.
The book is a very realistic one. It talks about the brevity of life, the change in our thought process as we age and the battle between the intellectual and the creative mind. Most importantly, the book talks about the relationship between an artist and art.
8. MR. FOX by Helen Oyeyemi
Mr. Fox is a writer who loves killing off the heroines in his book. He is married to Daphne Fox and things are going fine until his imaginary muse, Mary Foxe, enters the scene. Mary tries to change the course of his stories  by transforming him (and wife) from author into subject and thus unfolding a different story. Meanwhile Daphne suspects her husband is having an affair. And then Daphne and Mary meet each other face-to-face.
It took me a while to get into Mr. Fox.  The narrative is a highly unusual one. The author and muse keep interchanging roles and there are many stories within the main story. This isn't a book for everyone.
If you are keen to know if you might enjoy the read, visit Mr. Fox by Helen Oyeyemi : Prerequisites and After Effects. I have included an excerpt as well.
9. SOUTH RIDING by Winifred Holtby
South Riding is a sprawling portrait of provincial life in England between the wars. The book deviates from the strict structure of a novel and branches out into chapters dealing with the life of different country folks. It is the story of a neighbourhood in a nutshell.
I have a particular liking to things associated with Yorkshire. And I included South Riding immediately to the list after I read it. It is a lovely slow paced read about English country life. It has many sections with  references to traditionalism, modernism, local government etc to name a few. The writing steals your heart with the innovative adjectives used.
If you would like to read more about the book, visit South Riding by Winifred Holtby – Old Yorkshire life and Reforms
10. ONE PAIR OF HANDS by Monica Dickens
If you love silly things, tea times, trivial things of life or a good book this is the one for you. Monica Dickens is full of humour and wit that I found myself closing the book and slapping my forehead in exasperation more than once. Chuckle, grin, loud laughter, slap-the-thigh-laugh, roaring laughter and smiles – this book made me experience them all.
Much unlike the serious Charles Dickens, her great grandfather, Monica is bubbly as she takes us through the "upstairs downstairs life of 1930s". I loved this read and will be putting a review soon.
Have you read any of these? Do you have any recommendations from your best reads in the first half of the year?
Share this post
[easy-social-share buttons="facebook,twitter,google,pinterest,tumblr" counters="1″ counter_pos="topm" total_counter_pos="right" style="icon" template="grey-circles-retina" twitter_user="thebooksatchel"]