The Underground Railroad by Whitehead- A Reminder of a Past Every Human Being should be Ashamed of
29th August, 2017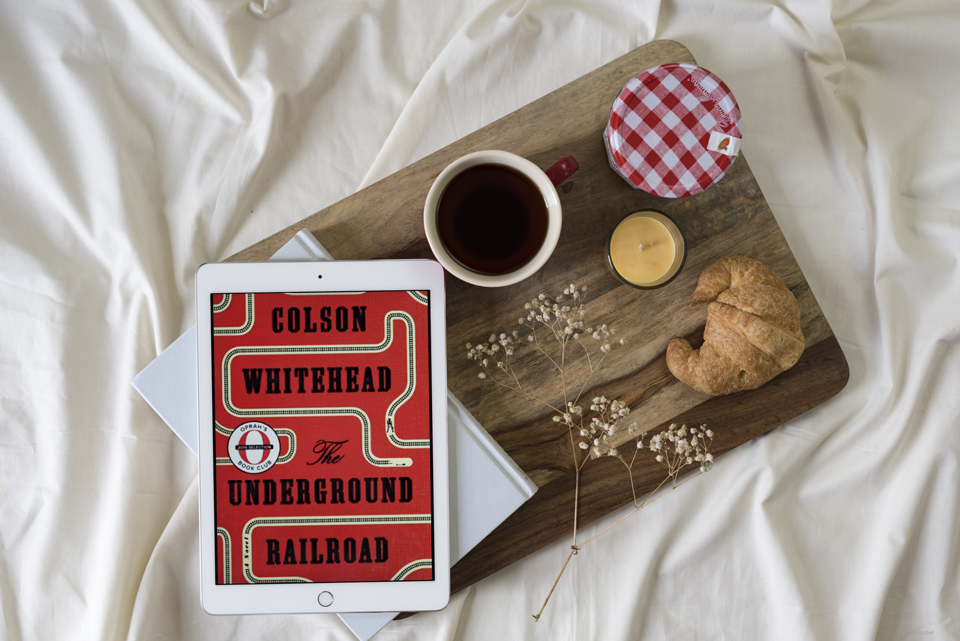 Two slaves try to escape from their master and hope to lead a free life elsewhere. The journey will take the reader through Georgia, North Carolina, South Carolina, Tennessee and Indiana; each place reeking of a distinct flavour.
The novel won Pulitzer Prize for Fiction (2017), National Book Award for Fiction (2016) and Arthur C. Clarke Award (2017), to name a few. It is longlisted for Man Booker Prize (2017).
Underground Railroad
The Underground Railroad is a vast network of people who helped fugitive slaves escape to the North and Canada. It was collectively run by many individuals, dominated by black people and included a few whites too. The main aim was to help the slaves escape their ill fates and have a better life. It was interesting to read about this operation manifested as an actual railroad in Whitehead's book.
In Brief
The story is set in the early 1820's. Cora and Caesar are slaves who are on the run from Randall's plantation. Cora is a third generation slave whose grandmother, Ajarry, was captured by the whites. Her mother, Mabel, is the only slave who has fled the plantation and not been captured back. Hence, Caeser sees Cora as a lucky charm who will benefit his escape through the underground railroad. But the slave catcher, Ridgeway, who still holds the grudge that he could not catch Mabel is out to hunt both of them down.
The brutal history
I applaud the research that has gone into writing this book. The horrifying punishments imparted on slaves made me question humanity in people. How can anyone do such gruesome acts to another human being? I read several passages with a lump in my throat. It was terrible, unimaginable and shattering. Whitehead also uses inspiration from original notices that announced the names and descriptions of the slaves who escaped. This made the book feel even more real.
Oppression of women
Further saddening is how women have always been the lowest rung of human life. As much as the book made me well up about the treatment of slaves, I was touched by how bad women were treated; both by the masters and by fellow slaves. It does seem that women are an easy prey on whom men can take out their frustrations.
The idea of freedom

The whole novel focusses on the aspect of freedom. It also makes you think how much freedom are you entitled to even after you break free? Cora sees new shackles in the 'free world' such as religious teachings, sterilization and being forced to enact African way of living as perceived by the whites in a museum.
Half baked Characters
While I was more or less invested in the story of Cora and her struggles to break free, I was not that eager about any of the other main characters. And while some of the minor characters (such as a white woman who sees Cora as something sent by God for her to save, people who believe in freedom of slaves but think they should be sterilized) were interesting to read about and wonderfully written; many other minor characters fell flat for me.
Slightly Underwhelming
I had high expectations for the book because it won so many awards and was a pick for Oprah's Book Club. I usually love the ones I have read from Oprah's picks, a recent one being Ruby by Cynthia Bond which ended up being an eternal favourite. However I was slightly underwhelmed by the way this novel was written. I did not feel that deep connection to the characters mentioned in the story. Perhaps I have been unconsciously comparing the book to Yaa Gyasi's Homegoing, which I read recently and adored even though each generation in the family saga is condensed to one chapter. I might say Homegoing is a better pick than The Underground Railroad if you have the time for just one book. But of course, both novels have their own share of merits.
I was troubled by the ending chapters being crammed with lots of new twists instead of a steady pacing throughout the novel. But may I also add that I cried at Mabel's story? It was heart breaking to read how her story unfolded before the book ended.
Final Verdict :
This is an excellent read; but I expected more from the book. I would recommend the book for it's honest and brutal portrayal of slavery and successful attempt to opening the reader's eyes to how cruel one race can be towards another race. I urge the reader to look for the tyranny and its consequences on the slaves and over look the abrupt transitions in plot and off beat pacing in this important work of historical fiction.
Title : The Underground Railroad
Author : Colson Whitehead
Publisher : Doubleday
Publication: 2016
Language : English
Pages : 306
Rating : 3.5/5
Do you have recommendations for novels that focus on slave trade?