Ruby by Cynthia Bond – Madness and Magic in An Ethereal Love Story
19th July, 2016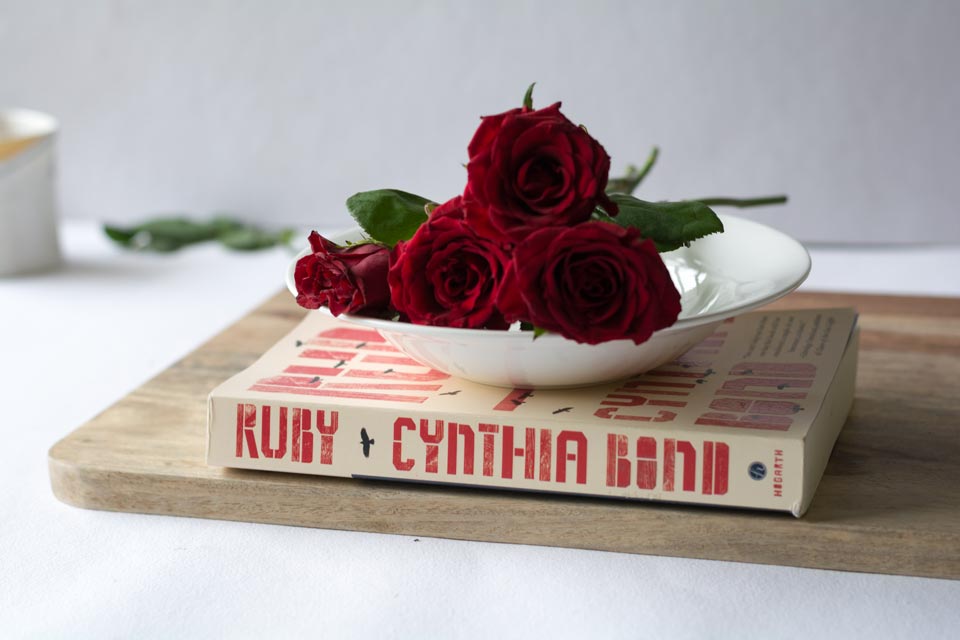 Ruby is the story of a girl and a boy, the persistence of their memories, the darkness that crouches behind to engulf them and their faith in redemption and love.
You know those books that take you back to the time you first opened its pages whenever you see it on the shelf? Ruby is one among that for me. Whenever I glimpse at the novel, I get transported to the day I was sitting on my balcony during a power outage and got bewitched by the story of Ruby Bell and Ephram Jennings, as the rains outside sprayed my bare feet and the edges of the pages. This is one among the ten books in a list that I recently compiled, about books that are close to my heart  You can read about it if interested in –Ten books that Crashed on me like a Tidal Wave – Its Personal
The story begins with Ephram taking a White Lay Angel cake to the hut of Ruby, whom he has loved since childhood. Liberty, though her native place, had only unpleasant memories for the child-Ruby, forcing her to make her escape to New York in the 1950s, "where Colored girls and White pretended to be equal", to look for her mother. Here she merges into the seedy and glamorous life of New York only to be forced to return to Liberty where she is scorned at by the town folks . Little does she realise then that the demons she had left in the town while running away are still waiting to consume her. Meanwhile, Ephram must choose between loyalty to the sister who raised him and the chance for a life with the woman he has loved since he was a boy. Between this journey from behind his sister's apron to Ruby's hut are the multitudes of hurdles created by the Church, the villagers and even some djinns.
Ruby is the story of darkness of pine forests, human minds and strange beings that haunt the town of Liberty, trying to break down seams of love, friendship and loyalty that bind those who live there.
I have gushed about Ruby on my Instagram page and Twitter and encouraged many who insisted on a review of the book to buy the book before I pen one down because I was caught with a fear that my review might not do justice to this wondrous piece of writing. Here are some thoughts bullet-ed out to convince you to read the book if you haven't already done so.
1. THE OPENING LINE :
Ruby sucks you in as soon as you open the book – "Ruby Bell was a constant reminder of what could befall a woman whose shoe heels were too high." Ruby is described as "She wore gray like rain clouds … Blackened nails as if she had scratched the slate of night…Her eyes, the ink of sky just before a storm."
Why would Ephram Jennings, a good man of the Church, want to visit the mad woman branded a 'whore' and shunned by the whole town? I couldn't stop reading.
2. LYRICAL PROSE :
The book is strewn with beauty. Words like "a piece of thunder broke off", "drunk with storm", "innocence tastes like peach cobbler" and "wild pines spearing the clouds" are to die for!
3. MAGICAL REALISM :
A few pages into the book, I knew this was a journey of a good man Ephram to gift the crazy lady, Ruby, with a White Lay Angel cake. But why? And there were djinns watching from trees and a crow that leads him onward the journey. I was enthralled.
Ruby weaves together the natural and the supernatural with an indiscernible fine line of separation between the two. Add to this a few strands of superstitions and magic stirred in copious amounts, and you have a masterpiece which is this book.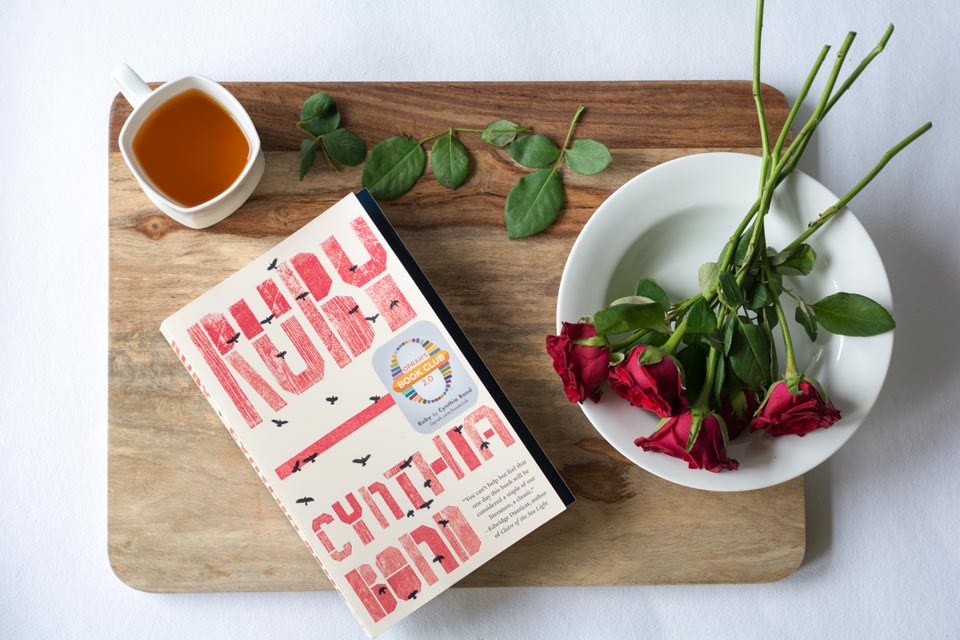 4. NARRATION :
I loved the way Cynthia Bond narrated the story. The story moves back and forth in time and as each layer falls off we are brought closer to the demons that lurk around and inside Ruby.
5. A MAN's WORLD :
Ruby is set in a man's world – how they control women through sex, shame and religion.
6. THE CHURCH :
I loved the interplay of orthodox beliefs of the 'saved' and African witch crafts. Also commendable is how untruth when twisted well enough might seem like the truth. I loved the touch of magic in Ruby. It makes it an even more harrowing read than it ought to be.
7. IDENTITY AS A BLACK PERSON :
The black people are seen as nameless, faceless by the Whites. The book has an all-black cast, so it is more of the troubles within the community in spite of what they have in common.
Ephram is described as "He was only a pair of hands carrying grocery bags to White folks' automobiles… They didn't see the ten crescent moons held captive in his fingernails."
The black girls are brought up believing they are bad – "Ruby knew that the White girls were always good girls even when they were bad, but Negro girls started bad and could be anything after that."
Also, Ruby's mother, Charlotte's strong contempt for the white men who raped her is in this silent protest to make sure Ruby inherits nothing 'white' in her because of the rape "They say she willed that baby brown. Eating coffee grounds, chocolate cake, even brown eggs from a black hen. Wouldn't eat nothing white while she was with child."
Cynthia Bond grew up hearing  stories of how her aunt, a young black woman, was believed to have been murdered by Ku Klux Klans' men in the 1930s for her relationship with a white man. The crime went unpunished. Bond herself was the victim of sexual trafficking as a child. She grew up close to the East Texas town of Liberty where her book is set.
You can read about how these real events shaped Ruby here – On Writing : Cynthia Bond
Ruby is visceral in its impact, and bursting with beauty in every line. It shocks you, as well as makes you cry. In a book liberally littered with violence, the goodness of one man, Ephram, made me reaffirm my belief in love and humanity.
This is a book I want to thrust into the hands of every book lover. I would call it a must-read-book. This is easily a top contender for my best books of 2016. Bond puts together a perfect brew with insights into sexual and domestic abuse, Satanism and the supernatural, racism, myths, sexuality, family secrets and love. I salute Cynthia Bond for churning up such a brilliant debut. This isn't just a book, it is art in all its brilliance.
Above all, Ruby is a love story. And at the heart of the story lies the redemption of not just Ruby but also Ephram. It is a story of two people who 'saw' each other when they remained unseen to the rest of the world. It is a story that will haunt you for a long time. And here in lies its magic.
Buy it. Read it!
Warning : The book contains child abuse, violence towards women and dehumanizing acts towards black people.
Title : Ruby
Author : Cynthia Bond
Publisher : Hogarth Press
Published : 2015 (Originally 2014)
Language : English
Pages : 351
Rating : 5/5
Have you read Ruby yet? (because if you haven't, you really should. Get yourself a copy NOW). Did you adore Cynthia Bond's style of story telling? Did it break your heart? What did you think of the ending of the novel? Do you have anything negative to say about the novel (because I couldn't find a single thing and if you did, we need to talk. And be assured, I would NOT agree with you either). 
Borrow a copy or steal one or grab it from a bookstore or place an order (NOW!). This is one of the must reads of 2016. Read and then tell me all about it.
Share this post
[easy-social-share buttons="facebook,twitter,google,pinterest" style="icon" template="grey-circles-retina" twitter_user="thebooksatchel"]
Cynthia Bond teaches writing to homeless and at-risk youth throughout Los Angeles. She is a PEN/Rosenthal fellow. She shot to fame when her debut, Ruby, was selected as an Oprah club read. Ruby was shortlisted for the Bailey's prize in 2016.