10 Favourite Books in the First Half of 2017
12th Jan, 2017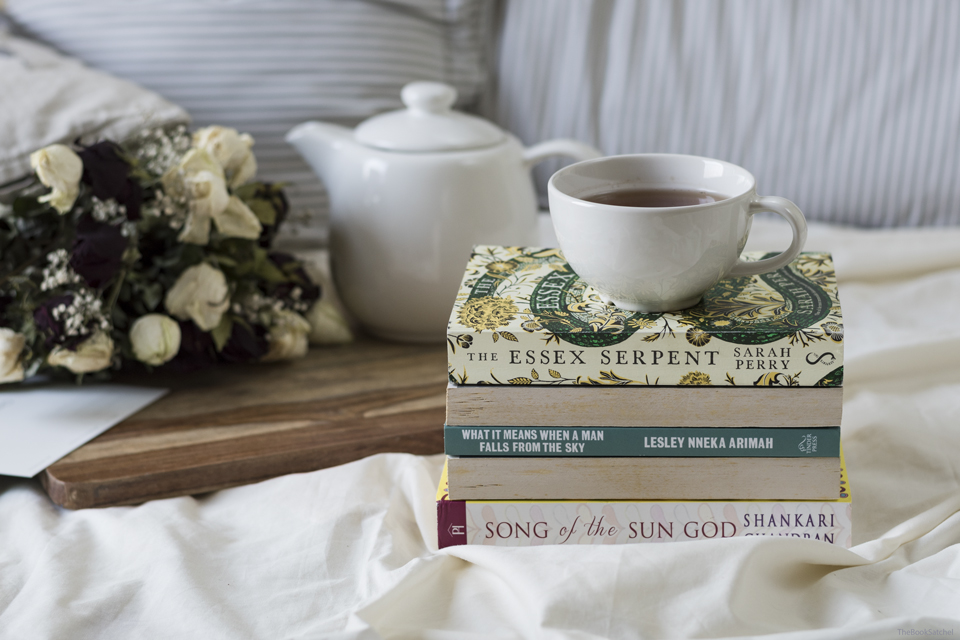 It is that time of the year to publish your verdict on the favourite books. And that is my favourite time of the year too. You get the cream of the layer; the best of the best to add to your carry over pile onto next year. I read some fantastic books last year.You can find my favourite books in the first half of the year here.
What makes me even more happy is how nicely the favourites of the latter half of 2017 spread across different genres; there is YA, fantasy, literary fiction, historical and even dystopian. Moreover, usually my favourite lists span from 4 star to 5 star reads. But in this list ALL are 5 star reads (with two exceptions of 4.5 stars which are almost as good as 5 stars). So YES, this has to be my favourite 'favourites list' so far.
Alright, onto the books!
1. What it means when a man falls from the sky by Leslie Arimah Nneka (2017)
This book is on top of the list for a reason. This was my all-time favourite book of 2017. AND it is a short story collection. It isn't often that one comes across a collection that deserves a five star. But this one sure did. Each story was different and yet they all fitted together perfectly. This is a book that is on my 're-read list'.
2. Jonathan Strange and Mr. Norrell by Susanna Clarke (2004)
I have an aversion towards big books. But Susanna Clarke blew me away with her magical world. I had sleepless nights reading this book about magicians' lives, studying magic, developing spells, ego clashes between equals and publishing your discoveries. If you are a bookworm or someone in the academic or research field, this book will steal your heat! I wanted more of Strange and Norrell; this book was that good!
3. One Hundred Nights of Hero by Isabel Greenberg (2016)
Set in an imagined land in the medieval ages, One Hundred Nights of Hero is the story of women's struggles of being heard in a man's. It is beautifully illustrated and densely layered with many themes of religion, place of woman and the importance of stories. Here are 'Five reasons why the world should read this book'.
4. The Essex Serpent by Sarah Perry (2017)
The Essex Serpent is peppered with delicious prose and striking imagery. Fans of the lyrical words in The Snow Child by Eowyn Ivey (which was a favourite of mine in the first half of 2017) will feel right at home with this book. I loved the characters and the slow way in which seasonal changes and the mindset of characters complemented each other.
Check review.
5. The Wonder by Emma Donoghue (2016)
When I finished reading The Wonder by Donoghue I was overcome with a deep sense of regret for not picking it up earlier. Based on the stories of girls known as the 'starving girls', this book explores themes of religion, place of girls in society bound with allusions to myths. I loved it even more than the acclaimed Room, which explored the psychological impact growing up in a locked room on a toddler, by the same author.
Check review.
6. Song of the Sun God by Shankari Chandran (2017)
What a fabulous book! I devoured this one like a hungry wolf. This novel is one of those gems in the releases of 2017 that might have been drowned by targeted marketing by bigger names in the publishing industry. The book is a family saga about the chaos in Sri Lanka, immigration and the inevitable restlessness that finds it's way to the minds of the family members.
Check review.
7. Homegoing by Yaa Gyaasi (2016)
Homegoing is a family saga in 300 pages that focuses on the impact of slavery and tyranny. From what I have noticed, readers lean towards either Homegoing or The Underground Railroad by Whitehead (which is a fantastic book but didn't quite touch me the way Homegoing did). If you have enjoyed both the books equally, let me know in the comments. I would be interested in reading your thoughts.
Check review.
8. Six of Crows by Leigh Bardugo (2015)
I am very picky about my YA reads; but when I find gems as these, I jump for joy. I loved the duology by Leigh Bardugo. The book is fast paced, the leader of the gang, Kaz, is an absolute darling and there are lots of tid bits that make you chuckle. I don't think anyone writes dialogues as good as Leigh Bardugo. Both Six of Crows and Crooked Kingdom are equally good and technically both are my favourites. loved them BOTH but I loved Six of Crows a wee bit more because of the pacing.
9. Remnants of a Separation by Aanchal Malhotra (2017)
If you hail from India or Pakistan, this book is a must-read for you. The book is a collection of real life stories revolving around material objects that were of significance to individuals who lived through the Partition. This book made me cry and I had to close it and compose myself several times over the read. The book had me glued to the pages even though I am not a non-fiction enthusiast.
Check review.
10. Gather the Daughters by Jennie Melamed (2017)
The story is set on an isolated island where children roam wild and free every summer. The group of families on the island live in accordance with a system of societal rules and beliefs. One day, a girl sees something, and slowly the daughters of the island gather together. Melamed puts her readers through a harrowing experience of acceptance and resistance and makes us question why the line that separates them is so blurred.
Check review.
Have you read any of these or are they on your TBR? What were your favourite reads of this year?