The Bookling's Crate – March Unboxing
6th March, 2017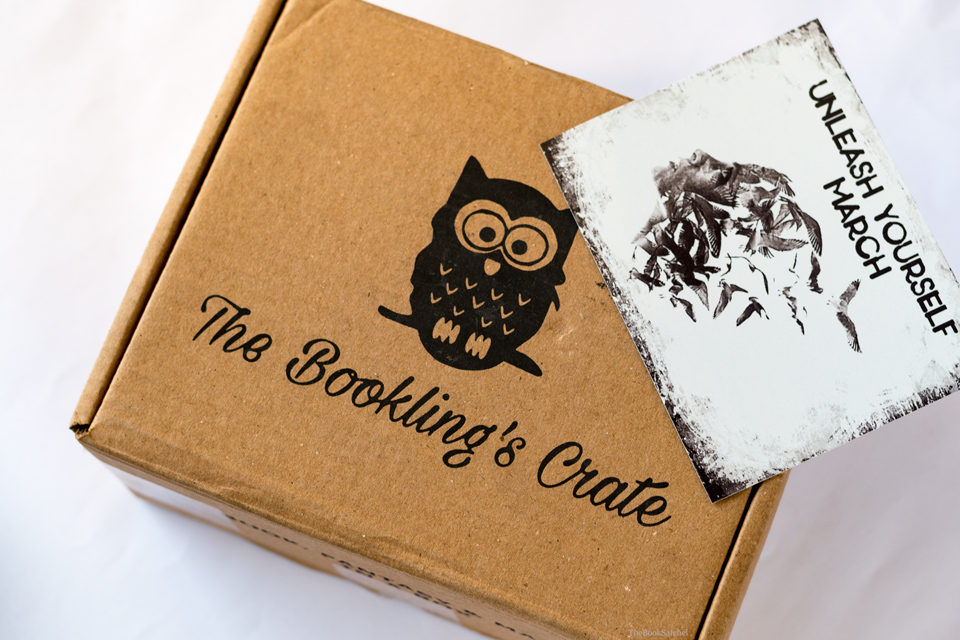 March is here and The Bookling's Crate tells us it is time to unleash ourselves. Yes, that is the theme for the month. The Bookling's Crate is a monthly book subscription service that delivers a Young Adult fantasy read along with bookish merchandise. They launched the service in January, 2017 and I loved their last two boxes. Check the February unboxing if you missed last month's unboxing. The Bookling's Crate is based in India and has free shipping all over India. Also, you can get a flat Rs.75 discount using the promo code SATCHEL75 .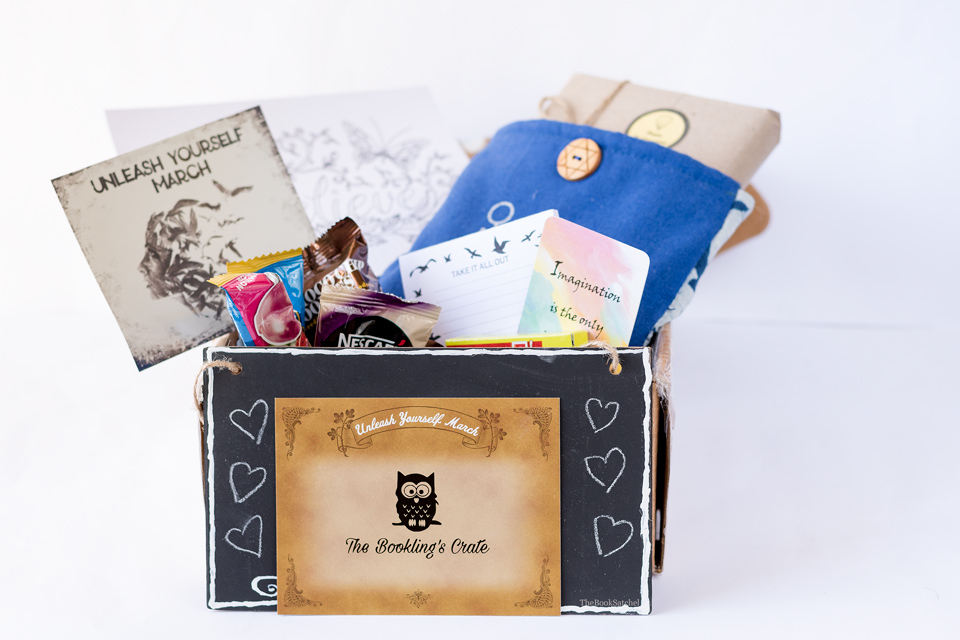 About The Bookish Box
The March box is themed #UnleashYourself. Here are the products included in the box:
Book/Tab Cushioned Sleeve by The Bookling's Crate
Shout out Slate Board + chalks
Take it all out list book
Crayons
Colour me Cards
Watercolour Bookmark
Nescafe Cafe Mocha
Chocochip cookies from Cafe Coffee Day
Lollypops (Two)
A surprise book
The Book
The surprise book turned out to be a paperback copy of Gilded cage by Vic James. By the blurb, I think it is a mix of politics and magic. Sounds good.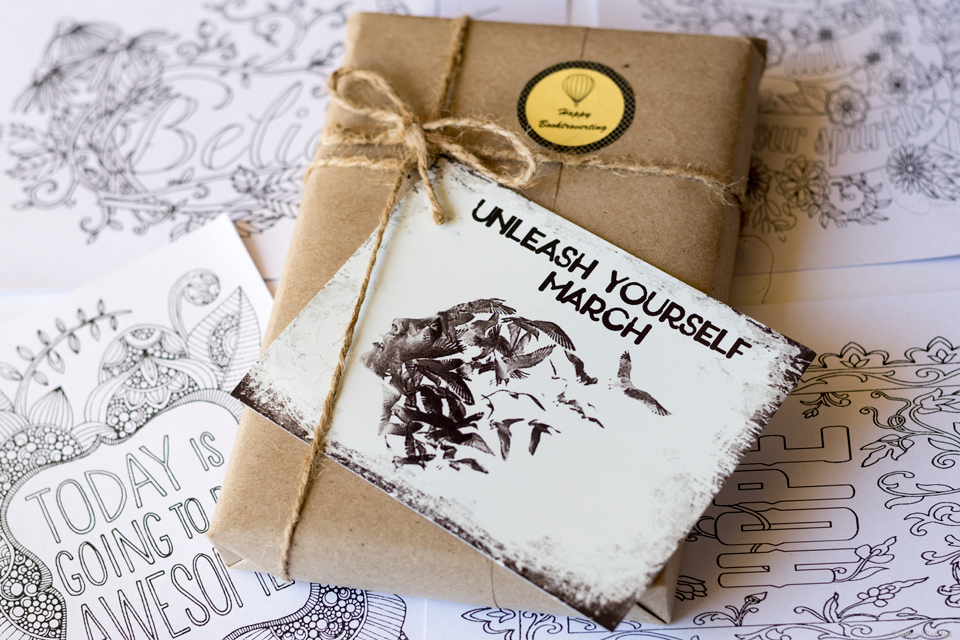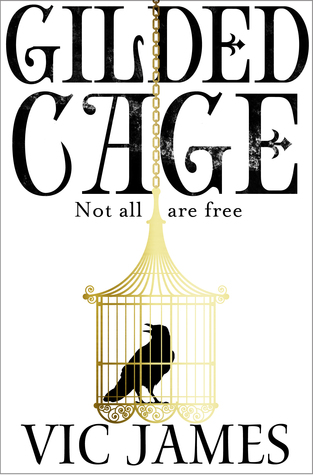 Our world belongs to the Equals—aristocrats with magical gifts—and all commoners must serve them for ten years. But behind the gates of England's grandest estate lies a power that could break the world.
Abi is a servant to England's most powerful family, but her spirit is free. So when she falls for one of the noble-born sons, Abi faces a terrible choice. Uncovering the family's secrets might win her liberty, but will her heart pay the price? Abi's brother, Luke, is enslaved in a brutal factory town. Far from his family and cruelly oppressed, he makes friends whose ideals could cost him everything. Now Luke has discovered there may be a power even greater than magic: revolution. And an aristocrat will remake the world with his dark gifts. (Read more on Goodreads)
Review
The Bookling's Crate had well curated boxes in the previous two months. The March box lives upto the expectations. I think this is a perfect box for those who love to write and paint. Writer's box? Jotter's (is that a word?) box? Painter's box? Let's get to the unboxing.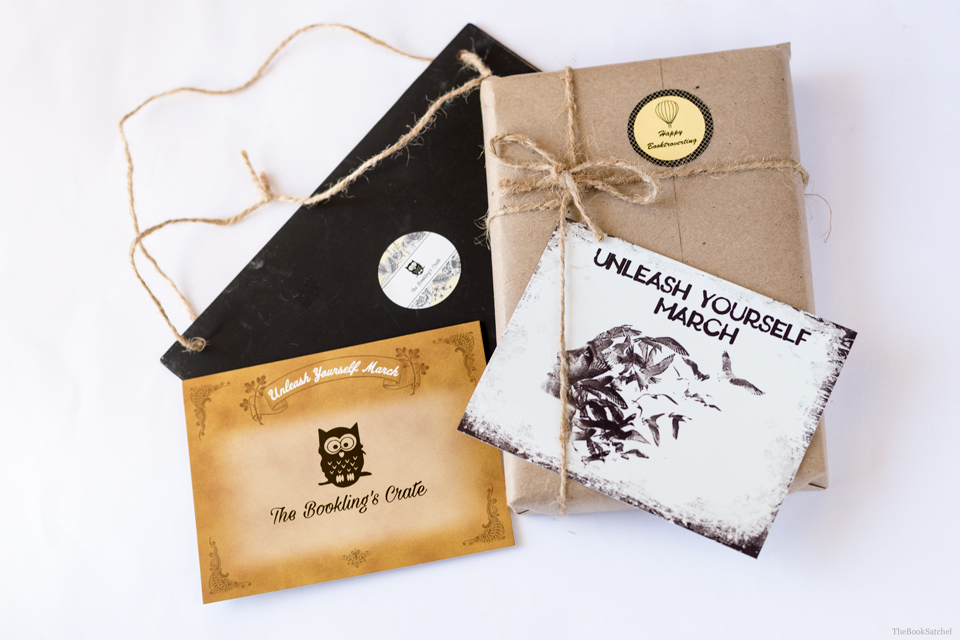 The packaging was excellent and all items were bubble wrapped. There is a card inside that mentions the individual items included in the box. A special note on how good the design for the card is every month.
My favourite this month is the notepad. Oh yes, there are even better goodies in the box, but I was searching for a nice notepad and this one with the illustrated border made me fall in love. There is a slate board included that you can hang where you want. How cool is that? I plan to write the books on my TBR on it and keep it on the table. First up, Ruth by Gaskell. You can also see my failed attempt at  trying to be artistic on the board that I frantically rubbed out before clicking a picture. There are two wooden hooks that you attach to the bottom of the board so that you can clip your notepad to the board. I did not attach mine since I want to carry it around as well (It is compact enough to carry around). They have also included an ample number of chalks for the slate board.
The box has four colour me cards with lovely illustrations. Yes, a pack of crayons too. I think this would really lift your spirits after a dull day. There is a water colour bookmark with quotes on it to keep you company during your read.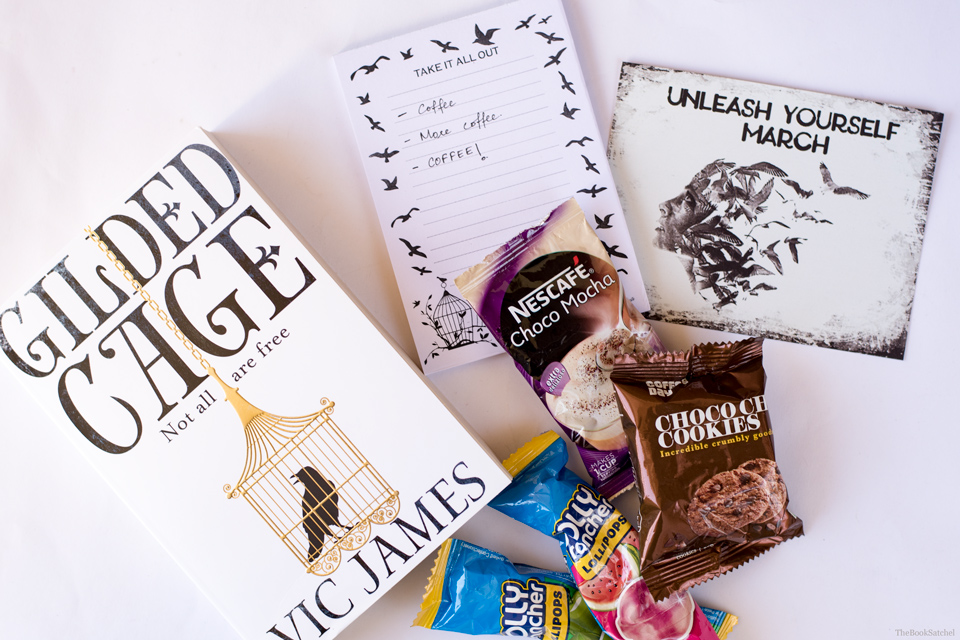 The highlight of the box would be the cushioned sleeve. I loved this. I am so scared of my books being damaged when they are in my bag, so this is a handy merchandise. Not to mention how badly abused my Kindle is when I dump it in my bag. The book sleeve has a thin cushioning, so it protects your digital device or book when you stuff it in your handbag.
The food packages included in this time's box are perfect for the kid in you. There are two lollypops! Also included are a packet of Nescafe Mocha and Chocochip cookies from Cafe Coffee day.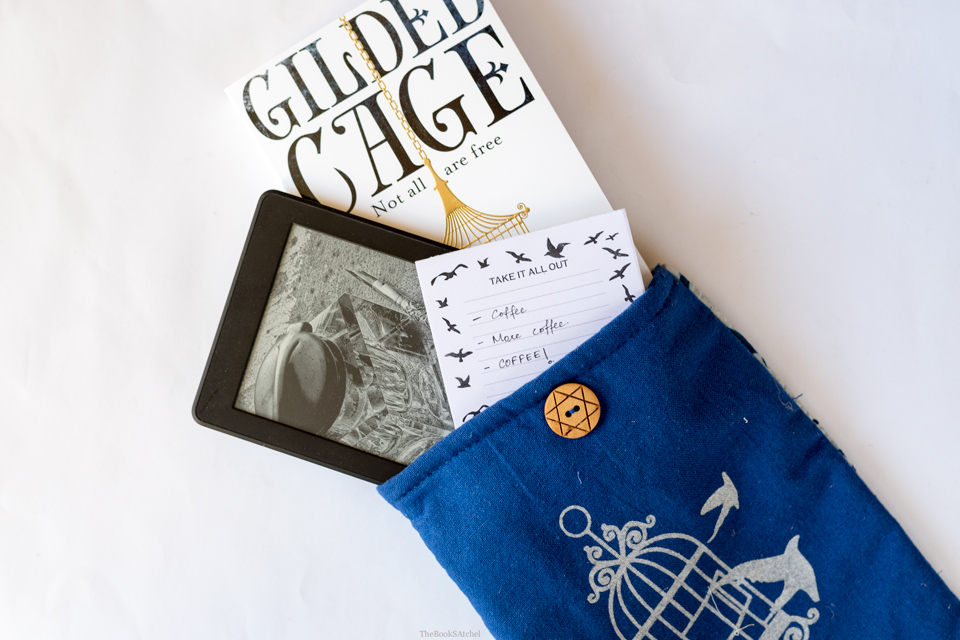 How to Subscribe
If you want to check the previous boxes that The Bookling's Crate put together, check my January unboxing and February unboxing. You can order a box on the website or DM on Instagram or sms 9061659039 for more details.
Don't forget to get a discount of Rs. 75 flat on your purchase by using the promo code SATCHEL75.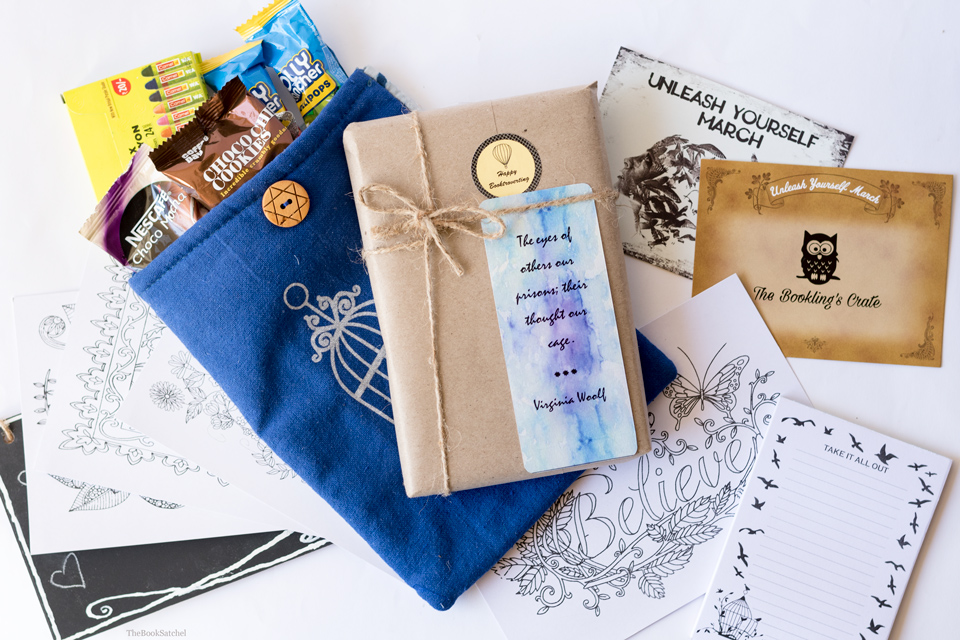 Disclaimer : Much thanks to The Bookling's Crate for a subscription box to review. All opinions are my own.
Share this post
[easy-social-share buttons="facebook,twitter,google,pinterest" style="icon" template="grey-circles-retina" twitter_user="thebooksatchel"]