Why Seraphina by Rachel Hartman is a Must-Read for Dragon Lovers
27th January, 2017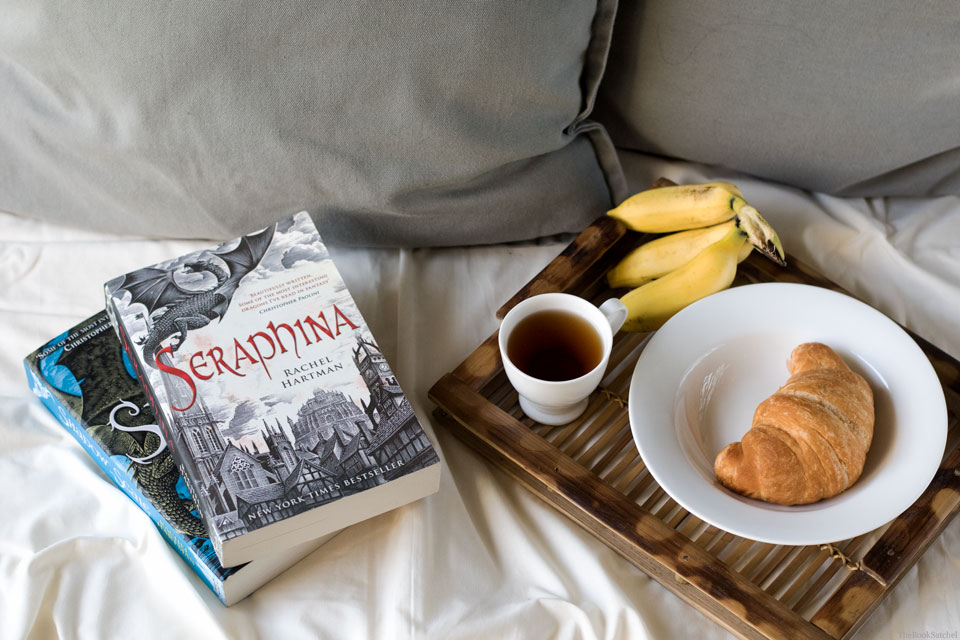 In a world where dragons and humans co-exist, Seraphina Dombegh, a talented musician faces a personal crisis of identity and loyalty. Set in a pseudo- Rennaissance Europe, in the country of Goredd, Seraphina is a coming of age story in a world of bigotry. Seraphina is the first book in a duology.
In Brief
Humans and dragons have lived in harmony for many years, thanks to a treaty of peace signed between them. Dragons are no longer monsters and have taken human form and dwell among humans. As the anniversary of the treaty approaches, unexpected events occur – the crown prince is murdered and anti-dragon sentiment is on the rise. Seraphina is a gifted musician who discovers secrets about herself that are too grotesque to be shared with anyone. Her growing friendship with the princess and the princess' betrothed, her musical abilities and her lessons with a dragon, lead her to accept herself and be at peace with her secret. Slowly she learns to stop alienating herself from the truth and stand up for what she thinks is right.
Talking about the book, the following are the aspects that stand out in the book :
Dragons
Of course! This book is all about dragons. The dragons in Seraphina's world exist in human forms and are called saarantras. In Goredd they are required to wear a bell that distinguishes them from human kind. However scholarly dragons are exempted this rule. Though dragons have eased into the human world and accepted their culture, food and clothing, they keep their dragon-minds and see emotions as a weakness of the spirit. The dragons who fall into the clutches of emotions are taken away to have their memories erased, a cruel punishment to teach them never to be carried away.
World Building
Rachel Hartman's world is studded with details. She gives perfect explanations of political hierarchy in the world where dragons and humans co-exist. Another important world in the book is Seraphina's mind-garden. When she realizes the truth about her birth, she is plagued by black outs, fits and uncontrollable overlaps into memories of strangers. She learns to be in control of her mind by keeping a walled mind-garden called 'garden of grotesques'. She has a daily ritual of tending the garden and visiting the grotesques that helps her keep the black-outs in control.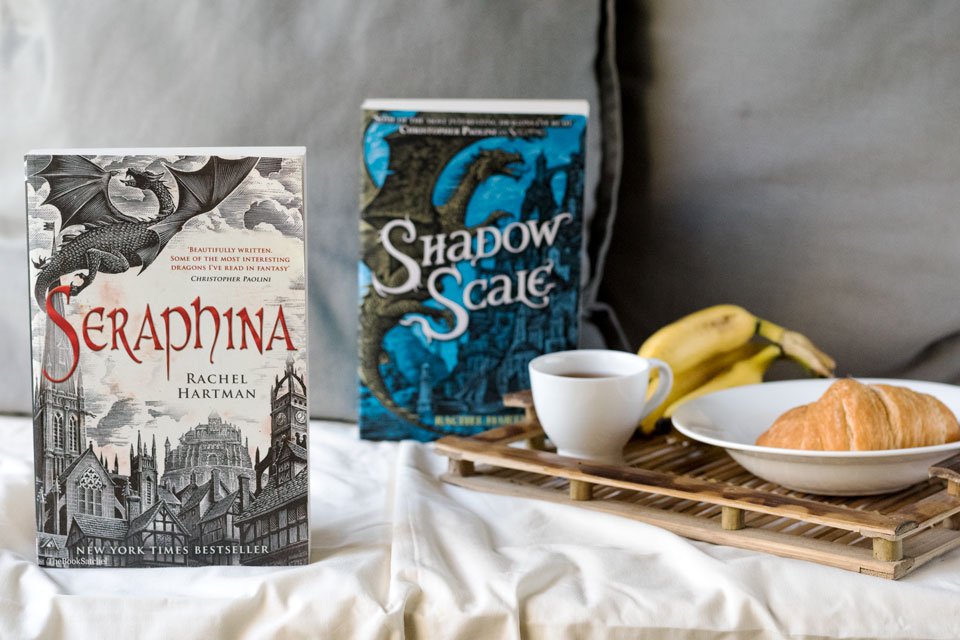 Character Development
The character development is excellent. The secondary characters are well defined. Even though there are seventeen or so members in the garden (mostly in the form of animals, each given a name by Seraphina herself), the plot does not get confusing and there is just the right amount of build up for each character.
Being Different
Seraphina is different. When the realization strikes her, she is terrified and tries to retreat into a cocoon of loneliness. Prince Lucien, betrothed to the princess, is a bastard. He has to carve a place for himself in the royal society. Orma, a dragon, has fallen under the spell of knowledge and struggles not to be a slave of emotions. Quigtl, who live in unhygienic, smelly ghettos, are detested by dragons and humans alike. However there are secret pubs run by quigtls where the revolutionary minds of all species meet for a drink.
Prose
I love the new words Hartman has invented for the book. I felt a Tolkienisque vibe in words like saraantraas (dragon in human form), saar (a way of addressing dragons), ityasaari (a half- breed who isn't accepted in society); but I might have just thought that way because the words remind me of Tolkien's Smaug. The writing captures your attention from the start to the end.
Music
Music is an integral part of the narrative. Seraphina finds solace in music. Her music consoles her, moves those who listen to her and redeems her. Music and its importance is woven into the narrative throughout the book.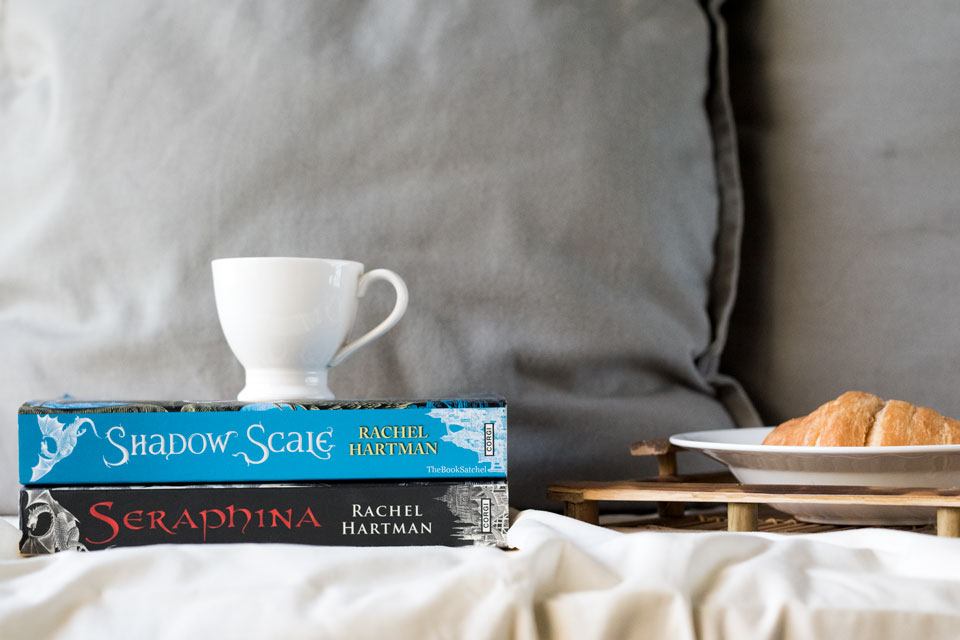 Orma and Books
Orma, Seraphina's teacher (and uncle) is a scholarly dragon. No review is complete without a mention of Orma. There is a scene where Orma sits upon stacks and stacks of books, much like a dragon guarding treasure. This is one of the best scenes in the book. Wouldn't everyone love a dragon who hoards books instead of trinkets?
Final Verdict :
It is amazing how we can connect so many incidents that happen in Goredd to the hate spreading in today's world. I felt like reading one of those stories we read as a child that has a moral in the end. The moral of Seraphina must be acceptance – acceptance of self and acceptance of those who are unlike the majority, because it is not your fault if you are different nor is it something that you can change. I loved this read. I could not stop reading once I read the first chapter. There is a clever interplay of excellent world building and beautiful language with a historical backdrop. I would highly recommend the book to fellow dragon lovers and to those looking for fantasy reads.
Title : Seraphina (Seraphina #1)
Author : Rachel Hartman
Publisher : Corgi Books
Published : 2013
Language : English
Pages : 359
Rating : 5/5
Are you a dragon lover? Have you read Seraphina?
Share this post
[easy-social-share buttons="facebook,twitter,google,pinterest" style="icon" template="grey-circles-retina" twitter_user="thebooksatchel"]