The Long Way to a Small Angry Planet by Becky Chambers – A Fantabulous Book of Co-existing in Diversity
5th July, 2016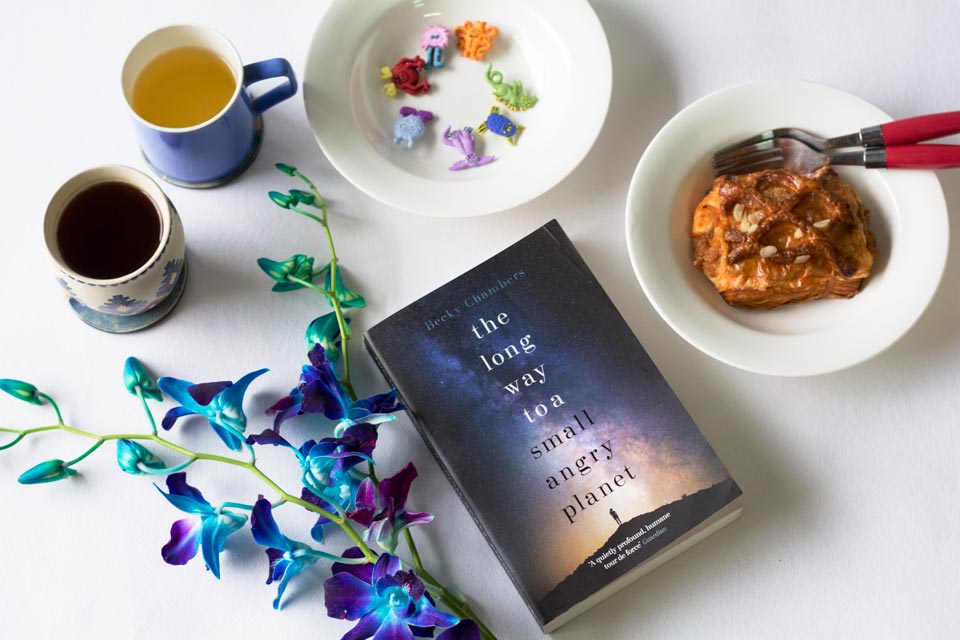 The Wayfarer is a small spaceship captained by Ashby and fueled by algae. It specializes in punching holes through sublayers of galaxy for transport paths between planets. Their new project is to punch a hole for possible alliance with a hostile species at the edge of Galaxy. And onward is a journey to an angry planet inhabited by the war-loving clans of the Toremi, and a journey of self discovery.
I bought the book without reading the blurb because of consistently seeing 5 star reviews for the book. I wasn't sure I would like the book as I started reading since science fiction is not something that I usually pick. But this is more like a fun story of love and friendship in a world inhabited by different species, not just humans. Save for the setting of the story being a space ship, I don't see why it should be categorized as science fiction.
WHY YOU SHOULD READ THE BOOK ? (right now!) 
First let me make clear what NOT to expect:
An action packed novel.
No, Its not.
 Science fiction in all its glory with lots of scientific terms.
No, Its not.
And you should read this. Here's why (apart from the fact that it was self-published at first, gathered a HUGE following, later bagged a book deal, got shortlisted for many awards and is fantabulous).
1. THE UNIVERSE :
Spaceships. Other planets. Space markets – Brilliant. Original. Enough said.
2. THE STORY OF MANKIND :
Humankind is one of the lower species (Surprise!). There are two kinds of humans – the nomadic Exodans who had left the solar system and roam around in spaceships;  and Solans, who made their home on Mars.
3. CHARACTERS :
There are humans; reptilian Aandrisks, graceful fighters called Aeluons, wealthy Harmagins and Artificial Intelligence systems. On board the Wayfarer we have Ashby, the Exodan Captain, Rosemary, a girl on the run from Mars with a secret; Sissix, an Aandrisk pilot; Kizzy and Jenks who are the technicians; Lovey, the artificial intelligence system, Dr. Chef a healer cum cook; Corbain, the scientist who supervises the algae for fuel and Ohan, the reclusive Sianat Pair who are (yep! Plural) the Navigator (yep! Singular) of the ship.
Now, if that does not convince you…
Each character gets a good amount of time for xe's (the book's way of addressing a character whose gender is unknown) own story.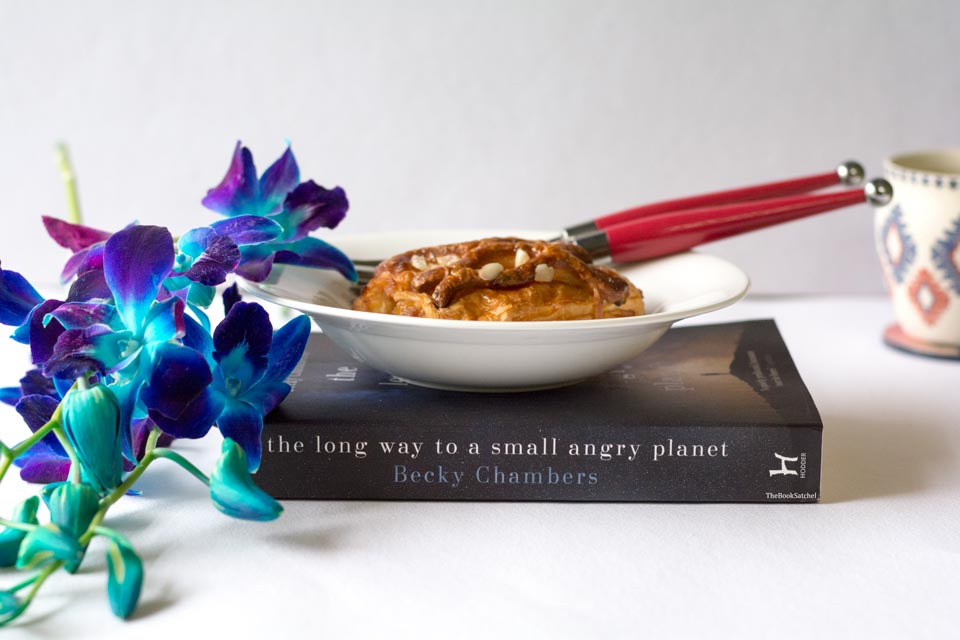 4. POLITICS :
The Galactic Commons are made up of a number of different species of all shapes and sizes, like a fictional United Nations. The more I read the more I felt how close to real life politics it seemed to be.
5. GENDER :
For Dr. Chef, gender changes with age. The Sianat pair are always addressed as 'they'.
6. DIVERSITY :
The cultural norms of different species are very very different from ours- some simpler and some complex. Aandrisks are most complex having three families- birth family, hatch family and feather family, each with its different dynamics.
The book puts forward the message of co-existence. For eg: the Aandrisks do not wear clothes. But Sissix does, inorder to not make the humans aboard uncomfortable.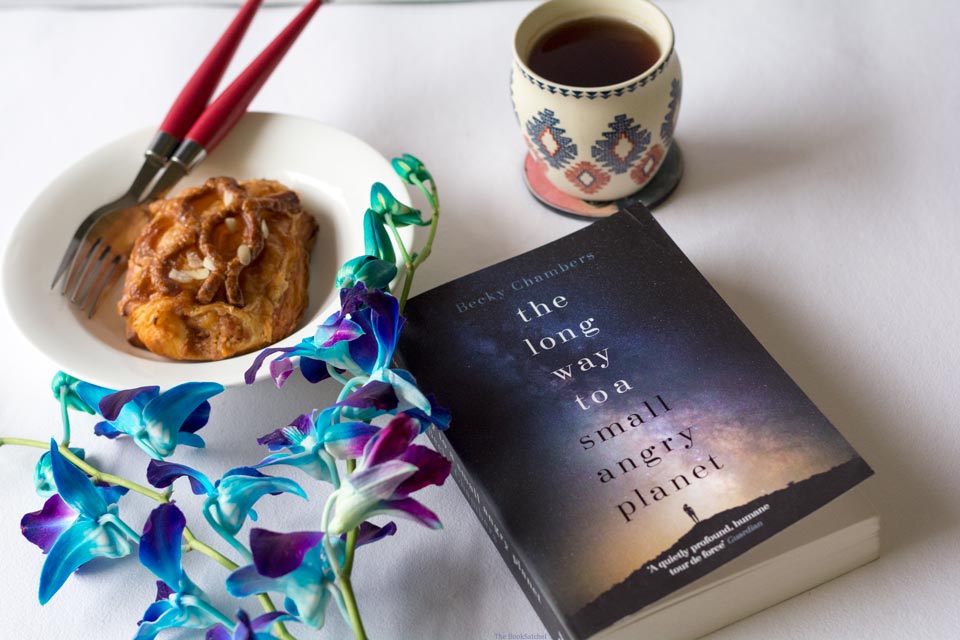 7. RACISM :
There are very few members of each species left and the only way life can go forward is if they co-exist. Still there are strands of racism that creep in.
8. THEMES :
I LOVE how wonderfully Chambers has beaded the themes, well spread out and not crammed.  There are sections on cloning, sexuality across gender (and species), artificial intelligence, euthanasia, family bonds, the right to choose how you live, warfare and blind following of dogmas. The book also gives the message of harmonious co-existence amidst diversity.
I felt the book was less plot driven and more character centric with a fabulous world building. The journey to the small angry planet is only a spine on which Chambers has created a wonderful and original world. I kept relating it to the present world scenario, so perhaps this is a book that is much beyond "just a story". The title is apt to the story line. (It is a lo000ng journey)
Warning : It took me a few chapters to get into the book. When I started reading I did think the book is not worth the hype. But keep reading. It has a leisurely pacing as opposed to the fast story line one would expect from the blurb.
I thoroughly enjoyed this book, and I don't know how to put into words why. There is A LOT to talk about this book. I am definitely looking forward to the next book.
Read it.
Title : The Long Way to a Small Angry Planet
Author : Becky Chambers
Publisher : Hodder & Stoughton
Published : 2015 (originally in 2014)
Language : English
Pages : 404
Rating : 4.5/5
Have you read this book? If not, will you try out this novel of different species co existing in a future world and humans roaming around in space ships? 
If you have, what did you think of it? Did you like the complex cultural dynamics of different species? Do you consider Lovey as a 'who' or 'what'? Which love story did you like the best? Did you feel the story seemed realistic in spite of the fantastical nature of the characters? Keep talking! I am listening.
Share this post
[easy-social-share buttons="facebook,twitter,google,pinterest" style="icon" template="grey-circles-retina" twitter_user="thebooksatchel"]
Becky has a background in performing arts, and grew up in a family heavily involved in space science. She has worked as a technical writer, a bartender, and a production assistant. The Long Way to a Small Angry Planet is her first novel. She is working on a stand-alone sequel named A Closed and Common Orbit.