Judas by Amos Oz – Story of a Traitor and the History of a Country
17th January, 2017
Judas is a love story and a coming of age novel told through the backdrop of the formation of Israel and the biblical tale of Judas Iscariot who betrays Jesus.
Review
Amos Oz is a writer who has been on my radar for quite a long time. My first book by the author was Scenes from Village Life – a collection of connected yet distinct short stories. I fell in love with his writing style. So I was elated to receive a copy of Judas. I had kept the book aside to read in January, but a quick glimpse at the book in December captured my interest and I could not bring myself to postpone the read. In short, I loved it.
The whole book is a pot bubbling with dreams – dreams that one hopes will come true as well as shattered ones that never came true. Here is a quote about dreaming – "blessed are the dreamers, and cursed be the man who opens their eyes. True, the dreamers cannot save us, neither they, nor their disciples, but without dreamers the curse that lies upon us would be seven times heavier. Thanks to the dreamers, maybe we who are awake are a little less ossified and desperate than we would be without them." The elderly man, Gershom Wald mentions Gogol, Tolstoy and Dostoesky in the novel, while asserting that "There is no one like Tolstoy for dreamers". A subtle backdrop of dreams and their plight is buoyant through the whole book.
The cast of Judas is a very small one. There are three main characters – they sit and talk and drink tea. Through the conversations the political and religious views of different generations unravel. The protagonist, Shmuel Ash is a biblical scholar at the university. His life comes to a standstill when his girlfriend abandons him and his father becomes bankrupt, thus unable to support his research. He leaves his studies and finds work as a caregiver of an old recluse named Gershom Wald. The little that we know of the lodging and Wald lend an eerie atmosphere to the story. Atalia Abravenel, a beautiful forty year old who stays in the same house, is mysterious and enchanting. Shmuel finds himself falling for this older woman, daughter of Abravenel, a deceased Zionist leader, in spite of being rebuked by Wald and the lady herself. Stuck in this house, Shmuel channels his spare time and energy working on the Jewish views of Jesus and finds himself entangled in the tragic history of the house, the State and his ambiguous mind.
I have not seen another author who can describe human faces with such accuracy and uniqueness. This particular talent of Amos Oz stands out in this novel as well. He brings alive the mysterious Atalia, the frustrated Shmuel and the argumentative Gershom before our eyes. The writing is slow and calm even while describing tragic events in history, another peculiarity of Amos Oz.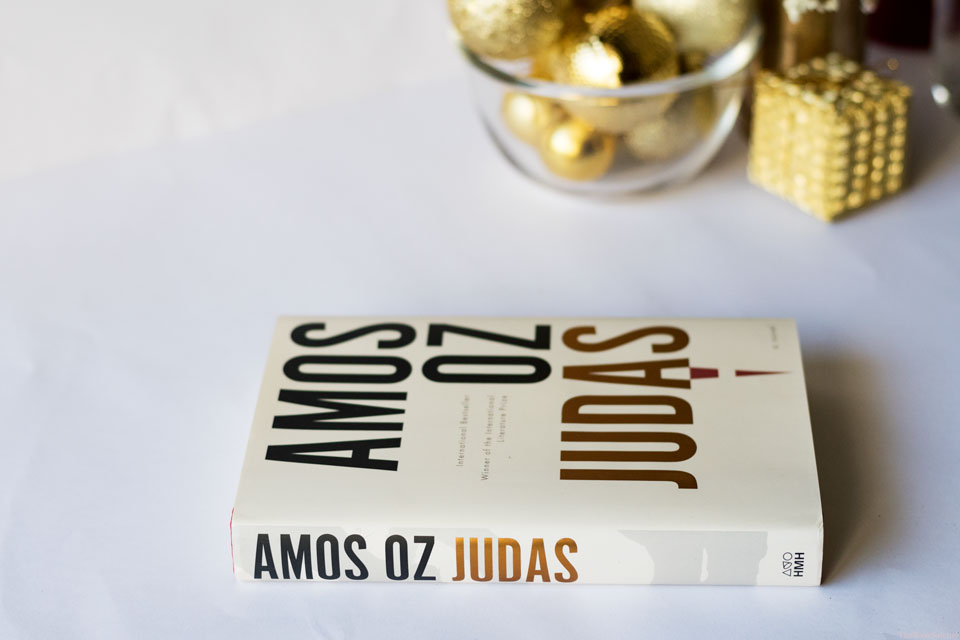 Judas is not an easy read. I had to stop several times to reflect on the context of the story. The whole text ponders on several teachings of the Bible and there are arguments in support and against the beliefs.  According to Wald who considers both Jesus and Shmuel as dreamers, "But if a man comes to me and declares that he loves all undeveloped countries or that he loves Latin America, or that he loves the female sex – that is not love, it is rhetoric. Lip service. A slogan. We were not born to love more than a handful of people."
The theme of treason hangs heavy in the book. The treason comes out in several forms – Shmuel choosing to stay in a stranger's house instead of returning to his family or replying their letters; Shmuel developing feelings for Atalia though she keeps herself distant from him; Atalia's choices that affect Shmuel's life and so on. Alongside these personal tales of betrayals we see the history of the formation of the State of Israel and the opposing views of the citizens. Wald is an advocate of Ben Gurion's policies while Abravenel disagreed with them which earned him the label of a 'traitor'. Atalia is torn between the views of the men in her life and often throws in her share of sarcasm at the whole situation. Shmuel is sympathetic and defines a traitor as this "Anyone willing to change will always be considered a traitor by those who cannot change and are scared to death of change and don't understand it and loathe change".
Shmuel tries to prove that Judas is not the traitor as we perceive him to be when he says " I believe that Judas was the most loyal and devoted of all the disciples and that he never betrayed him, but, on the contrary, he meant to prove his greatness to the whole world." He validates his point pointing out that Jesus lived during the time when prophets like him were rampant and the State did not bother about them. Moreover Jesus did not work in secret, hence did not need a kiss pf betrayal, and certainly not from a 'rich' man as Judas to whom thirty silver coins would not have meant much. He goes on to call Judas as "the first Christian. The last Christian. The only Christian." There are several other references to different versions of the story of Judas including the play titled Jesus of Nazareth by Nathan Agmon in 1921 where Jesus pleads with Judas to betray him and help him die. Shmuel says "I don't believe for a moment that Jesus was God or the son of God. But I love him" , similar to Oz's views on Jesus (Gaurdian podcast). There is a chapter written in the POV of Judas, which is a refreshing take on the topic.
I feel the whole story is an allegory to the state of Israel though Amos Oz says otherwise in his interviews. Those who know about Oz's standing on Israel and his fervent support to a 'two-state solution' will see the man himself in Abravenel, the Zionist leader and father of Atalia. Though he was not much of a family man, his political ideals are significant. He wanted a peaceful co existence and was called a traitor (Amos Oz was labelled a traitor for his political views). At places I felt Oz was making fun of his own desire for peace because it is almost an impossible dream.
Final Verdict :
I like to think that Oz wrote this book sculpting the characters with parts of himself- Abravenel with his political views, Wald with the arguments boiling in his mind and Shmuel with his religious views. As for Atalia, she remains forever mysterious. Perhaps Oz left an emotional imprint in her. This book is a well balanced piece of literature, telling the biblical story of Jesus and Judas plaited with the history of Israel. It does not suffocate the reader under a tone of duress, rather lets each one think on their own. Read it with a non judgmental mind and you will be a satisfied and happy reader by the end of it. Highly recommended.
Title : Judas
Author : Amos Oz (Translated from Hebrew by Nicholas de Lange)
Publisher : Houghton Mifflin Harcourt
Published : 2016 (Originally 2014)
Language : English
Pages : 320
Rating : 5/5
Much thanks to Houghton Mifflin Harcourt for a copy of the book. All opinions are my own.
Have you read books by Amos Oz? Do you have any favourites?
Share this post
[easy-social-share buttons="facebook,twitter,google,pinterest" style="icon" template="grey-circles-retina" twitter_user="thebooksatchel"]