The Good Immigrant Edited by Nikesh Shukla – An Angry and Relevant Book
7th February, 2017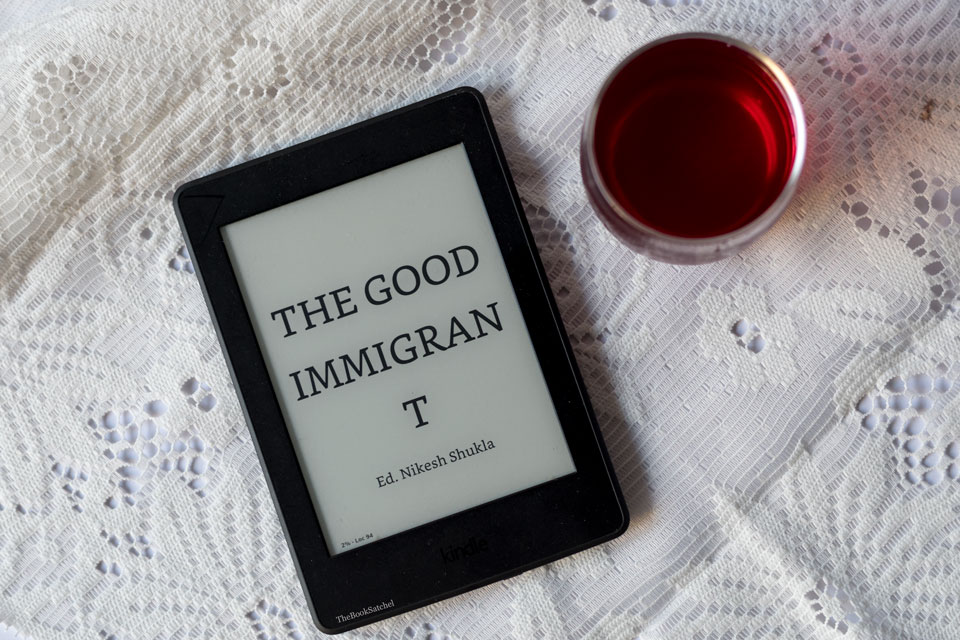 The Good Immigrant is a collection of 21 essays by persons belonging to black, Asian and ethnic minority communities of UK. It has an angry tone throughout, sprinkled with humour and sarcasm and is overall a fascinating read. Long review short – Please pick a copy.
Blurb
To sum up the book, would not do justice to all the essays. So here is the Goodreads blurb that gives an idea about the book –
How does it feel to be constantly regarded as a potential threat, strip-searched at every airport? Or be told that, as an actress, the part you're most fitted to play is 'wife of a terrorist'? How does it feel to have words from your native language misused, misappropriated and used aggressively towards you? How does it feel to hear a child of colour say in a classroom that stories can only be about white people? How does it feel to go 'home' to India when your home is really London? What is it like to feel you always have to be an ambassador for your race? How does it feel to always tick 'Other'?
Review
In his editorial note, Nikesh Shukla quotes Musa Okwona in his essay The Ungrateful country –
"…Society deems us bad immigrants – job stealers, benefit-scroungers, girlfriend-thieves, refugees – until we cross over in their consciousness, through popular culture, winning races, baking good cakes, being conscientious doctors, to become good immigrants.
Nikesh Shukla adds – "And we are so tired of that burden."
What caught my attention and made me curious about the book was this quote doing its rounds on Twitter,
"Chai means tea. Chai tea means tea tea. The number if times you see this on a menu makes you wonder why people can't be bothered to do their research. Like naan bread too. Bread bread."
I found it very interesting to read about experiences of Indians who are greeted with 'Namaste' by some white people. (In case you are wondering why this is a matter of concern, we say 'hello' in India. Namaste is used occasionally, but not when you meet a stranger on the road. We know and understand 'hello'. On a normal random day it is 'hello'.) The book has several examples of misuse of words and culture mainly rising from ignorance and xenophobia.
There are so many passages that I underlined in the book. If you read these essays, please sit down with a pencil; read them and think about them.
In A Guide to Being Black, Varaidzo speaks about children of a mixed descent – "a mix of races is to be raceless". It is thought provoking when the essay mentions that hairstyles that are meant to keep Afro hair neat and healthy are considered wacky and not accepted in professional settings.
In My Name is My Name by Chimeme Suleyman who mentions incidents where she is met with statements as " How can a child who speaks like you have a dad that speaks with that ridiculous accent?" and she makes the conclusion "Standardisation is the backbone of the Empire, after all."
Beyond Good Immigrant, asks why Chinese are called the 'model minority' in America.
The title of Darren Chetty's essay, You Can't Say That! Stories Have to Be About White People speaks for itself. There is a touching incident about Verna Wilkins, publisher at Tamarind Books, whose son comes home with a self portrait which he had painted bright pink because the teacher distributed only that colour.
Kieran Yates angrily points out  that "French accents are sexy, intelligent, Americans cool and culturally appropriated; Indians are comedic" in his essay."
Riz Ahmed puts down how different and annoying the visa formalites for immigrants are in Airports and Conditions.
Shade is one of the angriest essays in the collection, evident from the below quote –
" You give them your CV and hope to get offered extra work, non speaking parts of the prostitute, drug dealer or dead girl. You get a part as an extra in a prison riot scene, it pays the rent that month. "
The essays bring to life the depth of discrimination that exist because of a difference in a pigment in one's skin – something that a human being has no control over. Some essays are personal and heart felt while some are of a more general nature. All of them are angry, fuming and spit truth on your face in a way that makes you uncomfortable. I loved how honest the voice is, in each of the essays. If you have lived in another country for a part of your life, you can relate to the book. I sure could relate with so many essays though not at such harsh levels. It is funny that I have come across such incidents in my own country while staying in a state different from my native state and not when growing up outside India. This is not just funny, but a harsh reality that struck me even more after reading he essays. Such discriminations are present even at grassroots within one's own country (among educated folks, mind you); so how much greater would it be for the immigrants who have made their home in another country?
Shukla admits that most of the contributors knew each other. So the essays are mainly from personalities in media/entertainment and the immigrants in other fields and their experiences are not included. This was the only flaw I found in the collection, that the book is titled 'The Good Immigrant' but many fields where immigrants have contributed are ignored. But twenty one essays is the right size for the book –it was not too long and not too short, so perhaps this restriction is a reason for the same.
Final Verdict :
If you are not a white person, you should read this book. If you are a white person, you should read this book. Enough said! Highly recommended.
The Good Immigrant is published by Unbound, a crowd funding publisher. You can check more of their projects or pitch your idea or support a book through their website.
Title : The Good Immigrant
Edited by : Nikesh Shukla
Publisher : Unbound
Published : 2016
Language : English
Pages : 256
Rating : 4/5
Disclaimer : Much thanks to Unbound  for an e-copy of the book. All opinions are my own.
Did you read this collection of essays? What are your opinions?
Share this post
[easy-social-share buttons="facebook,twitter,google,pinterest" style="icon" template="grey-circles-retina" twitter_user="thebooksatchel"]