Five Reasons to Pick up The Improbability of Love by Hannah Rothschild
25th January, 2017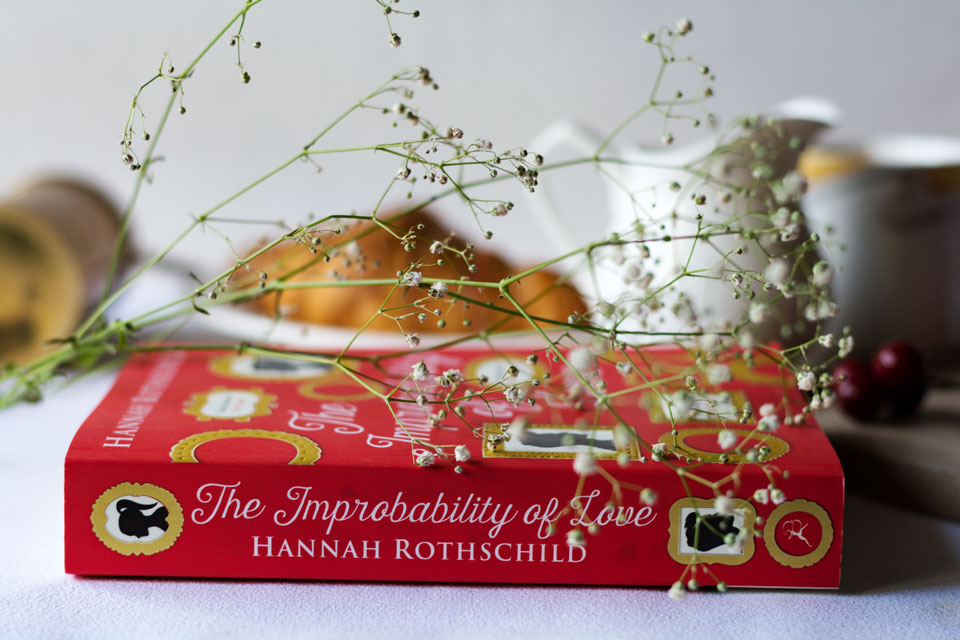 When Annie McDee comes in possession of a painting bought from a junk shop, little does she know that the elite circle of London's art world is trying to track it down. Set in contemporary London, this book was a worthy contender in the  shortlist for Bailey's Prize, 2016.
In Brief
Annie is an aspiring chef in her thirties who leads a lonely isolated life after a love-failure. She admits "If I died here in my studio flat on a Friday night, no one would notice until my employer wanted a restaurant booked or his dry cleaning collected." When she buys a painting from a junk shop to gift a man after their first date, she has no idea she is in for another heart break. The painting lies forgotten in her house until her alcoholic mother, Evie moves in and starts obsessing over it.
Annie finds a job as a lowly chef under Rebecca Winkleman, daughter of Mr. Memling Winkleman – a 90 year old international art dealer who rules London's art world. She is not aware that Mr. Winkleman is in search of the same canvas that is in her possession. Rebecca, who has no idea why the painting means so much to her father, tries to help him and in the process of tracking it discovers ugly truths about the art world and her family.
As Annie is pulled into this unscrupulous art world consisting of exiled Russian aristocrats, ambitious Sheikhas, lower end art dealers, collectors, high society ladies, intellectuals, academics and exhibition organisers, she finds herself in unfamiliar terrain for someone who just wants to cook. And perhaps this might persuade her to believe in love again.
Here are some highlights about The Improbability of Love :
1. Characters
The book has a colourful cast of characters. There is an exiled  Russian billionaire named Vlad; an American socialite named Melanie Appledore; the aging cross dressing fixer named Barty (I loved his character. The wigs he adorns for every party and conversations with the ladies on botox are hilarious) who works with exiled rich men to set up a new home in London and establish themselves in a new society, Earl Beachendon, a director at Monachorum, who is at the risk of being fired unless he catches hold of a masterpiece and Jesse, a struggling artist. The secondary characters are well crafted and add to the outrageousness of the art world.
2. The Painting
I think the painting is my favourite character in the story. I loved to read the its POV even though it is fictional while the painter it is attributed to (Watteau) is real. The painting is a cheeky thing indeed. I found the crass talk amusing, completely contrary to the classy, elegant speech that I was expecting from a highly valued painting. It is obnoxious ("As we all know a fierce female mind is a passion killer. Men prefer the breast to the brain"), proud ("I was a painting that started a movement, the rococo") and unbelievingly human at heart.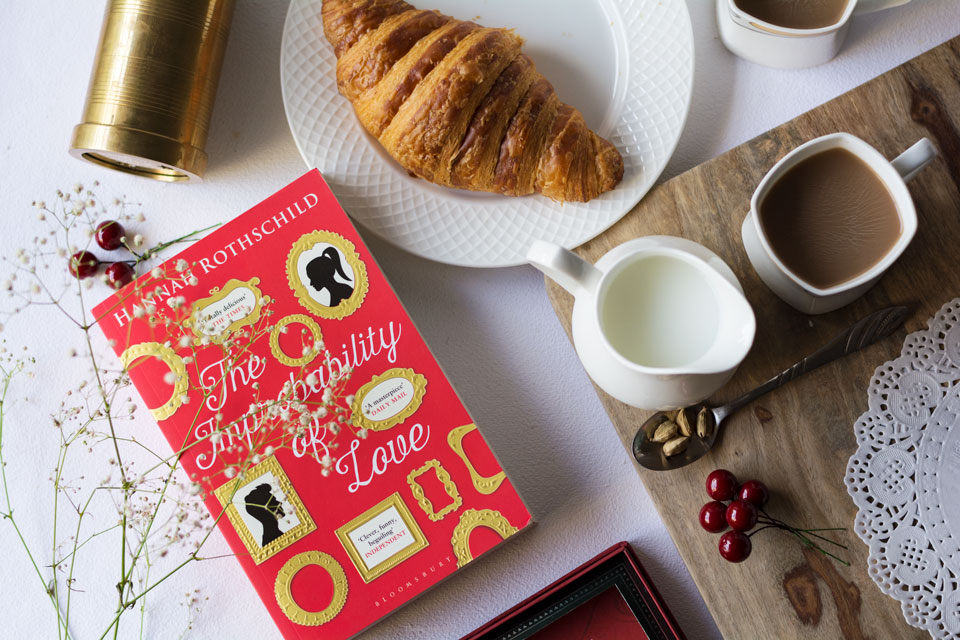 3. Food
Food lovers, you need this book in your life. Read this passage about making an omlette from the book  on my Instagram.
Are you convinced? When a book can describe a simple dish like that, you can imagine how good the rest of the writing might be!
"Looking at a tray of quinces, Annie saw them baked, skewed or grated, imagined them with pears or lamb or cheese. Looking to her right she caught sight of a pyramid of fennel – perhaps she could melt a few bulbs into the onion soup or create a side dish with a sauce perfumed with anchovy, or just saute the vegetable until its gentle perfume quivered about a dish of braised chicken"
4. Dinners
I know the last point was 'food'. I had to make the elaborate, lavish dinners as another reason to read the book. If you, like me, agree that gawking at food styling pictures for endless hours is not a waste of time but a legitimate hobby, this book is for you. The dinners are themed on a painter/painting and the chef's creativity in decorating the room as well as styling the food comes alive with Rothschild's writing. This quote speaks for itself –
"She sent each course out, one after the other- oysters, caviar, soups, quails, foie gras, jacquard chicken, onion soup with champagne, sole stuffed with carb meat, vegetables piled high, new potatoes the size of crocus bulbs mixed with quails' eggs, pigeons dressed like baby peacocks, feathers made from herbs captured in cages of spun sugar."
5. Art
"That was the glorious thing about art; its value was entirely subjective"… "For both the chef and the painter, creating tastes or scenes from an assortment of base ingredients was a way of navigating the world"
Rothschild paints an honest picture of the art world – she tells us the good and the bad, often in dramatic prose that makes the reading even more delightful. Her explanations about the different eras of painting and the evolution of different style and techniques over the ages was very informative and interesting.
Warning
This book gives you a lot of information on the art world and the paintings. If you are someone like me, not very knowledgeable about different painters and their styles, you might want to refer various facts to truly appreciate the book. So an e-book might serve the purpose very well. Also, this book will not work well as an audio book unless you are willing to pause it at regular intervals to do some research on your own. Lastly, you will either love the book or hate it.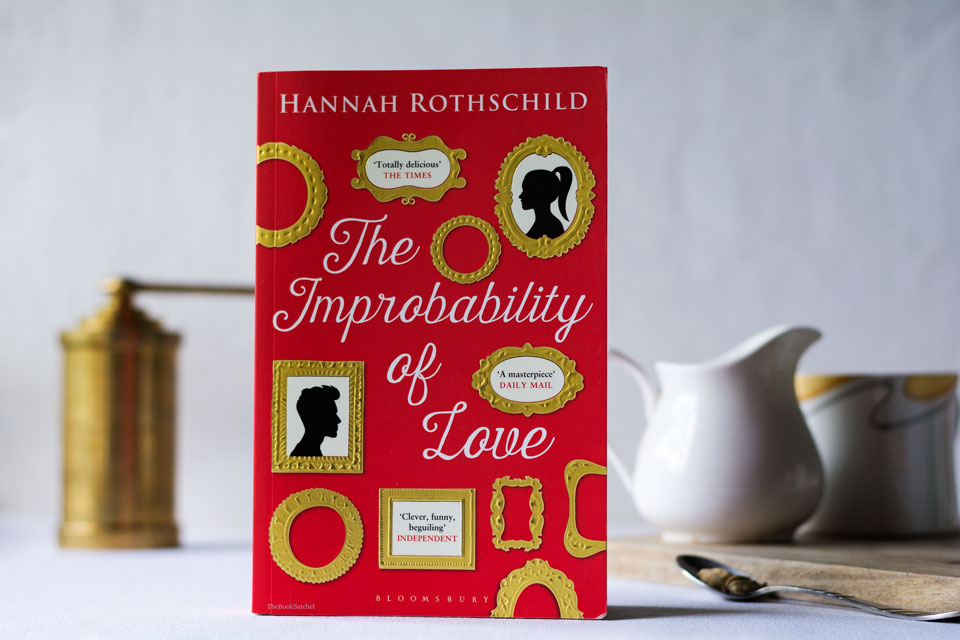 What I Disliked
I loved the read. There are portions that do not advance the plot, but make the book a beguiling read. However the ending dragged a bit. It lacked the crispness that the writing maintained till then. Secondly, I did not think this cover suits the book even though it is pretty! It gave me the impression of a chick flick and this book does not fall into that category.
Jennifer Senior mentions some textual glitches in her article in The New York Times article. I did not notice them when I was reading the book, but the book would have been perfect had those been addressed.
Final Verdict :
To sum up I quote Annie, "When I can persuade three different random ingredients to go together and create something delicious, I am overcome by waves of happiness."
I am sure Rothschild feels the same with this amazing book churned out of three passions – for food, love and art. If you appreciate good food or are an art enthusiast or a movie buff or even someone who enjoys a love story, this book is for you. I sincerely hope this would be made into a Hollywood movie. The elite class of the art world, the paintings and the lavish banquets would make a spectacular watch.
Title : The Improbability of Love
Author : Hannah Rothschild
Publisher : Bloomsbury
Published : 2016
Language : English
Pages : 479
Rating : 5/5
Did you enjoy The Improbability of Love? What made you love it (or hate it)?
Share this post
[easy-social-share buttons="facebook,twitter,google,pinterest" style="icon" template="grey-circles-retina" twitter_user="thebooksatchel"]