Books N Beyond – February Unboxing
8th February, 2017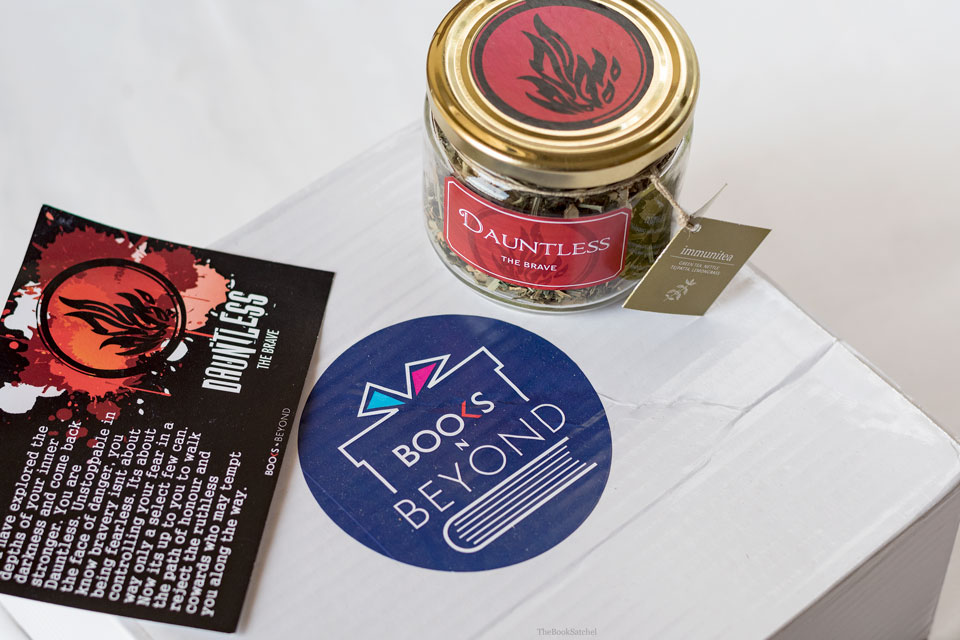 Books N Beyond is a monthly book subscription service that delivers a book along with bookish merchandise. This book subscription service was started by Papiya in December (Dec, 2016). Papiya has a decade of experience in the hospitality sector. She left her position as Director, Human resources to pursue her passions – books, photography and travel.
The book box is not restricted to a particular genre as it aims to widen the exposure of a reader to various authors and genres. The theme for each month is chosen and an appropriate book is included in the package. Other services include providing customised boxes to customers (even internationally). They have previously put together theme such as 'Sufi', 'poetry' and 'crime thriller' and are working on a 'poetry' box and a 'Harry Potter' box as gifts.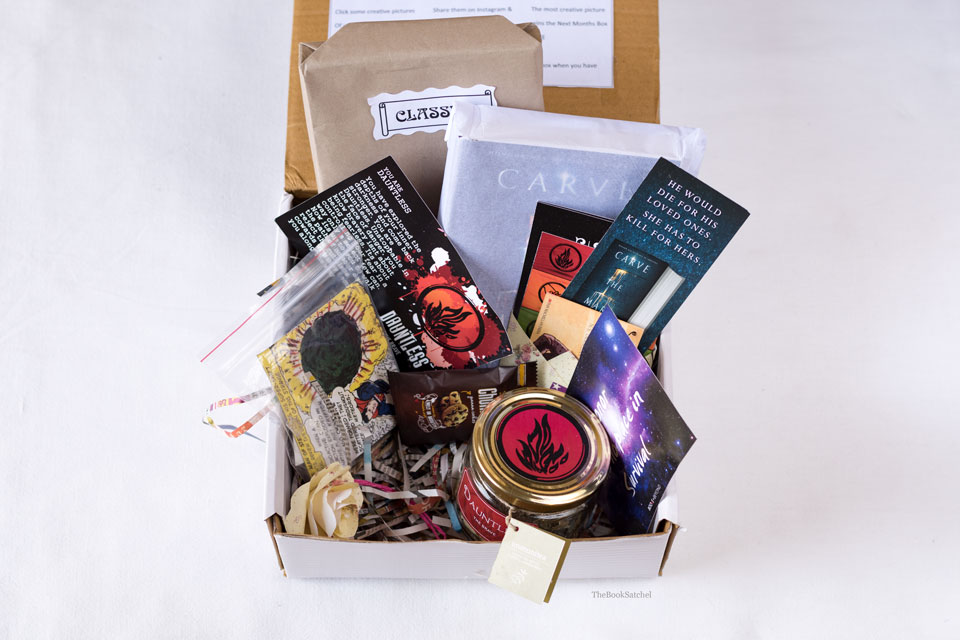 About The Bookish Box
Now, about the box. The January box was themed  "Sci-Fic". Here are the products that were included in the box:
A faction based herbal tea jar
A Kryptonite Rock – Organic Blackberry bath soap
A cookie
Six bookmarks –

Customised Jane Austen bookmark
Customised Divergent bookmark
Two Lunar chronicles bookmark
Official Carve the Mark bookmark
A hand made rose bookmark

Two books

A surprise YA book
A classic chosen from a list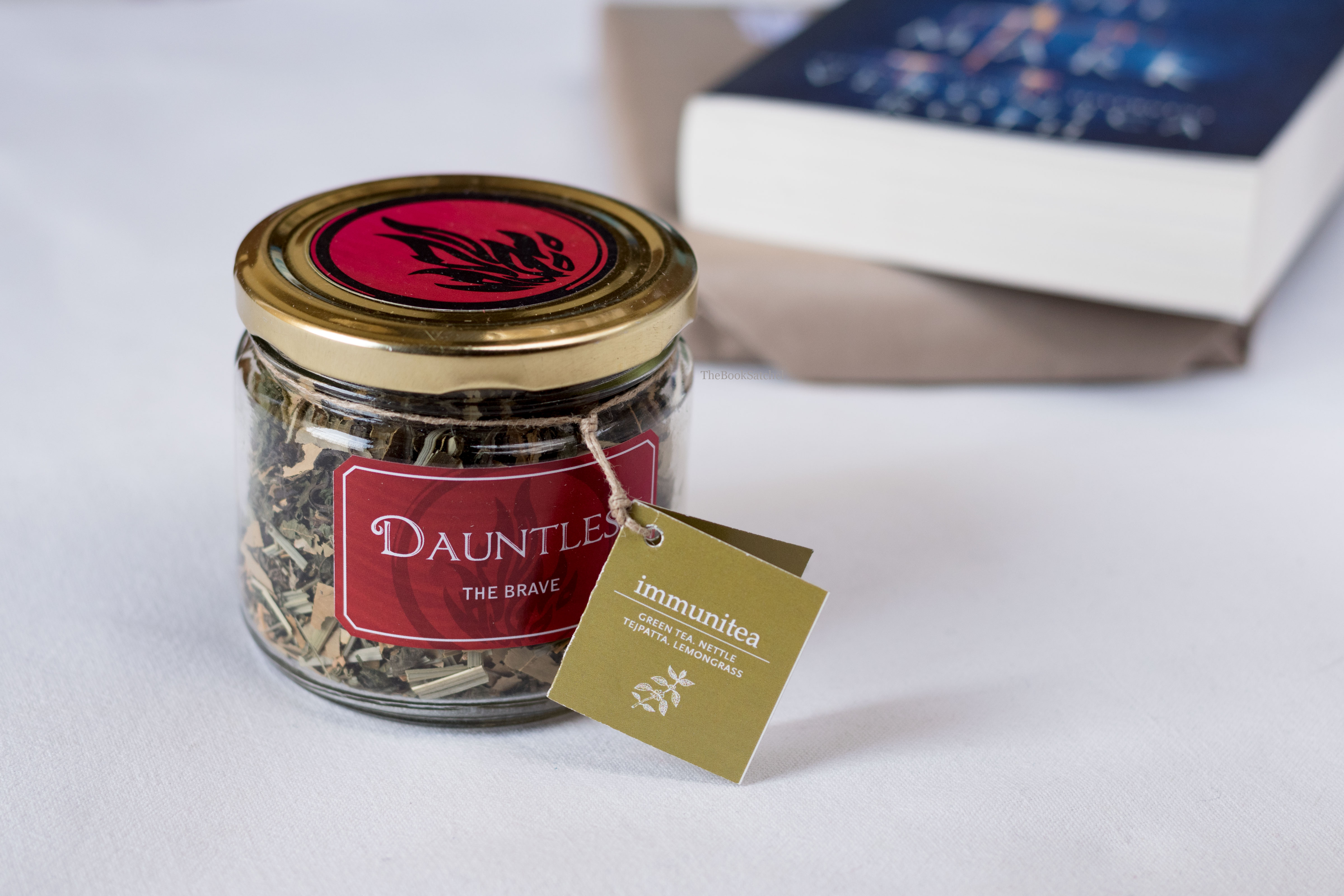 Books
There were two books included in the Feb box (Hurray!). The surprise book turned out to be a paperback copy of Carve the Mark by Veronica Roth from Harper Collins.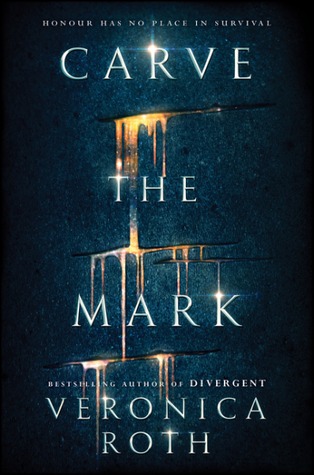 On a planet where violence and vengeance rule, in a galaxy where some are favored by fate, everyone develops a currentgift, a unique power meant to shape the future. While most benefit from their currentgifts, Akos and Cyra do not—their gifts make them vulnerable to others' control. Can they reclaim their gifts, their fates, and their lives, and reset the balance of power in this world?
Cyra is the sister of the brutal tyrant who rules the Shotet people. Cyra's currentgift gives her pain and power—something her brother exploits, using her to torture his enemies. But Cyra is much more than just a blade in her brother's hand: she is resilient, quick on her feet, and smarter than he knows.
Akos is from the peace-loving nation of Thuvhe, and his loyalty to his family is limitless. Though protected by his unusual currentgift, once Akos and his brother are captured by enemy Shotet soldiers, Akos is desperate to get his brother out alive—no matter what the cost. When Akos is thrust into Cyra's world, the enmity between their countries and families seems insurmountable. They must decide to help each other to survive—or to destroy one another.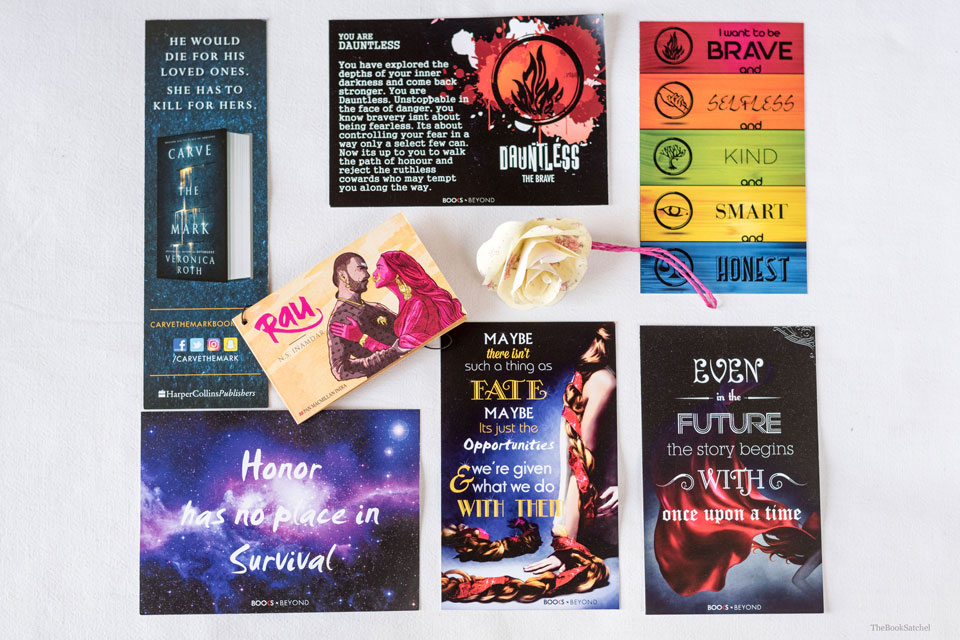 The other book was one that I chose from a list containing six books some written by Jane Austen and some by Ruskin Bond. I received a paper back copy of Mansfield Park (Fingerprint classics)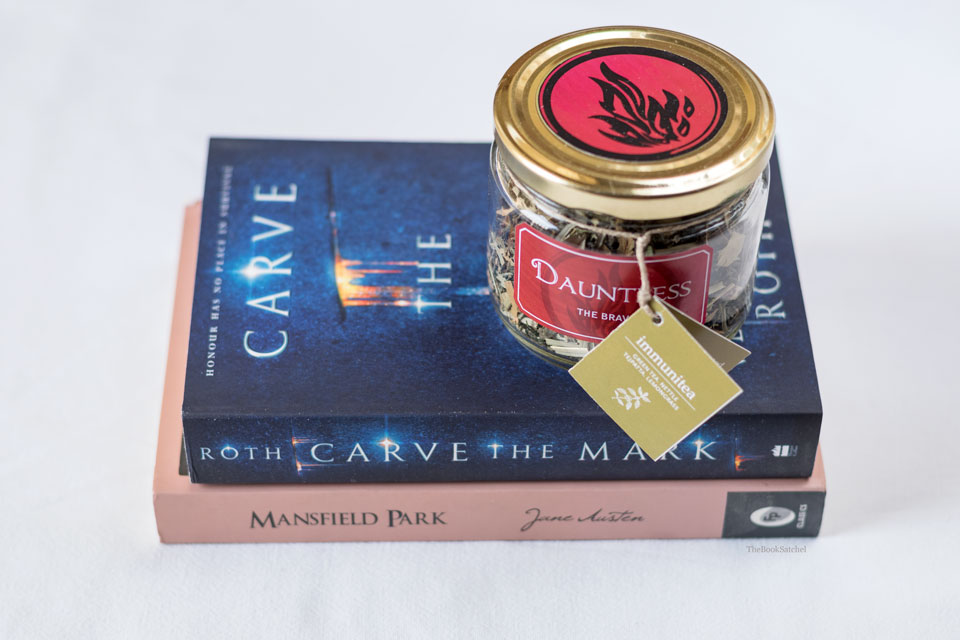 Review
Books N Beyond Feb box got delivered in the beginning of Feb, as promised. The packaging was good. The goodies and books were placed in a creative bundle of newspaper strips and bubble wrapped. The box is perfect for art enthusiasts because there were many bookmarks and art prints. Since there are two books included, the bookmarks are curated to appeal to YA audience as well as classics lovers. I was glad a Jane Austen bookmark was included to go with the book.
The card inside says the cookie is placed to lift your mood. That is so true! I nibbled on it as I did the photoshoot for the post. Not to forget the jar of herbal tea. The jar I received is an immunity booster blend and contains wild nettle blended with Tejpatta, lemon grass and Garhwal Green Tea.  The box has everything needed for peaceful Feb evenings – tea and organic soap for a long, hot bath.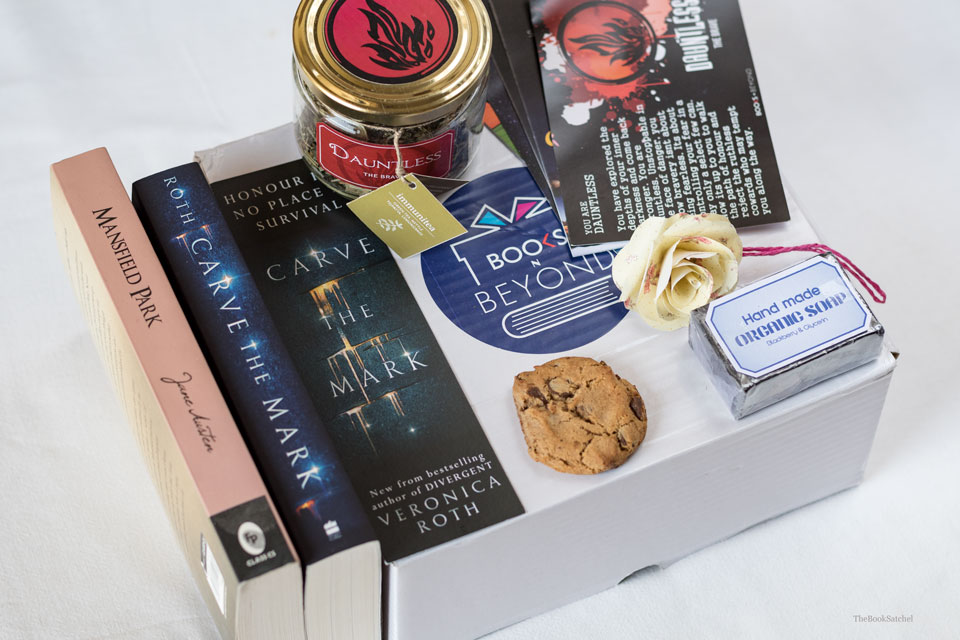 How to Subscribe
Books N Beyond ships internationally (Yes, you heard that right!). They offer customised boxes as well which are perfect to gift a bookworm.
You can subscribe to Books N Beyond or order a customised box through the website.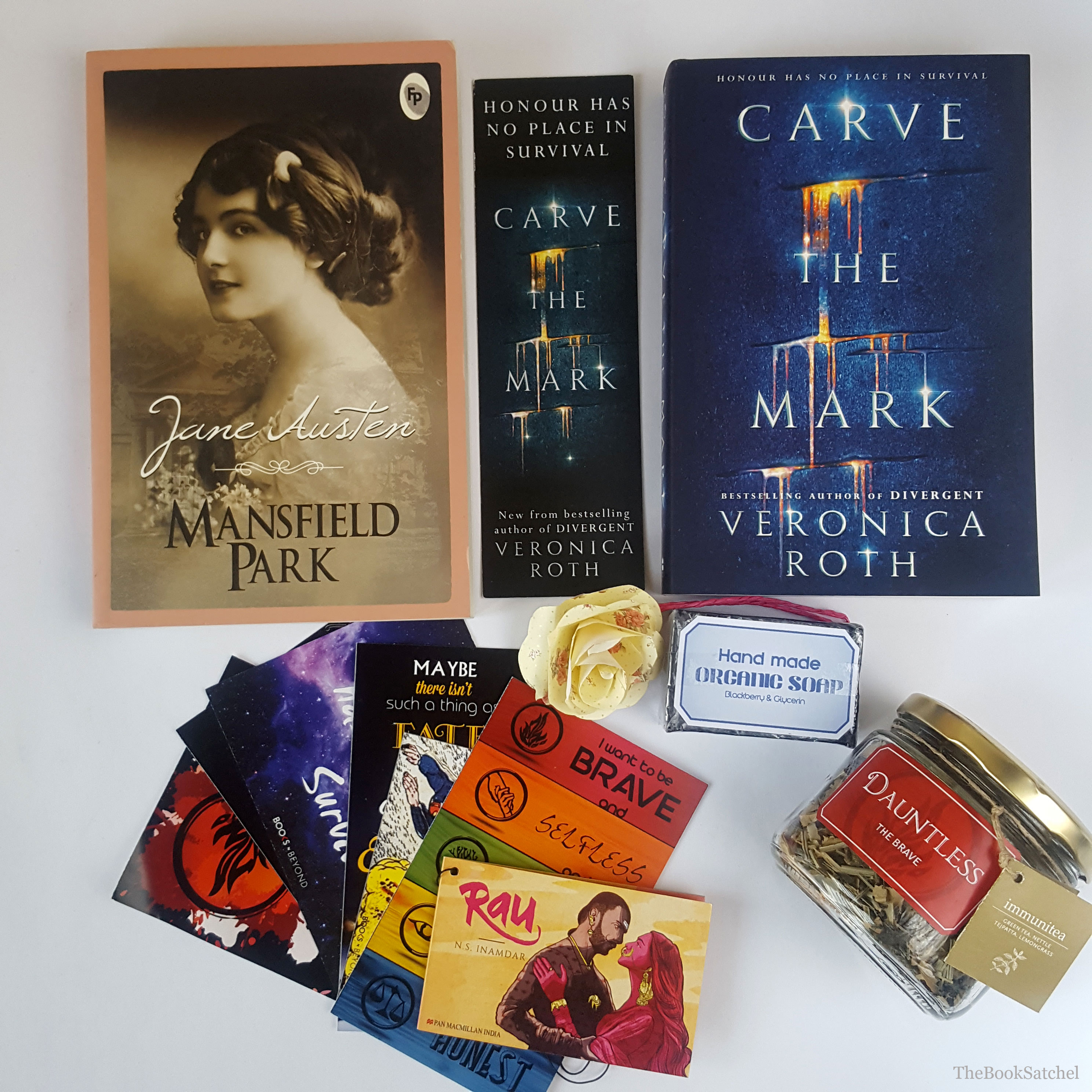 Disclaimer : Much thanks to Books N Beyond for a subscription box to review. All opinions are my own.
Share this post
[easy-social-share buttons="facebook,twitter,google,pinterest" style="icon" template="grey-circles-retina" twitter_user="thebooksatchel"]