Translated Novellas that Deserve your Attention
30th June, 2018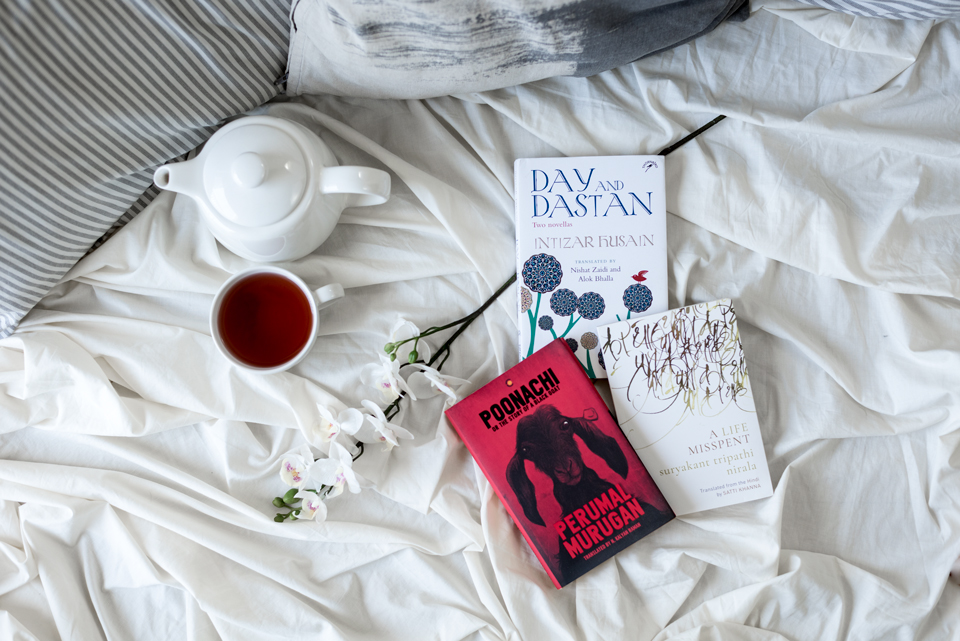 Urdu. Hindi. Tamil.
Here are some translated works from these languages that you would enjoy reading.
Each book has its own merits. Day and Dastan are so different in the style of writing from one another that it is a surprise that the same author wrote both of them. Day is more descriptive and languid, while Dastan is a mix of stories with a magical twist to the real historical events that happened in India. While Nirala gives a glimpse of the political changes in India and the social discrimination through A Life Misspent, Murugan does the same with his allegory of human life through Poonachi.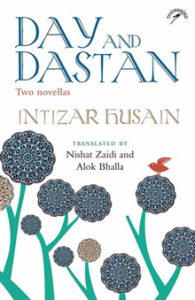 Day and Dastan
Author : Intizar Husain; Translated by Nishat Zaidi and Alok Bhalla
Publisher : Niyogi Books
Publication: 2018
Language : English (translated from the Urdu)
Pages : 192
Rating : 4/5
Day and Dastan was a delightful read that I picked up during my 30 books in 30 days challenge. Day is steeped in a  distinct air of melancholy and longing. The story unfolds in a rustic village setting over a haveli drowning in debts over a relentless summer. It reveals the young, innocent love that the protagonist has towards his cousin, the discrimination against girls in families and displacement. The novella boasts of prominent descriptive passages on nature – the flowers, the trees, the butterflies and everything else that is ordinary but makes us whole.
The second novella, Dastan offers a stark contrast compared to the realistic Day. The historical aspects of Indian history (Sher Shah, Tipu Sultan, the war of 1857) are woven into the narrative with a twist of magical realism. The oral storytelling session by Hakim Ali is a mosaic of many folk stories narrated in lyrical prose. The writing evokes wonder and transports you to the land of princesses, mysterious rivers, wars and prophecies.
This was my first book by Intizar Husain and I am convinced he is a master storyteller and phenomenal writer who can flaunt different styles of writing with panache. Also an added word of praise to the translation of the book – it was effortless and splendid and probably one of the best translations I have read recently.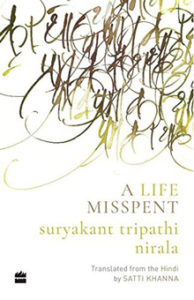 A Life Misspent
Author : Suryakant Tripathi Nirala; Translated by Satti Khanna
Publisher : Harper Perennial
Publication: 2018 (originally 2016)
Language : English (translated from the Hindi)
Pages : 128
Rating : 3/5
Suryakant Tripathi Nirala is called the first modern poet in Hindi literature. A Life Misspent is a biographical memoir of his friend, Kulli but sheds light on the author's life as well. At the age of sixteen, Nirala is married and sent to the village, Dalmau, to fetch his wife. Here he meets Kulli Bhat and strikes a friendship that is frowned upon by his wife's family. The book shows the contrasting aspects of gaining acceptance. On one hand Nirala is struggling to be recognized in the field of literature. On the other hand Kulli (an untouchable who does not hide his feelings about other men and in the end settles down with a Muslim woman) is trying to fit in a society that does not want him. Touching on themes of caste, sexuality, political changes in the country, religious rules and friendship, this book packs a punch.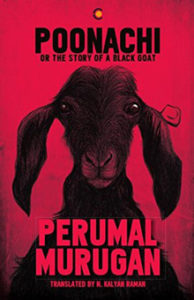 Poonachi: Or the story of a black goat
Author : Perumal Murugan; Translated by N. Kalyan Raman
Publisher : Context
Publication: 2018
Language : English (translated from the Tamil)
Pages : 179
Rating : 3/5
A goat is gifted by a mysterious man to an old couple and they name it Poonachi. The story follows the life and survival of the goat and is an allegory to the many facets of human behaviour told with a strong socio-political undercurrent. While this was a short and powerful read, I felt some bits were lost in the translation. We explore belonging, lust, love, betrayal, greed, longing and the triviality of life through the life of Poonachi and the old couple. The book opens up several social issues such as problems faced by a girl child, unfair treatment of citizens by the government and racial discrimination.
Disclaimer : Much thanks to the publishers (Niyogi Books (Day and Dastan), Harper Collins (A Life Misspent), Context (Poonachi)) for the books. All opinions are my own.
Have you read any of these? Any other recommendations from translated fiction?