Things We Found During the Autopsy by Kuzhali Manickavel – Eccentric, Dark and Experimental
23rd March, 2017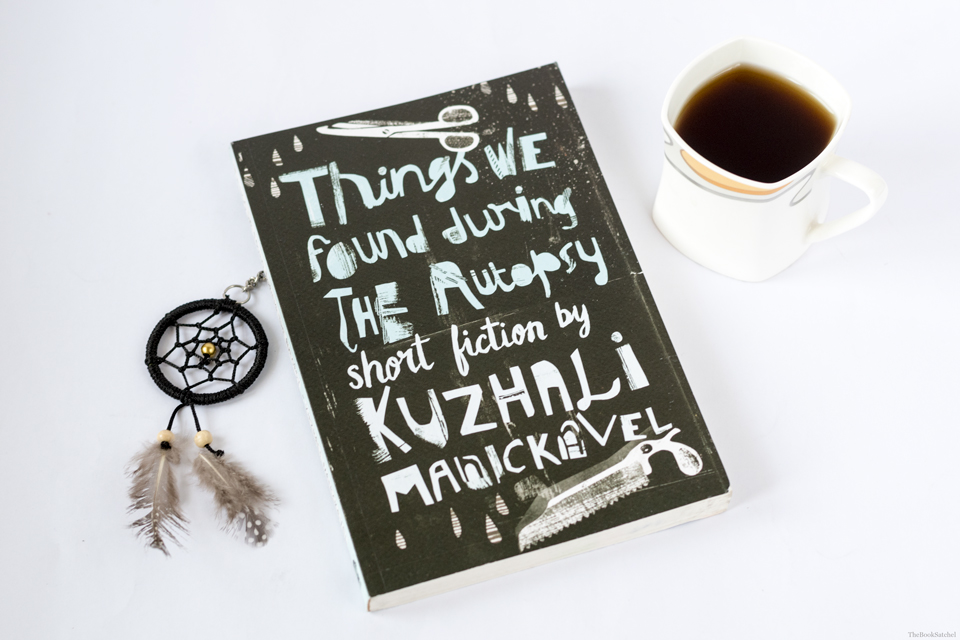 Short experimental fiction from Kuzhali Manickavel about dragons, angels, vomit, Pazhani, sexuality, western dances, whores, white people etc.
Review
This is a difficult book to review because the stories in the collection are very different from each other. Some have no definitive endings, some stories reek of magical realism and are wonderfully original and imaginative and some are realistic with razor sharp words. Let's take an example of the title story, Things we found during an Autopsy. Some friends conduct an autopsy of an unnamed girl. They find a Playboy magazine hidden behind her jaw, black ants floating through her skin, angels nested behind her heart that had to be pulled out with tweezers, St. Sebastian tied to her spine, typhoid in her liver, and a copy of Playgirl magazine, spread across her ribs. The friends think this means that she must have been conflicted about her sexuality and they 'could have been the awesome friends who held her hand while they dragged her out of the closet.'
The writing breaks all rules about language and many stories have exceptionally long titles. The characters in the stories are given names like Clubfoot, Gum Chewer and Pepsi girl; names that give an idea of what the character might be like without unnecessary descriptions. The importance of having a minty-fresh-export-quality aadi velli special non-cola cola in the tropicool icy-land urban indian slum breaks the conventions of grammar and punctuation. Kuzhali does not shy away from describing not-so-pleasant scenes (such as vomit, or a raft made of bodies of prostitutes) and does so in a very interesting and different way.
There are some stories I liked more than the others. The Twins is the story of twins being passed on from generation to generation, reminiscent of family heirlooms that may not be beneficial but are always hard to let go.  Asheaters is a flash fiction that sums up traditional beliefs, modern beliefs and uncertainty of fate. Three Scenarios Leading to the Rape of a Teenage Girl in the Tropicool Icy-Land Urban Indian Slum  tells about three girls, with different personal backgrounds, ending in the same fate. Whore is about sexual assaults that women face on a daily basis; it reads " …you are whispering 'sexy whore' into the back of my neck.. You will have a scrubbed face, white teeth and clean hands. This will make me think it couldn't have been you. I will look for men who are dark and dirty with red eyes." The story further talks about how women are forced to dress in a certain way because the eyes of the society are always upon the girl and never the man. The Good Place, which reminded me of Gabriel Garcia Marquez's The Man with Enoromous Wings, talks about an angel in glass bottle and the characters can't decide whether to sell it or use it as a paperweight or a decorative item. The Statue Game is about how to dispose a weird statue of Krishna since it is forbidden to throw away statues of gods.
My thoughts about the book are conflicted, to be honest. There were some stories that I really enjoyed and some did not appeal to me at all.  The magical realism in the book is original, which is one aspect I admired in the collection. There are board games with shape shifters, bicycle stealing penguins and shit that glows fluorescent. The themes in the book keep reoccurring and are centered on immigration, economic disparity, women who live in fear, homosexuality and feminism.
Title : Things We Found During the Autopsy
Author : Kuzhali Manickavel
Publisher : Blaft
Published : 2014
Language : English
Pages : 199
Rating : 3/5
Much thanks to Blaft Publications  for a copy of the book. All opinions are my own.
Do you have recommendations of books that have an experimental style of writing?
Share this post
[easy-social-share buttons="facebook,twitter,google,pinterest" style="icon" template="grey-circles-retina" twitter_user="thebooksatchel"]