Ten Authors whose Works I Want to Complete Before I Die
27th August, 2016
A nightmare that haunts every bookworm is not being able to read all the good books in the world in a normal human's lifespan. One cannot read every good book published. But perhaps read all the works of a selected few? Here is a list of authors whose complete works are on my TBR.
All the book covers are linked to their Good Reads pages, in case you want to add any to your shelves.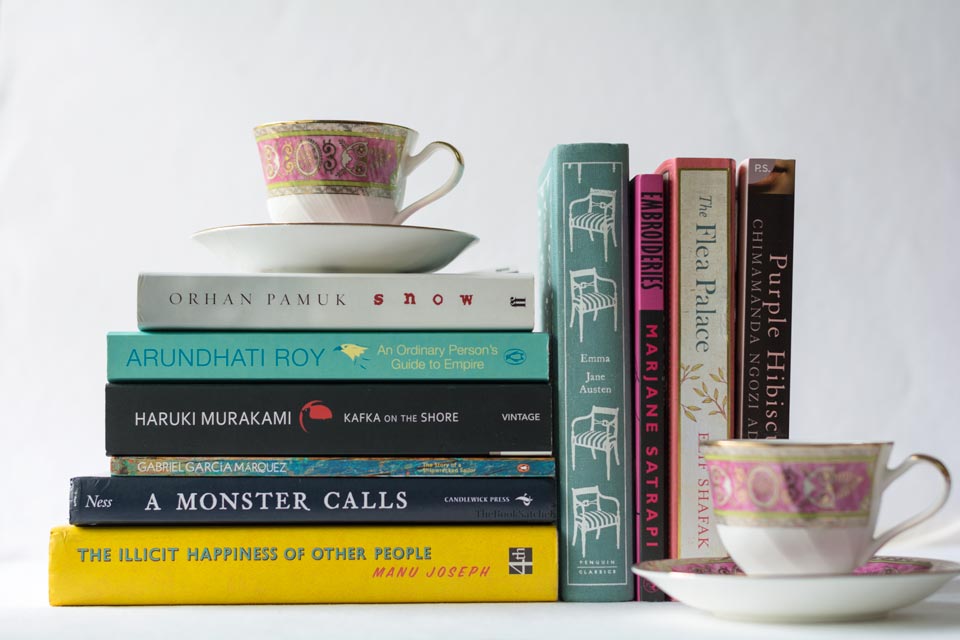 1. Chimamanda Ngozi Adichie
Chimamanda is a writer who took me by storm. I started with The Purple Hibiscus, her debut novel which assured me that with a debut like that, all the works that follow would be mind blowing. My next was Americanah, (read review), which was brilliant as well. I love the honesty and unapologetic sharpness of her words. I have read all her published works, save one book. I earnestly hope she will write many more.
Next on TBR : Half of a Yellow Sun
NOTE : To celebrate Chimamanda's birthday I will be holding a read-along of her books in September on Instagram. You can read any book of hers and join the discussions at the end of September. The discussions will be on my Instagram page and a formal announcement will be made in September. You can tune into updates on my Instagram and Twitter.
2. Gabriel Garcia Marquez
My first book by Marquez was Love in the Time of Cholera. I fell in love with his writing after a few pages and instantly knew he would turn out to be a favourite. I enjoy the writing in his books more than the plot of the whole novel. He has a mysterious capability of transporting you into unknown lands and leaving you in a trance throughout the novel.  I enjoy both his realistic stories and the ones with magical realism and among the books I have read, I have loved ALL of them
Even though One Hundred years of Solitude is his most acclaimed work, my personal favourite is Of Love and Other Demons. I recently read in an interview transcript that The Autumn of the Patriarch was a personal favourite of his. I need to read it soon.
Next on TBR : The Story of a Ship Wrecked Sailor
3. Jane Austen
Austen? Did I write that right? Shocking, isn't it? Though I have read all her novels, I have not read the shorter fiction, Lady Susan. I prescribe an Austen novel for any kind of day when you are feeling down because as often quoted, "My characters shall have, after a little trouble, all that they desire," Austen stories have delightfully  happy endings.
My favourite novels by Austen are Pride and Prejudice and Persuasion. I have lost count of the number of times I have watched the BBC adaptation of Pride and Prejudice.
Next on TBR : Lady Susan
4. Elif Shafak
My first book by Shafak was The Bastard of Istanbul which kept me captivated from the first page to the last. My next one The Gaze turned out to be a favourite as well. I love the way she mixes up mystic elements in her stories. And I love how well knotted her plots always are. I didn't quite enjoy Forty Rules of Love and The Architect's Apprentice. But I am positive I will love her other works.
Next on TBR : The Flea Palace
5. Haruki Murakami
I am not Murakami's biggest fan, but there is something in him that draws me to him. My first Murakami was the acclaimed Norwegian Wood. This isn't a favourite of mine and I was disappointed that I wasn't hit with the 'Murakami effect'. Well, my second book was The Wind Up Bird Chronicle (read review) and I fell right into the groove. It blew me away. I guess Murakami's surrealism appeals more to me than his realism. SO I am still doubtful if I would read his realistic works.
Next on TBR : Kafka on the Shore; Currently Reading : 1Q84
6. Patrick Ness
I have read only one book by Ness and that was enough to convince me that he is an amazing writer. A Monster Calls (read review)truly sucked me in and I had tears in my eyes when I finished reading it. Ness has written many books, so it might take me a while to complete all his works.
Next on TBR : The Walking Chaos Trilogy
7. Orhan Pamuk
Pamuk is another Turkish writer whose books I have really enjoyed. I never read a Pamuk novel at one go. I believe he is a writer whose books should be sipped on over a long period. Pamuk has a calm and soothing voice and his books always makes me feel at peace.
My first novel by him was The Museum of Innocence which captures the emotion of love and its anguish beautifully. My Name is Red is my least favourite, but I would still rate it high for the writing style. I would take me a while to finish off all of Pamuk's works, both fiction and non-fiction.
Next on TBR : A Strangeness in my Mind
8. Marjane Satrapi
Marjane Satrapi is a writer whom I discovered only last year. With the mere use of black and white in her illustrations, she effectively commands emotions at a supreme level. My first book was Persepolis which is the story of Iranian revolution. Satrapi points out the hypocrisy and horrors of our society with her sparse illustrations. Embroideries was a light and funny read which I have read several times and laughed out loud every single time.
Next on TBR : Chicken with Plums (I have read an e-version. But I feel that doesn't count. She needs to be read in print)
9. Manu Joseph
I have already read both the books, Serious Men and The Illicit Happiness of Other People written by Manu Joseph. I am a fan of his writing and he is clearly an under rated Indian writer. His books are wicked, lively and has sarcasm at its best. If he writes another book, hell yeah! I am buying it. I can't even pick my favourite among the two because they both are brilliant in different ways.
(*please write another novel*)
10. Arundhathi Roy
If I could have a wish to meet one, just one author, it would be Arundhathi Roy. She is my favourite author inspite of the fact that I read her first and only novel, The God of Small Things for the first time last year. I have followed her on news, read her articles and essays but did not pick up her book (for nearly eighteen years after its publication) because I was scared if I wouldn't enjoy it. I did. It was an amazing read.
The reason I have intentionally put Roy in the tenth place is because I am doubtful if I would read all her works since she has written mostly non-fiction and I rarely read nonfiction. I should make an exception in her case.
Have you read the works of any of these authors? Who all would be in your list of authors whose complete works you want to read?
PS : Roald Dahl is another author for me. It was too late to edit and include him. But yes! He is on the list too. 🙂
Share this post
[easy-social-share buttons="facebook,twitter,google,pinterest,tumblr" counters="1″ counter_pos="topm" total_counter_pos="right" style="icon" template="grey-circles-retina" twitter_user="thebooksatchel"]