Seven Reasons to Read AGOS by V. E. Schwab
15th June, 2016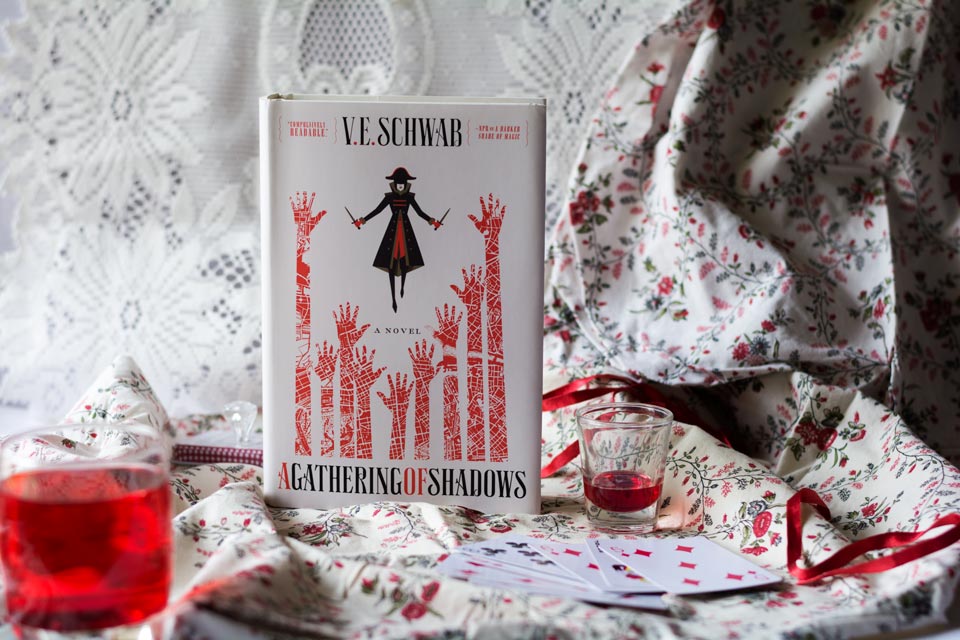 This book is the second book in the series Shades of Magic. If you have not read A Darker Shade of Magic yet, here are Seven Reasons Why You Should read that first. This review may contain spoilers of Book #1.
Kell and Lila Bard have parted ways: Bard for the open seas, while Kell is now bound to his adoptive brother, Rhys. Red London is caught up in organizing the Element Games, a tournament of magical skills, to maintain friendly relations between the neighbouring countries. A pirate ship has reached the ports of Red London bringing old friends and enemies and a new competitor to the Games. Black London has risen again which means another London might be on the decline.
One word review: Pirates of the Caribbean meets Harry Potter. SO what is there to hate? If you have a bit more time to spare, here are seven reasons why you should pick this up ASAP:
1. MORE LILA :
"If anyone could make the strange seem ordinary, the impossible look easy, it was Delilah Bard"
I cannot resist badass heroines. And I definitely cannot resist an independent lady thief who dreams of being a pirate! And who can resist her snarky banter and cheeky one-liners? She is sharp witted and loves trouble.
2. SEA AND PIRATES :
What I like about Schwab even if the elements in her stories are not completely new (well, which book would have everything totally new, right?) is her brilliance in providing the right setting. I loved the first one third of the book on the sea, with Lila fighting to be accepted as part of the crew of a ship, The Night Spire under the command of Captain Emery. The scenes were fast moving and reminded me of The Pirates of the Caribbean.
3. CHOOSE THE MAGIC :
Lila is a learner (awesome!). I love how she tries to learn magic, unlike Kell who is a chosen Antari (blood magician). The training lessons given by Alucard Emery are fantastic. Well, he has secrets of his own, which is a story for another day.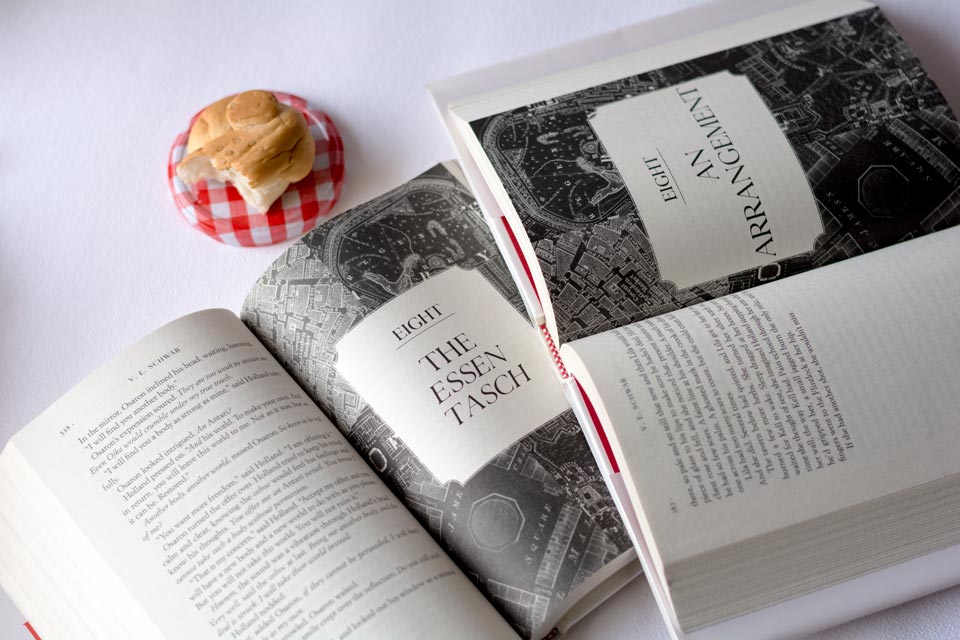 4. ELEMENT GAMES : 
The Element games are a kind of TriWizard tournament meets bloody fights using only the elements of nature. The descriptions and rules were amazingly original and nail biting. My only complaint – they got over pretty fast.
5. WHIFF OF ROMANCE :
Even though I stated one of the reasons I love ADSOM (Book #1 in Shades of Magic) as there being no romance, I would say there is a whiff of it in this one, which I loved. Nothing too corny, just enough to move your heart.
6. GEOGRAPHICAL BUILDUP : 
While ADSOM focused on the different parallel Londons, AGOS spreads around Red London and the neighbouring countries who are thrilled to participate in the Element Games. (Yes, I was reminded of Hogwarts and the other schools of magic).
7. CLIFFHANGER ENDING :
Talk about leaving you at the edge. As soon I closed the book I had to google when the next book comes out. The Conjuring of Light is going to be released in spring. So better equip yourself with A Darker Shade of Magic and A Gathering of Shadows if you haven't already done so.
Few More Reasons:
Well, there are great intense passages on the changes in relationship between Rhy and Kell, both being bound to one another for life by Kell's spell in the last book. There is a lot of thoughts-in-head going on inside Kell as Red London royalty begin to suspect him and he is confused on where his allegiance lies. Kell and Lila are apart and leading separate lives for a major part of the book which adds to the suspense. The villains just became more evil and magic even more appealing.
What I did not like?
The LGBTQ character seemed as if the plot was prised open and he was put there. It did not quite blend well in the narrative.
The Games begin only towards the end of the book.
Relationships were not elaborated. It was more of tell rather than show. I would have loved to read more about the bonds between Kell and his adoptive parents. Rhy and his old lover come face to face and the devastating emotions are cramped to a paragraph.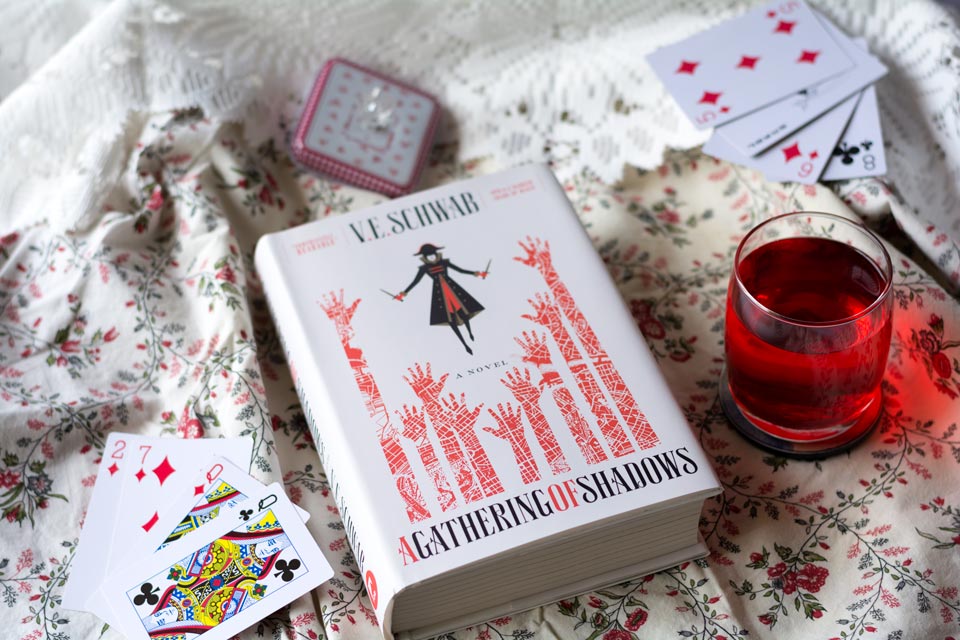 ALSO:
Did it feel like Pirates of the Caribbean meets Harry Potter meets? YES
Did I like it better than ADSOM? YES
Would I recommend this? YES, read it!
Many thanks to Tangalene for this gift. 🙂
Title : A Gathering of Shadows (Shades of Magic #2)
Author : V. E. Schwab
Publisher : Tor Books
Published : 2016
Language : English
Pages : 512
Rating : 4.5/5
Did you like the Shades of Magic series by Schwab? Would you want Kell and Lila to be a couple or just friends? Which other books of Schwab have you loved? What do you think will happen in A Conjuring of Light, the next book in the series?
Share this post
[easy-social-share buttons="facebook,twitter,google,pinterest" style="icon" template="grey-circles-retina" twitter_user="thebooksatchel"]
Victoria (V. E.) Schwab is an American fantasy author best known for her 2013 novel Vicious. She describes herself as the product of a British mother, a Beverly Hills father, and a southern upbringing with a love for wandering about. She is currently working on the third of the Shades of Magic novels.