Who me, Poor? By Gayatri Jayaraman – Real Stories for and about the Urban Poor of India
24th July, 2017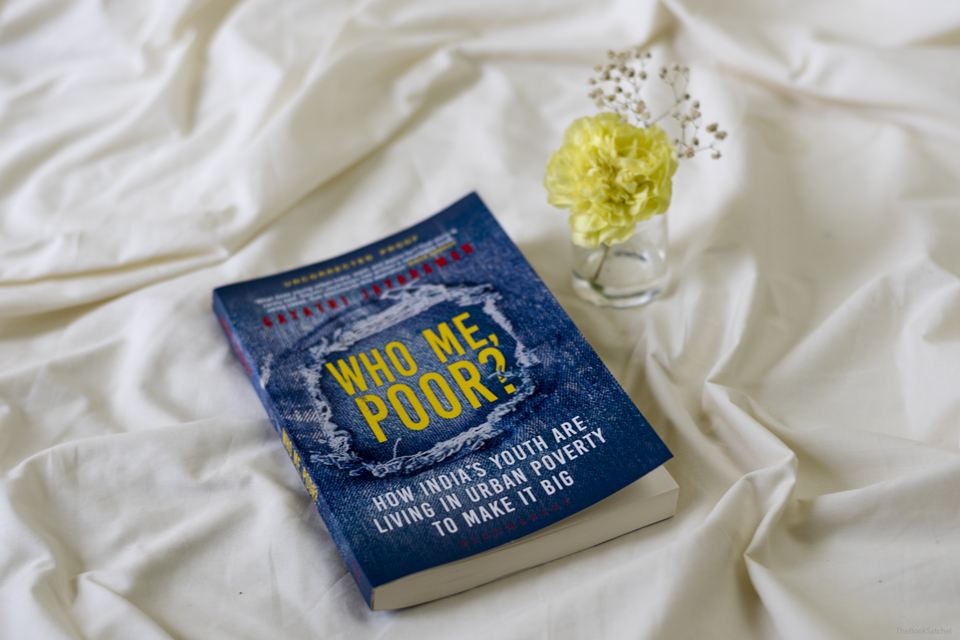 An account of being broke and hungry even when you can afford not to be. Gayatri Jayaraman lists out how India's urban population is struggling to survive.
Review
Last year, Gayatri Jayaraman's article in Buzzfeed, The Urban Poor You Haven't Noticed: Millennials Who're Broke, Hungry, But On Trend, made waves in social media. The article garners our attention to the new generation of youth who need to dress up for the occasion and need eat at an Instagram worthy place rather than have a filling and nutritious meal from a cheaper joint. In other words, what we all do – wear a mask and exist because there is no other way to survive in the harsh world. I loved the article and was eager to read an expanded version of the same in the author's book Who me, poor?
The book is divided into four sections with sub headings that give a clear picture of what to expect in that chapter. This is extremely helpful since the sections can be read in any order. I read them in the order they were listed and found the statistics mentioned in the first section really pull me into the book. Who me, Poor? is filled with many anecdotes and stories. We read about the girl who has sex so that she can afford to buy a phone; the man who gambles away his savings but does not regret it, rather he would do it again if a suitable opportunity comes by; small towners who are in a cultural shock when they migrate to big cities for work and hence struggle to make friends and many others.
Gayatri stays as an unbiased author throughout the book. She neither praises those she has interviewed nor condemns them. I was very pleased that the book allows the reader to read and experience the characters with no authorial remarks. There is a personal touch to the book when Gayatri tells her story of surviving in the city of Mumbai and the corporate sector as a single mom. The pressure of caring for your child, having the needed wardrobe for work meetings and scraping through the rent and high expenses of the city life was so honestly portrayed. There is a passage where the author recalls searching for centres to donate her eggs because of financial issues that was particularly heart touching.
This is a book that everyone can relate to. Have you ordered only starters during a work lunch because you cannot afford to pay for the other courses and later felt a pang of dismay when one person suggests to divide the bill equally? Have you frequented meet ups and just had a glass of water because you cannot fit anything else into your monthly budget? I have done both and I could understand how this might seem trivial but it is something you cannot escape from. Work lunches are fancy, restaurants are fancy, meeting old friends has to be fancy – there is no end to this dilemma because you cannot avoid some expenses because of your work life, social life, friend circles and so on. Everything needs to be fancy, even a cup of coffee, which might explain why Starbucks still thrives on its overpriced coffee. Life in a city is more about keeping appearances and building the brand that is 'you' but the money for the same sometimes dulls our senses from differentiating between the important things in life and what we do just for the show.
It isn't easy to list out what exactly one dislikes in a non fiction book. Since the topic is broadly the same over the various sections, sometimes the boundaries seem to blur and seem slightly repetitive. However, the book makes you think deeply about your lifestyle and that of your friends'. It makes you question yourself where to draw the line and when to say 'Enough'. This is a wonderful book for all age groups to read – the millennials who are struggling to survive and the older generation who thinks the youth need to get a grip on their life.
Final Verdict
When Tim Gurner suggested that the youth solve their housing problems by not craving for avocado, the internet exploded with memes. But the statement has both a hilarious side as well as the bitter truth that we, as a generation, spend more than we save compared to our previous generations. Sometimes these expenses cannot be avoided and sometimes they are crucial in taking a step towards that bigger dream. But do we know when to stop?
Overall, Who me, Poor? is a good book that leaves the reader brimming with questions. It gives an honest picture of the financial situation of Indians in metro cities and the choices they have to make in order to exist in temporal peace.
Disclaimer : Much thanks to Bloomsbury India for an advanced reading copy of the book. All opinions are my own.
Title : Who me, Poor?
Author : Gayatri Jayaraman
Publisher : Bloomsbury
Publication: 2017
Language : English
Rating : 3/5
Have you read the book? What are your thoughts on the youth living in a state of urban poverty in order to achieve that big dream in their minds?