'Miss. Laila, Armed and Dangerous' Offends Everyone. Yet You Can't Ignore the Book.
10th October, 2017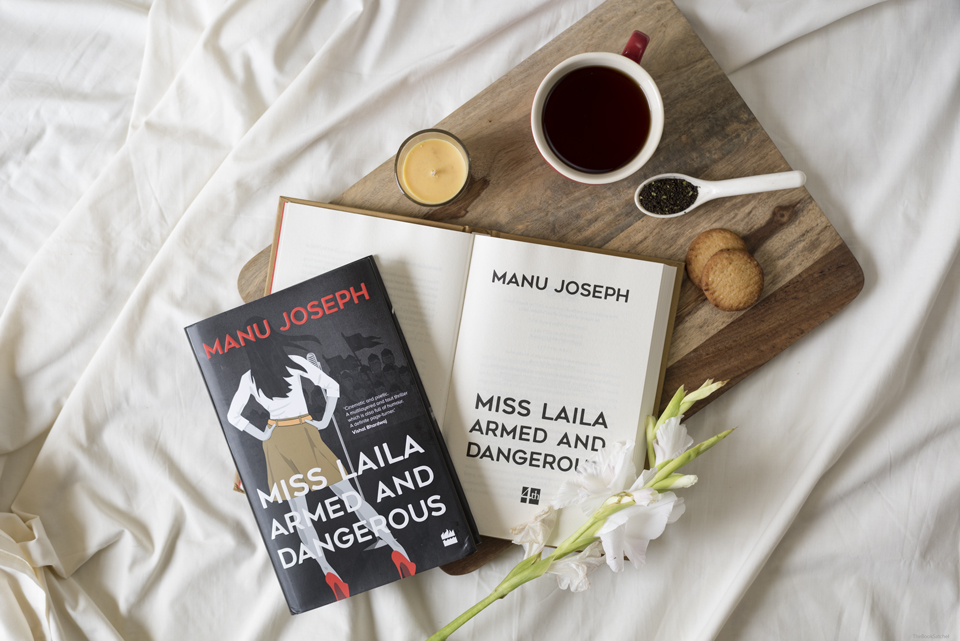 Manu Joseph's latest novel is wicked, sarcastic and garnished with wit. In the backdrop of the present political scenario of the country, he brings out the hypocrite in all of us. Just like the quote below, one is left with a baffled expression on finishing the novel.
"There are faces that only an Indian can make. Like that baffled face when he is shocked by the most logical outcome of his actions. He crosses the road like a cow, and he is startled by a truck. A vehicle on the road? How? He walks across the railway track, and he finds a train hurtling towards him. A train on a railway track? He is stunned."
Review
When I got a copy of Man Joseph's latest novel in my hands, my heart sank a bit. I have loved the writer's sarcasm in his previous novels, The Illicit Happiness of Other People and Serious Men and he is on my list of Ten Authors whose Complete Works I Want to Read Before I Die. But the new novel is short, just over 200 pages which is what made my heart tumble down into disappointment. Shorter novels are more difficult to write and I worried if my stint of enjoyable novels by Manu Joseph would be at an end now. I was so wrong in my apprehensions because this is a good read indeed.
Two storylines
A man trapped in the debris of a collapsed building is mumbling something about a terrorist attack. The police who are rescuing survivors from the collapsed building are on alert and want to extract more information from him so that they can prevent the attack. In the other storyline we have Laila, 'who has six pairs of shoes. She is a bit hip that way.' Laila supports a large family with her earnings and is on a journey by car with her married boss even though her mother finds it inappropriate. Both the story lines are fantastic and when they merged I was taken aback by how effortlessly they blended together. This blending of parallel storylines deserves applause. We also have the stories of the 'Patriarch' and Miss. Iyer (who plays pranks on liberals and exposes them) which give us a fresh perspective into the plot.
Current political and religious scenario
Manu Joseph serves it all in his platter – treatment (and place) of women in the country, the never ending war between conservatives and liberals, buildings collapsing because of lack of maintenance, life of extras in Bollywood, ineffectiveness of all political organisations and prejudice towards Muslims.
With the leader, Damodarji, who makes people chant DaMo DaMo (get it?), the Beard Squad, and Satya, a woman activist, who gets pranked that she won the Nobel Prize – we get a taste of many famous (infamous?) personalities of today's India.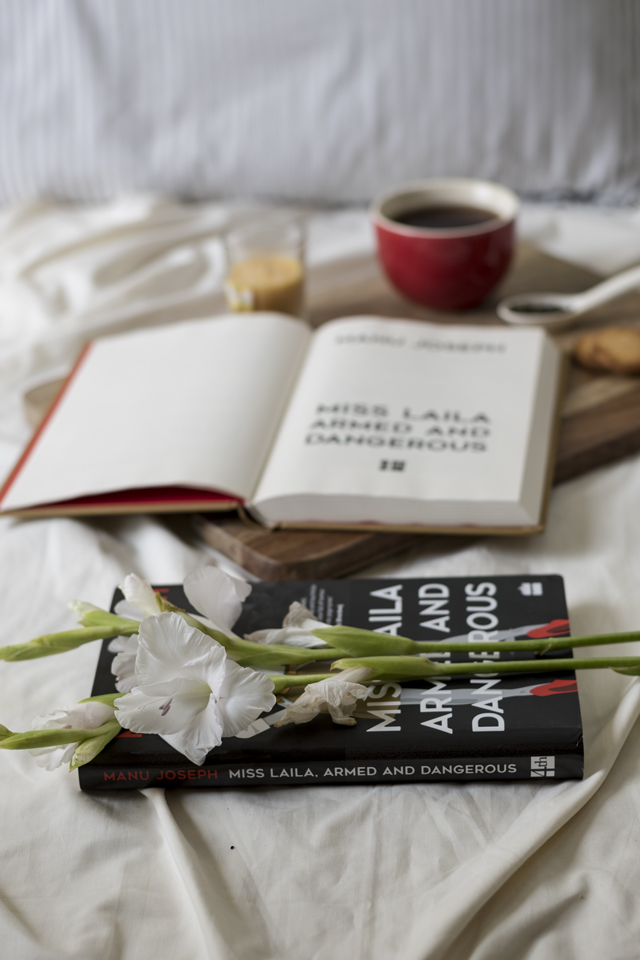 Imprinted Indianess
All the characters are refreshingly Indian. The author uses the 'Indian English' version at several instances. And this might cause frowns among those who look for fine writing in books. Phrases like 'mom went all-Taliban', 'types' , 'something about our faces that is not very English-English', 'flashy girls at Bandra' are a few examples.
Sarcasm
It is a well known truth that Indians have an affinity to study science whether or not they enjoy the subject and the author justifies this fad as – "Laila says poor people, like them should learn to love science because science is more equal and fair than arts. Aisha understands. The thing about science is that if you are smart no one can say you are not smart."
Manu Joseph doesn't shirk away from talking about religion – "Laila thinks no woman is religious…Imagine an old man peering into your life all the time. Which woman would want that?"
 The sarcasm about the political figures of the country is spot on. The book presents to us the Hindu nationalists many of whom are "The saffron men of the Sangh, who have not read Chanakya or Machiavelli but love the synopsis" as well as the socialists ("Indian Marxists and their love for French wines when they wish to discuss poverty and revolution") who wanted to reform India but "In the end the socialists said, sorry, there has been a mistake, someone had read the wrong book."
About the waves of forced westernization to appear 'cool', we have this mantra in the book-  "If you speak English and say 'fuck' five times in every sentence, you become hip.'
Out to offend everyone
I think anyone who reads this novel will be offended at some point. Manu Joseph makes fun of Arundhati Roy's dislike for Ambani's mansion, Antilla, by posing a similar question about her own house in Delhi to a malnourished woman. We see a similar response from the poverty stricken woman's mouth. Throughout the book, we get similar instances that talks about the hypocrisy of Indians and Indian religions. Miss. Iyer who asks these uncomfortable questions and digs out uncomfortable answers from the so-called liberals is an unreliable narrator. The reader is always in a dilemma about which side of the argument she is on. She seems to have a mind of her own (like most Indians). This brings out the fact that there are no strict boundaries between conservatives and liberals, and both these sides are mocked for their pretentious attitudes in the novel. Their views overlap and this depends on an individual's principles and background.
Though I enjoyed this unreliable character and the rest of the cast, there were instances where Manu Joseph asserts his own opinions in the storyline. This authorial intrusion jagged the smooth storyline and I wasn't pleased about the effect. Again, sometimes I wasn't sure which views were Miss. Iyer's and which were Joseph's personal opinions.
If you are a religious bigot (which you shouldn't be, by the way) who worships activist groups (to be specific, Hindu activist groups), you will be offended the most. So you might want to give this novel a miss.
I loved the ambiguity in the ending. It left me with a lot of questions to which I could not come up with satisfying answers. I also loved how deep the unreliability of the facts in the story was. The reader might agree with some and disagree with some. When you close the book you get the feeling of having read a newspaper story and unsure about what 'might have actually happened'.
Final Verdict :
I admit I liked Manu Joseph's previous novels more than his latest one. But I loved how fearless he is in writing about the current political and social scenario. While Arundhati Roy's novel, The Ministry of Utmost Happiness meanders over a lot of issues of India, Manu Joseph's latest one ponders on a few important issues and delivers them with a sharp punch in a brief story. For fans of Manu Joseph, this book is different from his previous books; so dive in expecting no similarities.
I quote from the book "India is a wound…But it is not a wound like a whiplash. It is a wound like a spouse.' Indians (including me) would laugh, raise eyebrows and even disagree with portions of this novel, but this is certainly not a book to be missed.
Title : Miss. Laila Armed and Dangerous
Author : Manu Joseph
Publisher : Fourth Estate
Publication: 2017
Language : English
Pages : 216
Rating : 4.5/5
Disclaimer : Much thanks to Harper Collins India for a copy of the book. All opinions are my own.
Have you read books by Manu Joseph?