The Housekeeper and the Professor by Yoko Ogawa – Friendship, Numbers and Memories
24th August, 2016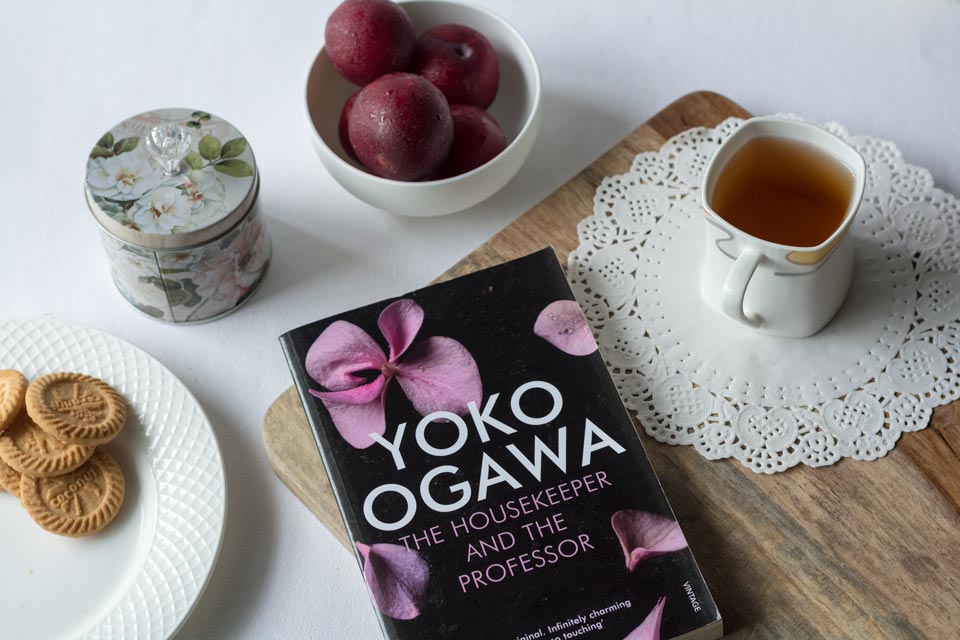 An unlikely friendship develops between a housekeeper, her employer, a Mathematics Professor who has a memory span of only eighty minutes  and her son. This book is Memento meets A Beautiful Mind kind of story.
IN BRIEF :
This is a very short book that you can easily finish in a couple of hours. The story has three main characters – a Professor, his housekeeper and her son. The Professor has lost his memory in an accident in 1975 and his mind doesn't register any new memories. He has a memory span of eighty minutes – "it's as if he has a single, eighty-minute videotape inside his head, and when he records anything new, he has to record over the existing memories."
THE STORY :
When the housekeeper is employed by the mysterious sister in law of the Professor, she isn't sure if she can cope up with a man with such a memory issue. When she first meets the Professor he is clad in a suit with reminders stuck all over (including the fact that his memory lasts only eighty minutes). This reminded me of the Tamil movie, Ghajini and the original English version Memento. The professor forgets every new day that she is his employee. Every morning the housekeeper, who narrates the story, has to introduce herself and her son to the professor all over again as well as answer his awkward questions asking her shoe size or phone number to be let in.
The house keeper finds the Professor's ways fascinating rather than annoying. Soon enough he becomes friends with her son whom he calls 'Root' as his head is shaped like a square root. There on we see two different kinds of friendships, one between two adults and the other between an adult (with memory loss) and a child. I admire Ogawa's ability to show the fine differences between both of the connections.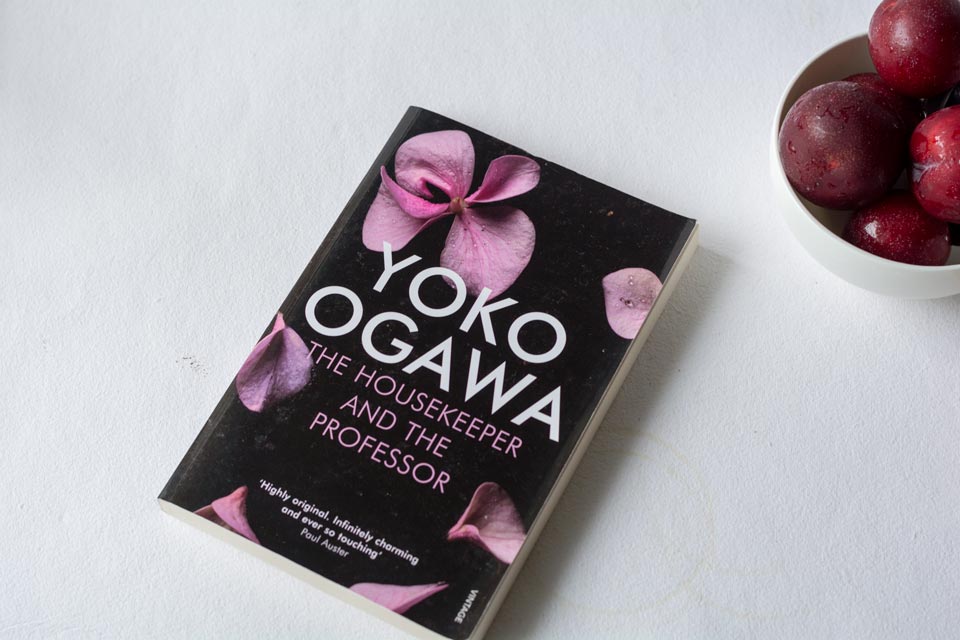 MATHEMATICS AS A STORY ELEMENT :
I am not a die-hard fan of Mathematics but I loved the way Maths was dealt with in the book. Numbers flow like a stream throughout the book. For the Professor numbers are a familiar territory where he feels safe. He tried to define connections between everything in daily life to numbers. The housekeeper on the other hand is not the best at number solving. She symbolizes the influence of persistence and interest while exploring an unknown territory. I loved to see how the different approaches towards the subject are told in a lucid fashion. You might hate Maths, but Ogawa makes you fit right in the world of amicable and perfect numbers.
WRITING :
So you ask, what happens then? Well, nothing happens. This is a book which does not have any huge revelations anywhere in the plot. Yet there is something about the writing that doesn't leave you bored even for a minute and makes you connect with the characters almost immediately. It was only by the end of the book that I realized that the names of the Professor and the housekeeper are not mentioned. I found this strangely satisfying. The book doesn't give you definitive answers, but makes you feel happy.
FINAL VERDICT :
I would recommend the book if you enjoy plots that are feel-good yet tug your heart strings somewhere. It is a glimpse into a most unlikely friendship and in my opinion one that leaves you content  when you close the book.
Title : The Housekeeper and the Professor
Author : Yoko Ogawa; Translated by : Stephen Snyder (from Japanese)
Publisher : Vintage
Published : 2010 (Originally 2003)
Language : English
Pages : 180
Rating : 4/5
Have you read The Housekeeper and the Professor? Or do you have a suggestion for an Ogawa novel for me to try out?
Share this post
[easy-social-share buttons="facebook,twitter,google,pinterest" style="icon" template="grey-circles-retina" twitter_user="thebooksatchel"]
Yoko Ogawa is a Japanese writer. She has published more than forty works of fiction and nonfiction. In 2006 she co-authored "An Introduction to the World's Most Elegant Mathematics" with Masahiko Fujiwara, a mathematician, as a dialogue on the extraordinary beauty of numbers. Her novel The Housekeeper and the Professor was made into the movie The Professor's Beloved Equation.