Homefire by Kamila Shamsie : How Far will You Go for the Ones You Love?
11th September, 2017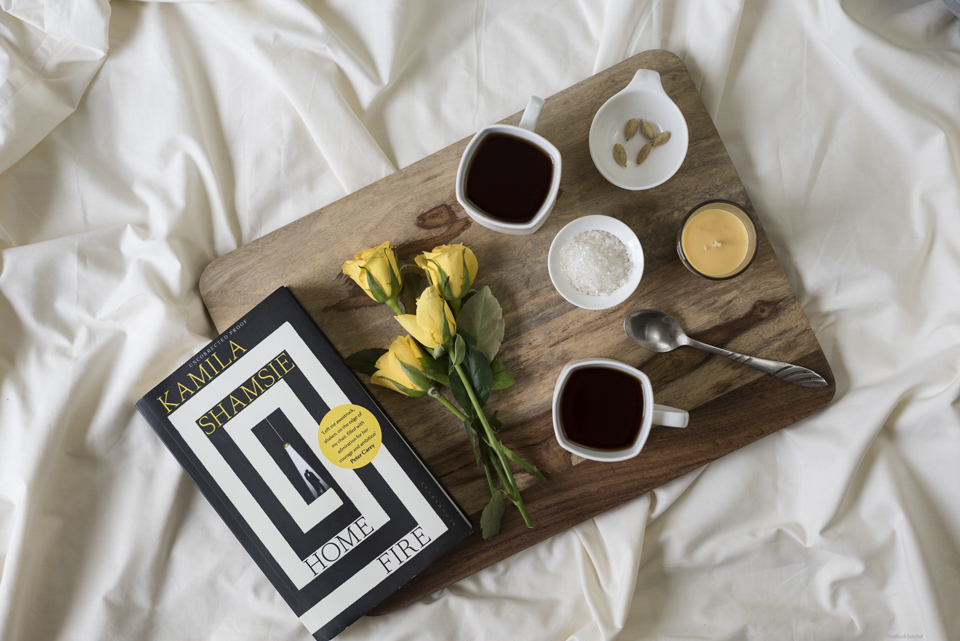 Home Fire is a story of love and betrayal and the strength of family bonds. Told through the story of three siblings, the book makes you laugh, cry and think.
In Brief
Home Fire centers around three siblings whose parents have passed away. Their father was a jihadi who dies while being sent to Guantanamo Bay detention camp. The eldest child, Isma, easily slips into her role as a mother to her younger siblings, Aneeka and Parvaiz who are twins. At the start of the novel, Isma is leaving London for Massachussets to concentrate on her research. While in America, she gets friendly with Eamonn Lone, son of a white mother and a Pakistani father. Isma detests his father, Karamat Lone, and sees him as a traitor and opportunist in the world of politics. Meanwhile in London, Parvaiz has found new friends who lure him to fight for Islamic cause and Aneeka, his sister, is trying to help him escape from their clutches. Eamonn, over the months, becomes entangled in their family drama.
Treatment of British Muslims
At the beginning of the novel we see Isma and Aneeka practicing a mock interrogation by the airport officials to prepare for Isma's trip to America. The way Shamsie presented this scenario won my heart and I immediately knew this would be a wonderful novel.
"He wanted to know her thoughts on Shias, homosexuals, the Queen, democracy, the Great British Bake Off, the invasion of Iraq, Israel, suicide bombers, dating websites."
The prejudice against Muslims was so well written and yet not in a condescending way. Shamsie tries to lighten the situation with humour, but the harsh realities definitely touch your heart.
Islamic radicalism
Again, this is another feather in the cap. So well written! Parvaiz, being brought up amidst two sisters, is easily brain washed by his new friends into notions of right and wrong – the power of one gender and duty towards one's loved ones. But he retains his humanity through this process. When he realizes he has been tricked, he desperately wishes to take hold of his life again; but neither side has use for a fighter who starts rethinking about his mission. I loved how Shamsie showed Parvaiz's frustrations, his hidden love for his father, his affection towards his twin sister and his helplessness at being stuck in the system.
Memorable and Some Forgettable Characters
Shamsie's characters were wonderfully well rounded. But all of them did not quite have the depth to touch my heart. I found Isma and Parvaiz to be well sculpted and Aneeka and Karamat to be underwhelming. I loved how Isma is more mature for her age. Probably because of bearing the responsibilities towards her family at an early age. She is torn between the choices of being selfless , pursuing her academic interests and being protective when she knows she can save only one of her siblings. The twins really stood out to me as a single entity even though their individual halves, especially Aneeka's, did not appeal as much. They love each other unconditionally, fight with one another and are there for the other half, no matter what comes in the way. Karamat Lone was a character with a lot of potential and I would have loved to see his life expanded a bit more rather than confined to the last chapter of the book. Also, the strained relationship between Eamonn and Karamat is often alluded to, but not explored well enough.
The names Isma and Eamonn are a tad too similar to their namesakes in the Greek play, Antigone, on which the story is based. I was not familiar with the play and read a summary after reading the novel; so this posed no problem for me. However if you already know the play and the names of the characters, you might be able to predict the plot with ease.
Abrupt Transitions

The novel is divided into parts, each told through the POV of different characters. While the abruptness between transitions is perhaps exactly as Shamsie has intended, it did not work well with me. I was so invested in Isma's story which forms the first section of the novel; and in the second part of the novel, Isma just vanishes from the main storyline. Later, I was very invested in the developments in Parvaiz's life but I really didn't like characters appearing and vanishing through the different POVs. I am not sure why this structure didn't work for me. It is similar to that of Homegoing and The Underground Railroad, which were good reads for me.
Unremarkable Second Half

The first half of the novel was so perfect. I breezed through the read and I was happy to be reading a fast paced novel with such well fleshed characters. But that was not the case with the latter part of the novel.
Heart Wrenching Ending

The ending makes up for the second half of the novel being a bit dull. It was devastating to read the last few pages and as I read the last line I wanted to scream at Shamsie asking, "Why did you stop writing? Write a bit more. You have the power to change the ending'. But alas! The book ended. This must be one of the best endings that I might have read this year.
Final Verdict :
I would definitely recommend Home Fire. It has a balanced pace, good writing, thought provoking passages and an enjoyable story. This is my first novel by Kamila Shamsie and I am eager to explore more of her works.
Title : Home Fire
Author : Kamila Shamsie
Publisher : Bloomsbury
Publication: 2017
Language : English
Pages : 272
Rating : 3.5/5
Disclaimer : Much thanks to Bloomsbury India for a copy of the book. All opinions are my own.
Do you enjoy reading Kamila Shamsie's novels? Which is your favourite?