Books N Beyond – March Unboxing
8th February, 2017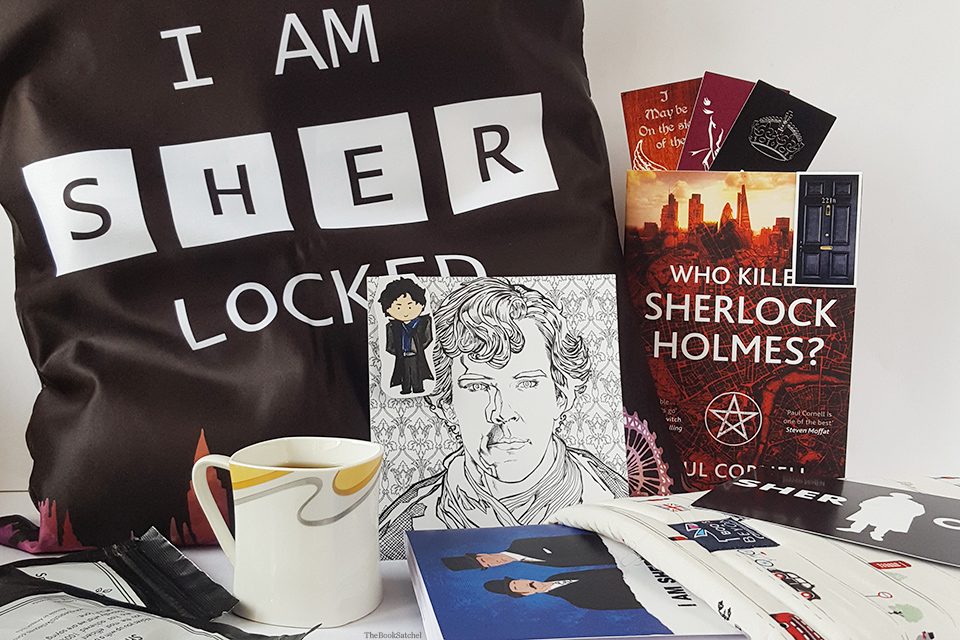 Books N Beyond is a monthly book subscription service, based in India, that delivers a book along with bookish merchandise. This bookish box believes in exposing readers to different genres every month. Each box has a theme and the bookish merch included adhere to the theme. You can get a 10% discount using the promo code SATCHEL10 . Please note you have to send a mail to Books N Beyond so that they can help you avail the discounted rate.
If you missed last month's unboxing, check out Books N Beyond – February Unboxing.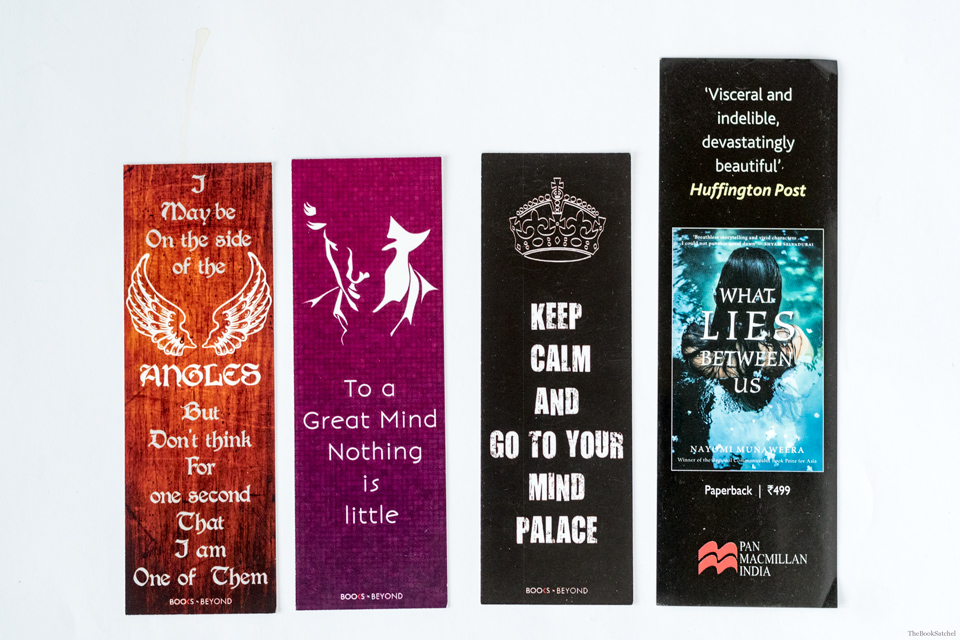 About The Bookish Box
The March box was themed  "Sherlocked". Here are the products that were included in the box:
Bleeves – Branded Book Sleeves
Sherlock Holmes Designer Notebooks
Two Beanstalk and Leaves Coffee Packets
I am Sherlocked customised cushion cover
Sherlock Designer magnetic bookmarks
Sherlock poster
Exclusive pencils from Pan Mac millan
Sherlock Colouring pages
Designer bookmarks
A surprise book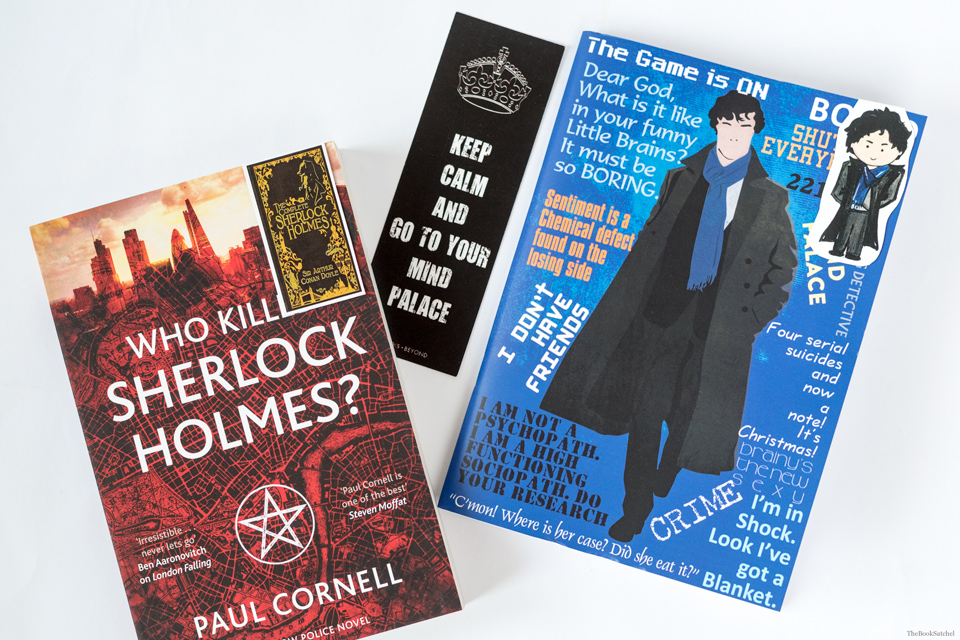 Books
The surprise book turned out to be a paperback copy of Who Killed Sherlock Holmes by Paul Cornell.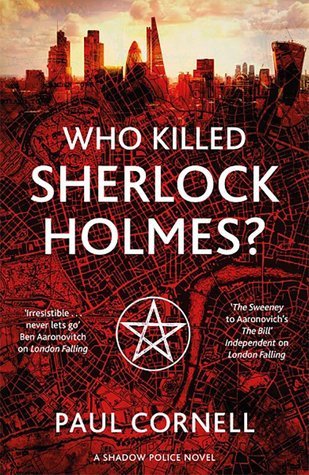 Someone has murdered the ghost of Sherlock Holmes. As a fictional character remembered by the people of London, Holmes' ghost walked the city, and now someone has put a ceremonial dagger through his chest. What could be the motive? The small team of Metropolitan Police detectives who have The Sight find themselves pursuing a criminal genius who soon lures them into a Sherlockian maze of too many clues and too much evidence.  (from Goodreads blurb)
Review
The March box is fantastic. The February box had more of printable goodies such as book marks. The March box has outdone last month's box because of the number of items included, especially since more non printable goodies are included. I was not able to get all the items in a single shot. The packaging was good and all items were bubble wrapped.
The Bleeves is the highlight of the box. This is a book sleeve with thick cushioning to protect your book or digital device. It has a velcrow fastener to close it, so it gives maximum protection. The padding is thick and not flimsy. I am always on the look out for covers that help protect my books and Kindle when I am carrying them around and this seems perfect for the occasion.
Yes to coffee! I love coffee and I was glad two coffee packets from Beans and Stalks were included as part of the food goodies.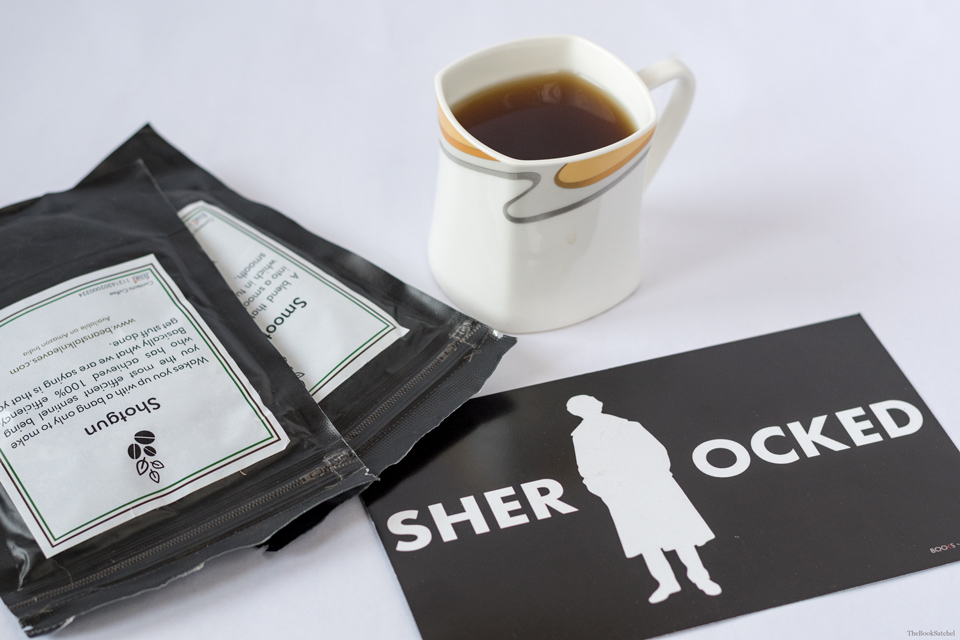 All the items included gel well with the theme. Sherlock fans are in for a huge surprise. There is a cushion cover that reads 'I am Sherlocked'. The box has a fair share of printables too. There is a poster of Benedict Cumberbatch and colouring pages featuring scenes from the TV show. The box also includes three designer bookmarks, a promotional bookmark and two magnetic bookmarks. Needless to say, the magnetic bookmarks stick to the Sherlock theme and I found them very cute.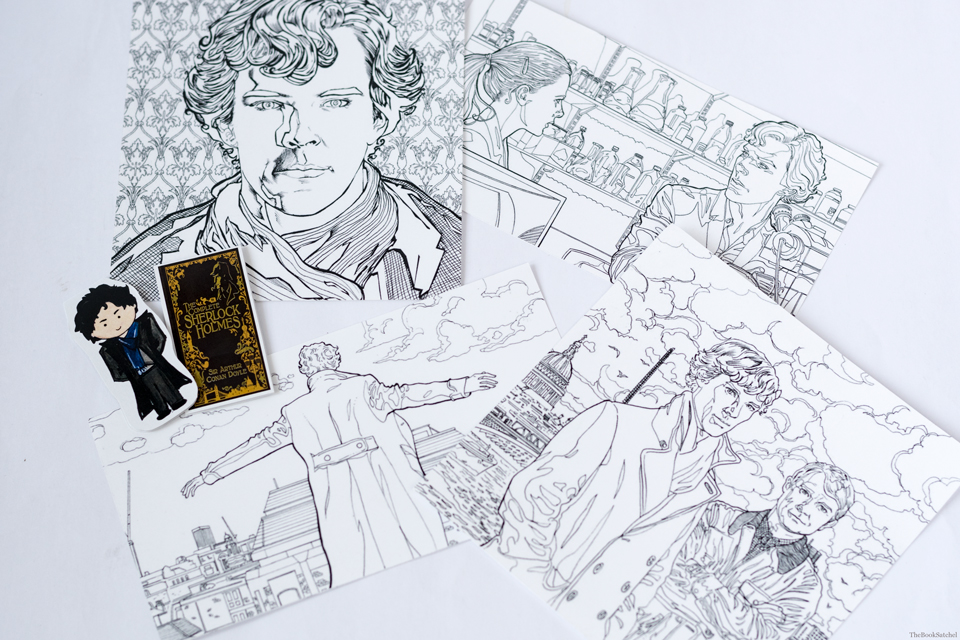 The goodie list isn't over yet. There is a small stationery haul too. Pencils from Pan Mac Millan alongwith a sharpener and eraser in a plastic pouch.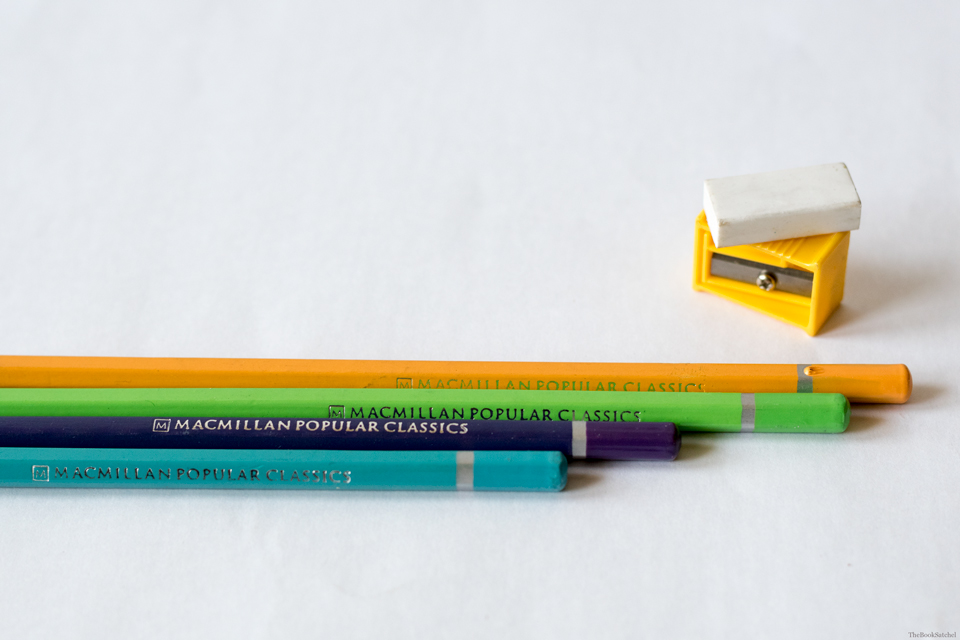 April box
The March box includes a card that lets you know the theme of the next month's box. I thought this was a nice addition especially since Books N Beyond caters to all genres. The April box is themed ' To the stars who Listen'. There is a hint that the next month's book would a contemporary romace along with magical goodies and merch (or art prints) from a new artist.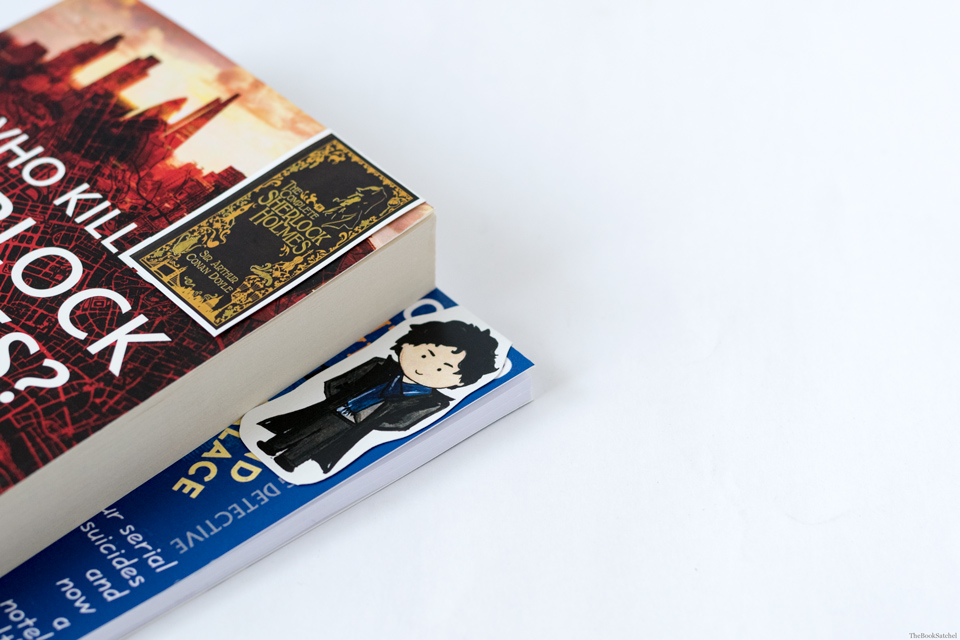 How to Subscribe
Books N Beyond ships internationally (Yes, you heard that right!). They offer customised boxes as well which are perfect to gift a bookworm.
You can subscribe to Books N Beyond or order a customised box through the website. Don't forget to use my discount code SATCHEL10 for 10% off. Please note you have to send a mail to Books N Beyond quoting the code so as to avail the offer.
To check out last month's box, visit Books N Beyond – February Unboxing.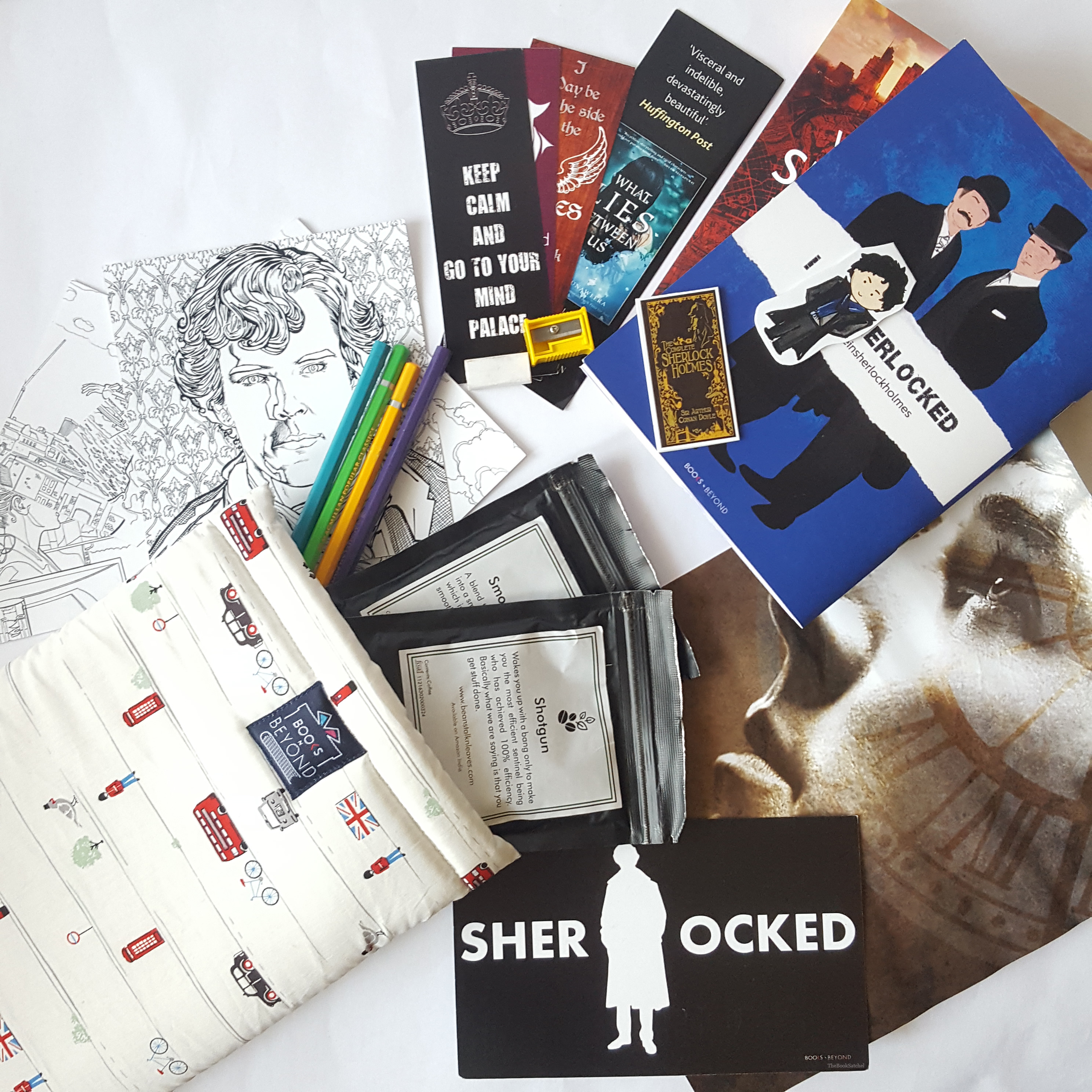 Disclaimer : Much thanks to Books N Beyond for a subscription box to review. All opinions are my own.
Share this post
[easy-social-share buttons="facebook,twitter,google,pinterest" style="icon" template="grey-circles-retina" twitter_user="thebooksatchel"]