This is the second book of His Dark Materials trilogy by Philip Pullman. You can read the review of Northern Lights/The Golden compass here. This review may contain spoilers as it is the second book in the series.
The Subtle Knife follows the journey of Lyra Belacqua in search of the truth about 'Dust' as she travels to and fro three parallel universes. She finds a companion in the young Will Parry whom she meets on the way. On a perilous journey from world to world, Lyra and Will discover an object of unimaginable yet devastating power – The Subtle Knife.
Review:
In Northern Lights, Lyra and her daemon undertake a journey to rescue children kidnapped by Gobblers and to know more about 'Dust'. There were armored polar bears, nomadic Gyptians and flying witches who safeguard a prophecy about Lyra. It was such an amazing book to read and if you haven't read it already, go READ IT.
The Subtle knife is just as amazing as the first book. The book is spread across three parallel universes- Lyra's, our own non magical world and another world named Cittagazze where orphaned children roam free and evil Spectres eat adults. Lyra stumbles onto Cittagazze at the end of Northern Lights.
"Every little increase in human freedom has been fought over ferociously between those who want us to know more and be wiser and stronger, and those who want us to obey and be humble and submit."
In Subtle knife we are introduced to an Oxford which is more like our own. (If you remember, in Lyra's Oxford, everyone had their souls residing out of the body in the form of daemons that could change forms till puberty). The book opens with a twelve year old Will Parry on the run because he has killed a man. Will stumbles onto Cittagazze through an invisible crack in the air and meets Lyra. Will needs to find his father who has been missing for many years and Lyra is guided to Mary Maloney (in our-world-Oxford), a physicist who has been doing research on Dust' in the name of dark matter, by her alethiometer.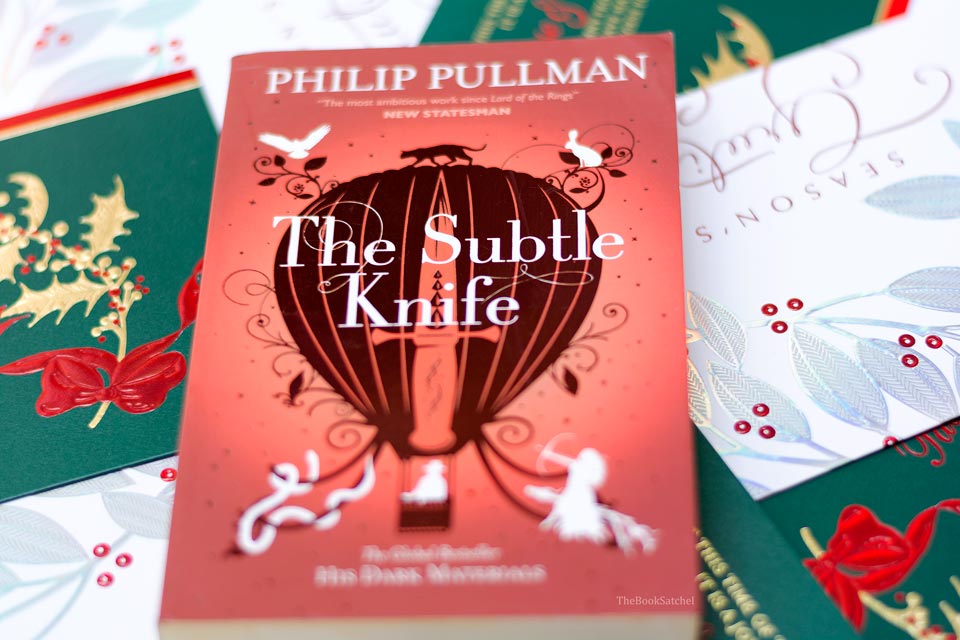 Together, they discover the Subtle knife which is the key to carve out portals to travel from one world to another (much like the rings in The Magician and his Nephew by C.S. Lewis and the cupboard in The Lion, the Witch and the Wardrobe by C. S. Lewis). Carving out a door from one world to another is definitely more exciting to read because there is more human effort and calculations involved than magic! Will has to calculate and see if the portal he carves will open into the sky of another world or onto land and mistakes have heavy dues. The story is fast paced with some really heart wrenching moments of friendship and war. Lyra Belacqua is fiery and promising, unapologetic in her lies and fantasies, just like in the first book.
"I found folly everywhere, but there were grains of wisdom in every stream of it."
There are some Biblical references like Mary Maloney being chosen the serpent to bring about the second fall of man. So the book is along the lines of Chronicles of Narnia by C. S. Lewis, except that it is in the opposite context. While Narnia Chronicles emphasizes that only those who are free of sin will be with Aslan in a new world, His Dark materials tries to wipe out the Church's implication on 'growing up' as a 'sin'.
The book is an intriguing read, with enough suspense and boundless imagination. I liked it a wee bit lesser than the first. Would I recommend this one? Definitely!
Title : Northern Lights
Author : Philip Pullman
Publisher: Scholastic
Published : 2014
Language: English
Pages : 368
Rating : 4/5
Add to your Goodreads shelf
Philip Pullman is a British writer named by The Times as one of the "50 greatest British writers since 1945". His most well-known work is the trilogy His Dark Materials. The Subtle Knife is second in the trilogy. It has won several awards including Parents' Choice Gold Book Award and American Library Association Best Book for Young Adults. A BBC adaptation of the trilogy is soon to be aired.
Share this post
[easy-social-share buttons="facebook,twitter,google,pinterest" style="icon" template="grey-circles-retina" twitter_user="thebooksatchel"]