Book Review: Em and the Big Hoom by Jerry Pinto
6th February, 2016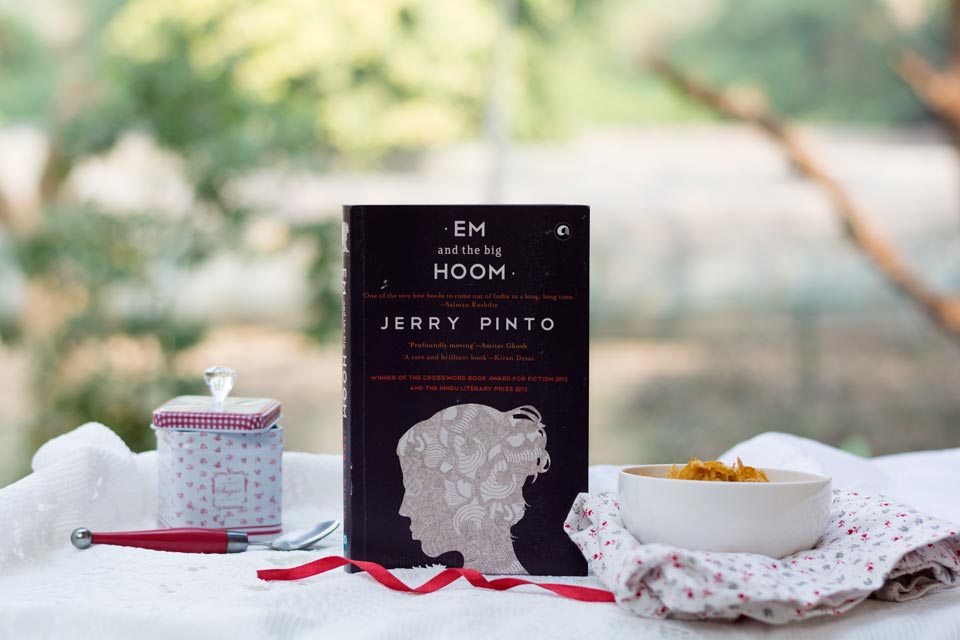 This is the story of Em noted down by her son through fragments of her memories.It talks of the trauma of growing up in a household with a mother who has bipolar disorder and how the narrator comes to terms with it.
This was a Christmas gift from two dear friends from college, Elna and Ullas. Very happy to add this one to my book collection for it has an absolutely gorgeous cover in addition to a brilliant narrative. Thank you again!
Review:
The mysterious title and the beautiful cover makes this one an eye catching book. I spent a lot of time admiring the indigo stained edges of the pages and the small illustrations with myriad black lines on the cover. And there are tiny illustrations (more like doodles) inside too that accurately depict how muddled up Em's mind is. The narrator's mother, Em (Imelda) and father, the Big Hoom (called so because of the 'Hoom' sound he makes while talking) form the backbone of this story.
"There was something capricious about God. How could one expect perfect submission from those who are imperfect? How could one create desire and then expect everyone to pull the plug on it? And if God were capricious, then God was imperfect. If God were imperfect, God was not God."
Em shocks you from the very beginning with her wrist cutting, pill popping, electric shock treatments that leave scars on her head, beedi smoking, voices in the head and her stories to the children while admitted at the hospital. She knows she is unwell, but doesn't know how to help herself, while the Big Hoom stands out as the silent, selfless support on which the while family leans on. The narrator tries to find the connection between the woman brought up in a strict Roman Catholic household, who once fell in love with a man at the office and later married him, who was apprehensive of a first kiss but eagerly waited to spend time with him at their favourite bookstore, who did not like the idea of having children to the woman he knows as his mother – who doesn't frequent book stores, throws tantrums and later resigns to a calmer self. He tries to recreate her memories through her stories and few handwritten letters.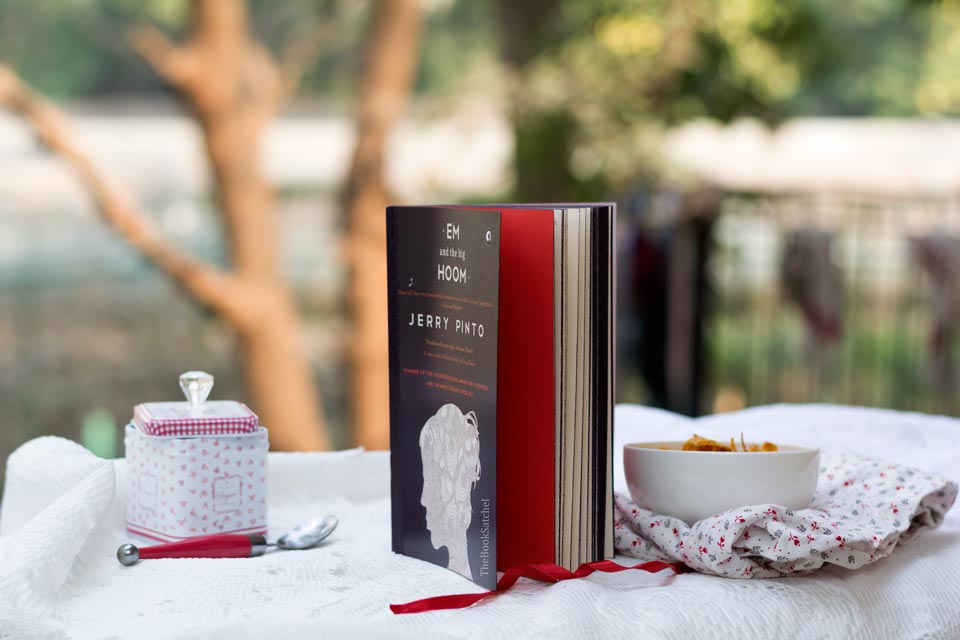 Em surprised me at every point, be it her open talks about sexuality with strangers or her frank advices to her daughter Susan when she starts seeing someone or the fact that she can become completely crazy and hours later transform into the most sane person ever. The narrator's fears on being laughed at as a child escalate into fears that he may have the 'mad' genes as he enters adulthood which is when he traces back the journey of the Big Hoom from Goa to Mumbai and how he fell in love with the beautiful Em.
This book is Pinto's first novel and I thoroughly enjoyed it. In the restricted space of a small house at Mahim and a hospital bed, the author weaves a complex and wondrous story of love and acceptance and successfully urges the reader to embrace mental illness as a condition of life. The book is based on Pinto's mother's  struggle with a neurological condition with some added fictional elements which makes you salute the bold attempt at writing as well as sympathize with the characters.
I must warn you that the book, though written in a simple language, is complex in the themes it explores. You will often find yourself taken aback by Em's perception of life and religion, making you think whether she is the sane one among the lot. Overall, it is enjoyable and ends with a pang in your heart for it is nearly impossible to discern where reality ends and fiction begins in the story.
Title: Em and the big Hoom
Author: Jerry Pinto
Published: 2013
Language: English
Pages: 240
Rating: 4/5
Add to your Goodreads shelf
Jerry Pinto is a Mumbai-based Indian writer of poetry, prose and children's fiction in English, as well as a journalist. His noted works include, Helen: The Life and Times of an H-Bomb (2006) which won the Best Book on Cinema Award at the 54th National Film Awards, Surviving Women (2000) and Asylum and Other Poems (2003). He has done a few translated works too. Em and the Big Hoom is his first novel. It won The Hindu Literary Prize that year. It was also shortlisted for the Commonwealth Book Prize.
Share this post
[easy-social-share buttons="facebook,twitter,google,pinterest" style="icon" template="grey-circles-retina" twitter_user="thebooksatchel"]