Book Review : Anywhere but Home by Anu Vaidyanathan
14th November, 2016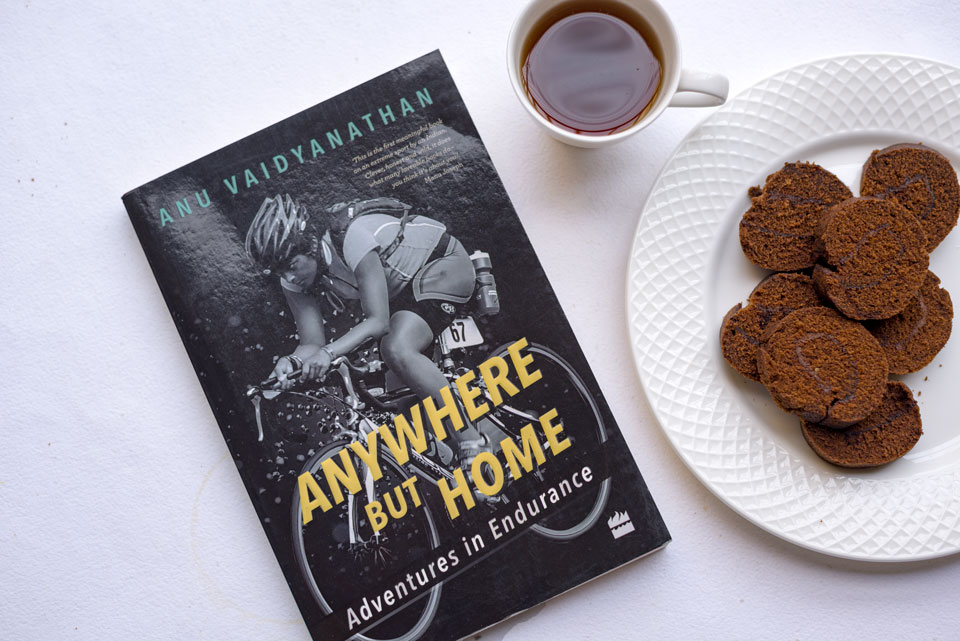 Ultraman Canada is an endurance test that only the bravest of the brave can endure. It involves a 10-kilometre swim, a 420-kilometre bike ride and an 84.4-kilometre run. And one Indian woman thought she should participate in it. She later becomes the first Asian to compete in the Ultraman. This book tells you how she arrived at her decision and what came after.
Review
The book starts with a young Anu being enrolled in a new school. She is a girl who wouldn't settle down for anything lesser than what she desires, be it a school or hostel. Here is where we start seeing glimpses of a girl who shows maturity beyond her age. She faces the big-Indian-question "what will people say" (Note to those who are not Indians – This is a common phrase often used in a majority of the households in India. We apparently care a lot about what other people will think) on her own at a young age. We follow the teenager Anu to her adulthood and later to the day when she realizes what her passion is.
Anu is your regular Tamilian Brahmin girl, with her eyes on academics. The setbacks in her academic pursuits strengthen her endurance in sports and this later boosts her to achieve her academic goals as well.
The role that Anu's mother plays in her life is immense. I admire her for inculcating in Anu the independence of spirit and the urge to achieve the impossible. At several instances in the book, I could see that these lessons passed on to her by her mother made her strive to work against the odds.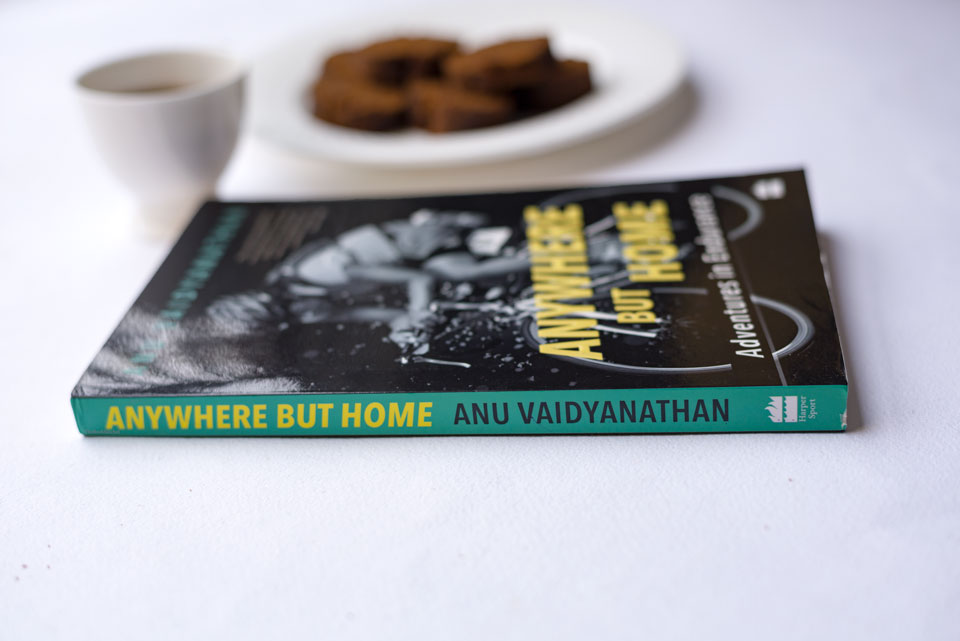 What I Liked
First and foremost, is the honesty with which the book is written. Anu tells facts through her book, nothing more, nothing else. She does not whine or complain. She just tells you how she faced the obstacles in her way, be it funding or treatment of women in workplace or her own fears. I was struck by her unwavering enthusiasm to achieve her goals. In the midst of nagging relatives, lack of proper gear and no funding, Anu sets her heart on an adventure of endurance.
The writing is sprinkled with anecdotes and humour in everyday life. This gave a nice balance to the read.
Anywhere, but Home is about running and the focus is never side tracked. Though there is little mention of her social life, the role her own family plays in the journey is written in a detailed manner.  I could co-relate her focus on the subject as a writer to her focus on her goals as a sports person.
What I Disliked
As much as I loved this straight-talk-no-distraction technique of writing in the book, I was disheartened on several occasions because as a reader I wanted answers. For example when a fight with a special someone is mentioned and dealt away with, in a few sentences, a part of me wanted to know what happened next, how or when it ended? How did the author tackle both the pressure in her social and love life along with pursuing her dreams and doing a PhD?
There is a lovely message on why the book was titled so, in one of the last chapters. However the brevity of this explanation struck me as odd. Though the matter is conveyed in a few sentences, as a reader I would have been happier with a longer clarification.
Final Verdict :
This book is an incredibly inspiring read. It spells out "Never give up". It is the story of of one Indian woman chasing her dreams. I love how the book ends – almost on a fairytale note. What I genuinely salute is how Anu has set a good example to everyone around by pursuing what she loves. Her story is not something that 'happened' but something that 'is happening' right now, in the present. And in making it happen, she also spreads the message that nothing that you are absolutely passionate about needs to be sacrificed for a career elsewhere, a marriage or motherhood. You are whatever you want yourself to be, and you can choose to have them all.
You can listen to a TED talk by the author here – Through the Looking Glass in which she talks about her life, new roles and also tells some stories.
Title : Anywhere but Home : Adventures in Endurance
Author : Anu Vaidyanathan
Publisher : Harper Sports
Published : 2016
Language : English
Pages : 176
Rating : 3.5/5
Much thanks to the publicity team for a copy of the book. All opinions are my own.
Do you like reading inspiring stories? Have you read this book?
Share this post
[easy-social-share buttons="facebook,twitter,google,pinterest" style="icon" template="grey-circles-retina" twitter_user="thebooksatchel"]